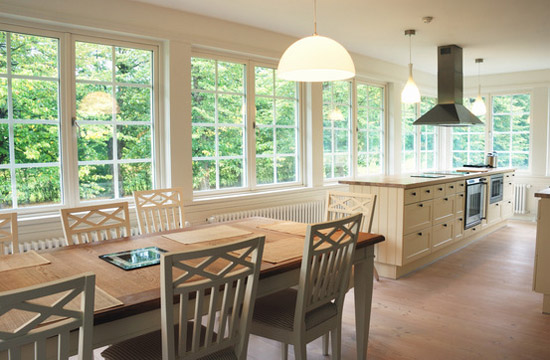 Hi folks,
recently we did a quick survey of house extension prices with some of our tradesmen.  The question was how much would it cost to build an average 40m2 single story rear extension with apex roof finished to a good standard and ready to furnish?  Here is a sample of the replies below:-
Aidan from Dublin: e900 to 1000 + vat in Dublin only
Peter from Wexford: Approx 36,000euro finished to good standard. Must have side entrance.
Alan from Wexford: 40m2 meters is 430 sq foot about e110/sq foot.
Matthew from Cork: e34K approx, it would be plus or minus e3K depending on clients wishes and materials required for the internal finishes.
Adrian from Cork: Finished to a high standard you'd be talking about e100 per square foot.
Conor from Dublin: All depends on type of finish,ground survey,most jobs are different,you'd be looking at a cost of e40/45000 include vat ready to furnish.
Dan from Wicklow: From 1k (depending on access, for restricted access can go up 5-10% it varies from job to job): includes 4 velux windows, 2 French doors at the back with side panels each side of the doors, slates on the roof, PVC fascia and soffits, plastered and painted inside and out. Extra costs will include any sewage work, widening or removing walls on the original dwelling, tiles on the roof, extra windows or doors.
Sean from Dublin: we price 120 euro per square foot
David from Wexford: In answer to ur question, it would depend on spec, but basic extension of that size ,with builder's finish would work out at 800 per metre squared
Frank from Offaly: Not including vat . Low price would be 950euro a sq meter. Mid range about 1200euro and high would be 1600 euro
Richard from Meath: The rate that is needed to complete 40m2 up to todays standards and in compliance with the building regulations is e1000 per sq meter. In my experience anything less than this and the building can't be finished properly or the contractor can't make a profit.
Mark from Meath: rear etxtension with A roof, two SO6 velux windows, large UPVC french doors, two UPVC windows, insulated to SEAI U-value standard, painted finish :  e1,000 –  e1100 per SQM.
Derek from Cork: Around my area I would be charging between e75 and e90 per sq ft for an extension depending on the finish.
Mark from Louth: I would say average 35,000 to 45,000 depending on what its for kitchen/bedroom knock through etc.
Peter from Dublin: for a 40m2 extension, e1,000 per sqm approx depending on style and finishes.
Enda fom Kilkenny: Approx 43500 plus vat finished to very good standard and ready to furnish
Daniel from Cavan: the way I price is by sq feet and it works out IE Cavan about 65 and Dublin 90 euro a sq foot ex vat
Declan from Cork: impossible to say exactly without any spec but on average about 32-36k fully finished with client providing for floors finishes, kitchen etc as these are too variable without details.
As you can see there is a quite a variety in the prices so it is important to shop around and make sure you are comparing like with like.   We found that prices in Dublin were the highest €1,089/m2 with Wexford in second place at €961/m2.  In 2012 we did a survey of builders in Dublin for the same 40m2 extension and the average price at that stage was €903/m2 so prices are up 20%/m2 in the Dublin area since 2012 according to this survey.
When getting prices for any building work it may be tempting to go for the lowest price but since you usually only get one chance to do it right I would suggest you put quality ahead of price as much as possible.  Some important tips when selecting a contractor are as follows, (a) get references, qualifications and insurance details from each contractor who quotes for the job, (b) make sure to hire an independent certifier from the outset and have them sign off on each stage of the build (c) only pay for each stage as it's signed off by the certifier (d) consider using an escrow payment facility to manage the payments and to safeguard both you and the contractor.
I hope this helps some of you who are planning a house extension sometime in the future whether you want to make more room for the children, for your dining area or for a home office.  If you decide to go ahead with it be sure to post your house extension job here and get up to 4 quotes from rated tradesmen.
Cheers
Oliver Dempsey
Tradesmen.ie
5th July 2014
Here are some other articles that you might be interested in below:-
House Extensions – 12 Tips on Extending your Home
Do I need planning permission?
Will stricter building regulations improve building standards in Ireland?
Certifying my building or renovation
Construction Contracts, why are they needed?
Attic Conversion Prices
House Extension Prices in Dublin(2012 survey)
Top 10 Tips to Building a Home