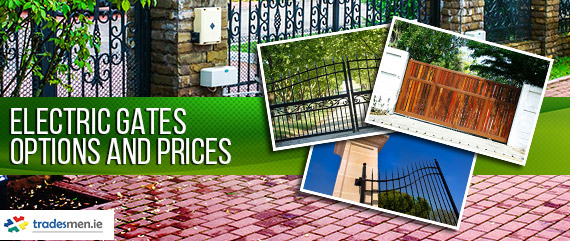 Hi folks, recently we did a quick survey on electric gates* options and prices.    We asked a selection of tradesmen  what range of prices would you pay for electric gates for the home and what type of gates or mechanisms would they recommend.  We also asked had they any tips to offer our readers in sourcing the best long term solution with minimum maintenance.   We have included a selection of the replies below excluding VAT:-
Ross from Offaly:     For electric gates I use steel all the way , swinging for a house looks better , faac are are good brand , I charge anything from 1300 to 1900 + vat.
Michael from Waterford:     electric gates cost any where between 1500 and 2k. Sliding more reliable . We do over 50gates every year at those prices
David from Wicklow:     Underground frog system Cáme (Italian) or slider metal galvanised and powder coated ( no maintainence) about €2,000 plus ground work if needing track for slider.  That would not include the automation just the gates.
Raymond from Kilkenny:     Electric swinging gates 3 k Faac.
James from Dublin:     Prices can vary widely, FAAC would be the best affordable manufacturer with their underground system (e1200 approx) preferable from and aesthetic and practical point of view, ram kits (e700-900 approx) are unsightly and not very durable depending on the volume of traffic. Both can be used on hinged steel or wooden gates depending on the clients requirements,  sliding gates require a lot of lateral space to accommodate the open position,.  I'd recommend a FAAC gear motor (e1300 approx ) but there's a higher manufacturing cost of the actual gate, hinged option being cheaper.
Stephen from Dublin:     Typical driveway gates range from €750 up in steel with bosses and spikes.  The motors and intercoms start at around 1200 Euro.  A slider is more work i.e. ground works, track, but motor is slightly cheaper.  It depends on what type of timber you want cedar, pine oroko €800 up to €1500.  Tip:  You get what you pay for,  if it sounds cheap it because the gear is cheap and won't last more than 8 months.  Some guys scrimp on the material putting in lighter steel this is how gates twist and warp.
Eoin from Meath:     If the mains and intercom cables are already ran to the house from the gates then the cost would be typically around  e2400 depending on the type of intercom required and amount of handsets needed. Audio/video would usually cost approximately e200 extra plus cost for extra handsets. Steel sliding gates would give the least amount of trouble while timber gates with hydraulic rams the most troublesome.  Timber gates are very troublesome in windy conditions as they are like sails.
Eamonn from Wexford:     Approx price for electric gates as requested. Electrics for basic under ground swing gate system supplied and fitted e2000 + vat.  Electrics for basic sliding gate system supplied and fitted e1750 + vat.  Extra options available inc. GSM, intercom , induction loop , and all the safety edges etc. The gates will last a life time if steel and galvanised ranging from e750 to e3000. Most come in at around e1400 + vat depending on size and style.  Wooden gates need alot of care over time and if electric and in a windy area this can affect the automation.
Trevor from Cork:     Electric gates cost about e1800,  Gate style depends on ones choice and taste.  Swinging are the most popular but again sliding could be better depending on what space you have in the drive way.
Ethan from Wicklow:     I fabricate gates for clients, I mostly try and persuade them to go for sliding gates as the swinging gate mechanisms tend to give a lot more trouble and the sliding gates at not effected by wind as much as swinging gates.   I personally try to go for all steel gates galvanised and painted.  The wooden ones are a lot of maintenance as you need to varnish them every two years.  As for a type of mechanism, if you are going sliding gate, most of them are a good choice but Beninca are the ones I recommend.  The slider costs 790+vat and the swing is 990+vat.  To get someone to install using that brand should cost in the region of 2000+ vat for a decent job, plus they should stand over them for at least 3-5 years.  That's for the installation and the mechanisms, the gate would be extra.
Mark from Mayo:     Iron, underground if possible, overground if ground wet or gates in place already, sliding if you have the space or on a hill.  Price exluding gates €900-€1,600edepends on : weight/height of gate.  Electromechanical would do for domestic use.  If used a lot, hydronic. To be honest if they are put in correctly, and I mean correctly then all manufacture's systems are very much the same as long as you don't buy cheap.
Electric Gates Options and Prices – Summary
As you can see there is a quite a variety in the prices and some very useful tips in the responses we got.  It is important to shop around and make sure you are comparing like with like.  Prices for the gates ranging from €850 – €3,400 including VAT with prices for the automation fitted ranging from €1,360 – €2,270.
Tips for buying Electric Gates
When getting prices for electric gates it may be tempting to go for the lowest price but as Stephen said above "You get what you pay for" and if it sounds cheap it probably is cheap in terms of the quality of the product and installation.  Here are some tips for buying electric gates below:-
(a) Get references, qualifications and insurance details from each tradesman who quotes for the job,
(b) Go and look at some electric gates that the tradesman has done a year or more ago and see is the customer still happy with them.
(c) Make sure the quote covers everything, i.e. groundworks if required and laying cables to the house, the gates and the automation part (e.g. rams, sliders, keypads, intercoms, zappers etc.) and cost of installation.
(d) Get a guarantee with it.
(e) Consider agreeing on some sort of stage payments and only pay for each stage as it's signed off by you or a certifier.  Take photos of each stage as it is being carried out
(d) consider using an escrow payment facility to manage the payments and to safeguard both you and the contractor.
Here are some examples of electric gates below:-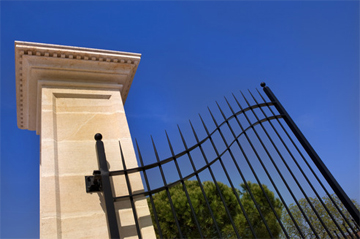 I hope this helps some of you who are planning to install electric gates for your home or office.  You can get a number of quotes for electric gates by posting your job at http://www.tradesmen.ie/trade/fitters-welders or  http://www.tradesmen.ie/trade/alarms .  If you have any comments or suggestions please feel free to place them in the comments box below.
Cheers
Oliver Dempsey
Tradesmen.ie
20th  March 2015
Other Tradesmen Price Surveys
Here are some other price surveys that you might be interested in below:-
Driveway Surface Options and Prices
Conservatory and Sunroom Prices
Custom Kitchen and Custom Wardrobe Costs
Gutters Fascia & Soffit Replacement Cost Survey
Immersion Heater Replacement Price Comparison
*electric gates are sometimes referrred to as automatic gates and this trade can also be referred to as gate automation.    In this survey we asked a number of tradesmen who carry out or who would have access to this specialist service such as Fitter/Welders, Alarm and Security, Electricians, Gardening/Landscaping contractors and groundworks contractors.