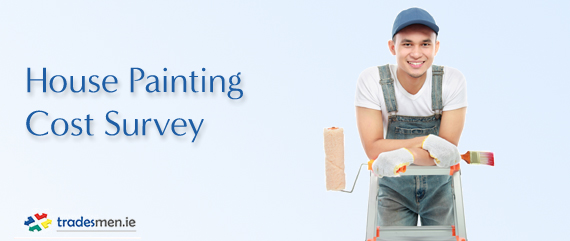 Hi folks, recently we carried out a house painting cost survey on some painters on our website.  The question we asked was, how much would it cost excluding VAT to paint an average 3 bed semi inside and out.  We also asked them were there any tips they would give in choosing the best painter for the job?  Here is a sample of the replies we got below:-
Ciaran from Dublin:     Average outside including paint two coats on everything.  850euro inside, 1 coat ceilings, 2 coats walls, one coat woodwork 1250euro.  Tip: Don't necessarily pick the cheapest, pick the person who seemed most knowledgeable and was the most sincere in his approach.
Michael from Donegal:     You're  talking about 2000euros inside ceiling and walls,  woodwork 2 coats after prep and outside smooth walls semi detached ie rough walls dash1350 takes more paint.  Tip:  There's a little more labour for buying paint, buy the top end, always better finish and lasts longer.
Peter from Kilkenny:     Just rough est without seeing.  If new three coats on everything around 3200 if repaint two coats around 2800 outside around 1200 all inc mat.
Patrick from Roscommon:     House painting cost for a 3 bed semi outside 900 and inside 2000.
Cathal from Dublin:     Painting an average 3 bed semi would be e2250 for the outside and  e1100 for the inside.
Gordon from Dublin:     House painting cost, 2400 euro inside and 1000 euro outside, as you know there are a lot of variables.
Chris from Sligo:     Outside house needs to be cleaned properly and repair any cracks and a min of 2x coats. Between  e1100 and  e1400 this is for labour and paint.  Inside walls ceilings and all woodwork.  Again a min of two coats on all surfaces, now it depends on the condition of these surfaces.  I'm going to take it that it is in fairly good condition between  e1500 and  e2000.  Tip: The difference between a trade 10 lt bucket of emulsion which is about  e35 to  e45 per 10lt and a premium 10lt would be  e120 per 10lt.   So this is why all jobs need to be seen first. I would never quote without seeing it first.
Walter from Meath:     For painting a re dec would normally be around 1650 euro inside.  For the out side normally around 950 euro.  Tip: For choosing painter I would go with how much experience, at least 3 reference and to be recommended in the first place.
William from Kildare:     Exterior 3bed, depending on condition of walls (they may need a coat of Masonary ).  And a lot of cleaning,  e1850.  Interior,  e2500.  Tip: If painter /contractor arrives covered in paint (also his Van), forget about him. Check what was his last job and go and see the client. (No phone or Text)
Valentin from Dublin:     I'd offer 1500 e for inside and 1200 e for outside include materials.   Tip: Check references of the painter.
David from Dublin:     If the house was painted before then outside 950 including paint, inside 1350 including paint.  Outside would be 2 coats.  Inside would include 2 coats ceilings, 2 coat walls, an undercoat on woodwork, then gloss or satin finish caulking, masking tape, filling.   If the house was not painted before then price exterior, before vat including paint, 2 coats would be 1200.  Interior including paint ceilings walls woodwork including paint 1500.
Stuart from Dublin:     The interior you would be looking at  e1450 including paint and that covers two coats of paint and filling and sanding.  Exterior  e570 including paint.  Tip:  When choosing the painter I would say don't necessarily go with the cheapest as most of the work is in the preparation eg filling, sanding and covering up.
George from Wicklow:     House painting cost, outside 1,300 euro, this includes painting everything windows doors.  Plaster all two coats.  Inside walls ceilings doors archives 2,200 euro or there abouts.  Tips:  Tradesman should have  a van with signage, insurance and knowledge of required products.  Check References.
Mark from Meath:     Labour : Outside – 650euros plus paints including power washing.   Inside – 1,950 plus paints all two coat including ceilings walls and woodwork.  I supply paints from Crown all tradesman quality and provide savings on paints to my Customers.  Paint will cost 430-500 euro for inside and 150-250 euro for outside.
Brian from Meath:     Depends on condition of the house.  If inside was all 1 colour then 2 coats on walls 2 coats on doors and woodwork,  2 coats on ceilings. About  e1600 inc paint.   e800 for outside.  Price including paint.  Tip:  Choose a painter good price good reference.
House Painting Cost Survey Summary
As you can see there is a quite a variety in the prices and some very useful tips in the responses we got.  It is important to shop around and make sure you are comparing like with like.  For outside painting prices including VAT ranged from €650 to €2,100 and averaged €1,235.  For inside painting prices including VAT ranged from €1,420 to €2,725 and averaged €2,225.  In November 2011 we did a similar survey of painters.  In that survey there were wider variations.  The average price for interior painting was  €2,050 and the average price for exterior was €1,100.   So according to those results prices are up between 8% and 13.5% since our 2011 survey.
Tips for Hiring a Painter
When getting prices for any painting work it may be tempting to go for the lowest price but we would recommend choosing the tradesman who can do the best job.  Here are some tips that were suggested in our survey and a few more:-  (a) Get references, qualifications and insurance details from each tradesman who quotes for the job, (b) See has the tradesman a van with signage (c) Don't hire a tradesman if he has paint on his clothes.  (d) Look at previous work done by the tradesman.  (e) Allow extra cost for labour if the tradesman is supplying the paint.  (f) Only used branded high quality paints.  (g) Consider agreeing on some sort of stage payments and only pay for each stage as it's signed off by you or a certifier (d) consider using an escrow payment facility to manage the payments and to safeguard both you and the contractor.
I hope this helps some of you who are planning to paint your house in the near future and if you have any comments or suggestions please feel free to place them in the comments box below.
Cheers
Oliver Dempsey
Tradesmen.ie
7 March 2015
Other Tradesmen Price Surveys
Here are some other price surveys that you might be interested in below:-
Conservatory and Sunroom Prices
Custom Kitchen and Custom Wardrobe Costs
Gutters Fascia & Soffit Replacement Cost Survey
Immersion Heater Replacement Price Comparison