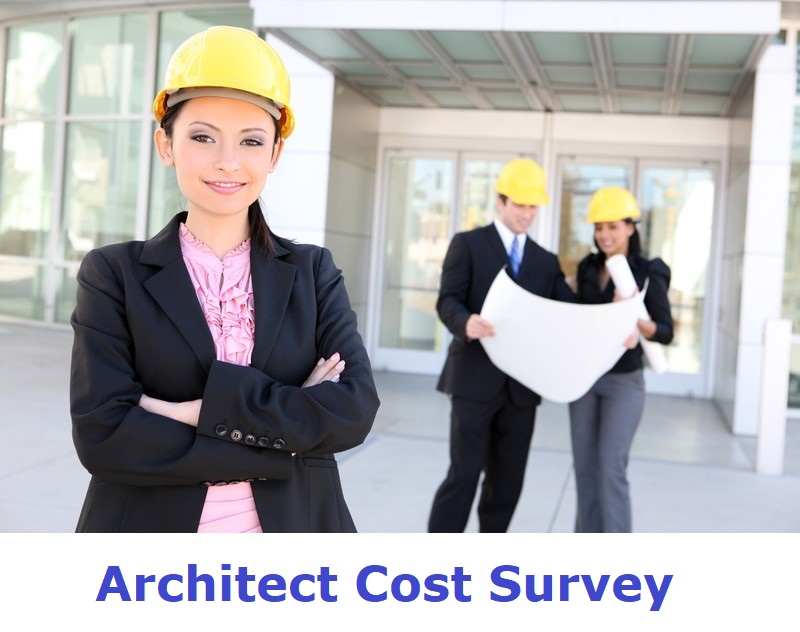 A while ago we did an architect cost survey to get an indication of the fees for preparing plans and certifying a house extension of 40m2 or more.  Here is a sample of the replies we received below:-
Denis from Cork: Properties vary so much and any extension will usually involve other alterations to the existing house layout. The works will require a survey of the existing house & site, plans prepared of the existing house and site, plans of the proposed works, tender documents and specifications, health and safety plan and about 5-6 inspections minimum during construction. A person should allow a budget price for architect/engineer fees in the region of €3000 to €4000 plus VAT.
Barry from Dublin: Case study 3 bedroom house doing a large extension. Based on a build cost of €60,000.  The architects role is really broken down into a number of stages.
* survey and design
Meet the client Survey the property list to the client requirements and prepare a number of sketch designs. Then agree on final design. €250 site survey € 950 Sketch design
* planning stage (if required) prepare and submit a single planning application on behalf of the client.
€1,500 plus out of pocket expenses expenses (newspaper notice, maps, council fee € 350 approx)
Or
*if planning is not required it is best practice to submit a part 5 exception application €600 plus out of pocket expenses ( maps & council fee € 160 approx)
A lot of clients only use our services up to this point but we always recommend they use our full service
*Detail design / tender stage
Further detail the proposed works, and issue to builders for pricing. €1,250
*Site supervision / construction stage
To monitor works on site, €1,800 (based on a 3 month build)
Issue of final certification €450
Andrew from Kilkenny: Associated cost to produce drawings for an extension larger than 40m2;
Stage 1 – Survey –  Measure existing dwelling, take site levels & draw up the existing building and site – In order to prepare a set of survey drawings in Autocad / Revit Format: €650. TImescale 2-4 weeks from instruction to proceed.
Stage 2 – Concept Design – To obtain a comprehensive brief & prepare proposals – Including redesign and of existing layout and proposed design for the extension.  To develop a set of plans  and elevations in 2D format and 3D model.  Liase with client, alter proposals until agreement is reached, and a design / layout is selected – €775
TImescale – 2-4 weeks from instruction to proceed
Stage 3 – Planning – Upon agreement of design proceed to preparation of planning application, including continued liaising with the client, completion of relevant documentation, placement of advertisements etc and submission of application to Local Authority and supply a complete set of documentation to the client.  €1,100.    To Certify the works would be an additional cost to the above and you are looking at approx. €1,500.00″
Mark from Wicklow:  Each job differs but approx €7-€10k from start to finish.  Tips- Ensure that you get on with your architect.  The relationship is very important as you are going to be working together for a minimum of 12 mths.  Factor the length of time the job will take as this will add or reduce the costs involved.  Will you be living in the property while work is being carried out or will you be moving out until completion.
T.J from Donegal:  Costs vary greatly between jobs i.e. €1,000 – €5,000 – depending on whether planning is needed, the requirements of the client etc etc. Check if planning is needed – may not be required up to 40m2.
Michael from Dublin: With regards to fees we would typically break a project down into Stage. For a 40m2 extension you are presuming that you dont require permission. This is mostly the case though its worth noting that demolition of a structure directly adjoining a boundary means (think garden shed / old outhouse etc) means that technically permission would be required.
Measured survey of the existing house and site – €350 -€500
Initial design proposals – €1,800 – €2,500
3D model allowance – € 350 – €500
Detailed tender drawings & tender process – €2,500 approx
On site inspections – Assume 4 – bank certs and opinions of compliance on completion – €2,000 approx.
Weekly site visits additional
This is an outline guide only. You can assume that RIAI registered architects fees would vary between 6 – 10% though some may be higher and other professionals potentially lower. For a 40m2 extension in our  experience you are looking at €80,000 – €100,000 construction / fit out costs minimum. There will obviously be tales of cheaper but this is the day to day reality in Dublin at least.
The above fees would come in at the lower end of the scale on this cost basis. Ive no doubt
that people will say that they can get this all done for far less but its vital to ensure that you
are comparing like for like when it comes to services.  It's critical for clients to decide what they want. Do they just want a box, already have their design in mind in which case they really just need a technician to draw it up and sign off.  If they want a more bespoke space tailored to their needs and/or a difficult site then an architect is recommended.
Currently any building project will need the involvement of a H&S consultant – Project Supervisor Design Process (PSDP).  Some professionals include this in their service. Also needed is a Structural Engineer.  Again some will/can combine this service.
There is a huge variety and scope of service out there. It's crucial for clients to understand both what they need and what they are getting. It's also crucial to agree with a professional what is needed and what can be provided.
A professional should submit a written fee proposal that outlines what is included in the fee. Like any agreement this should ensure that potential misunderstandings are avoided.
Clients should provide a 'wish list' of what they hope/want to achieve from the project. This can be 5 lines on a page or 3 pages of images and requirements. A description of what does not work in the existing house can also help and allow the professional a starting point of how to start designing the space.
Each house, site and client contributes to give a unique brief and need for a unique solution. The same design may not work on the same house which are on opposite sides of a street simply because of the way the light enters the site. Good design should not  dramatically increase building costs. Good design whilst it may cost slightly more in fees should ultimately save money overall and give a vastly increased quality of space and improved end product.
—————————–
As we discovered, there's a lot of done in organising plans, planning and certification for an extension.   Even where planning is not required, we would recommend that you seek the services of an architect, building surveyor and/or a building engineer.  It is particularly important to have one of these experts to supervise and sign off on the certain stages of build.
I hope this helps home owners who are planning a house extension in the near future.  If you are looking for a number of quotes for architects, building surveyors or building engineers, please feel free to post your job here and we'll send it out for you asap.
Cheers
Oliver Dempsey
Tradesmen.ie
21 November 2020