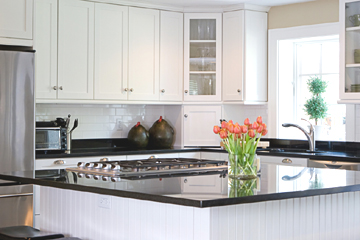 Today we are going to talk about the pros and cons of Custom Kitchen Cabinets and Units in comparison with semi-custom cabinets or stock units off the shelf.
The first thing that most people think of when revamping their kitchen is what sort of cabinets to fit it out with. Because cabinets can take a big bite out of your wallet, it's important to choose the right one that reflects what your plans are and also blends into the layout of the kitchen itself.
Custom cabinetry while not the cheapest option, will provide you with exactly what you're looking for. Due to the labour intensive nature of the work, the price of the finished product is always going to be much, much more than your typical stock cabinets.
For a typical average sized kitchen, you're talking about a figure of anywhere between €10,000 – €20,000 to get it fully fitted. Obviously your choice of design, materials and finish would factor into this estimation. If you are looking at just getting  one unit custom built then the cost can be anywhere from €1,500 – €5,000, again all depending on the specifications you desire.
The main reason for the increased expense in custom cabinets is due to the fact it can take one or more craftsmen a few weeks to complete the job, whereas mass produced cabinets are built on a production line in a short turnaround timeframe.
A more affordable option would be a semi-custom cabinet which will allow you the best of both worlds. With these cabinets, you are generally offered different styles, wood species, colours and features. They would then be built to order but would be limited by the options provided by the manufacturer. You would have a little more room for customisation compared to the standard stock models.
The advantages of going down the custom road far outweigh the disadvantages.
Standard kitchen cabinets are normally built to a height of 36 inches, which includes the countertop. For some families, this is too high, or too small in order for it to be comfortable. Custom units are built to your specific dimensions.
If you have an unusual layout in your kitchen or a specific floor plan, then custom cabinets can be built to make use of all your available space. This in turn will lead to every inch in the kitchen being taken advantage of.
You can choose diverse cabinet and drawer combinations for your kitchen to accommodate your cooking and baking styles. You may want a cutlery cabinet, wine rack, dust bin drawer, spice cabinet or island cabinetry for your kitchen, all these can be incorporated by a custom fitted solution.
Upper cabinets can also be highly customised and the possible ideas are only limited by what the homeowner can describe. Glass doors are a feature you won't see much of in stock units off the shelf.
The choice of countertops today range from marble, granite and even slate for kitchen units. These materials are more durable than your standard laminated plastic units from stock cabinets. Having a custom built solution will afford you the choice over what type of countertop you want for your kitchen.
Unless you intend to renovate the kitchen in the future, the custom units will be built to last, and will be a lot more durable than most stock cabinets.
At the end of the day, a customised cabinet solution for your kitchen will be unbeatable in terms of design and aesthetic appeal. While you may be the talk of your neighbours with your splendidly designed cabinets, it will have come at a price!
I hope this helps some of you who are planning to revamp your Kitchen in the future and if you decide to go ahead with it you can get a number of kitchen cabinet prices here and get up to 4 quotes fast from rated tradesmen!
Cheers
Oliver Dempsey
Tradesmen.ie
April 22nd 2013
Here are some other articles that you might be interested in below:-
http://blog.tradesmen.ie/2013/04/tips-for-building-your-perfect-kitchen-extension/
http://blog.tradesmen.ie/2012/04/do-i-need-planning-permission
http://blog.tradesmen.ie/2012/04/certifying-my-building-or-renovation
http://blog.tradesmen.ie/2013/01/construction-contracts-why-are-they-needed
http://blog.tradesmen.ie/2011/10/attic-conversion-prices-dublin-ireland
http://blog.tradesmen.ie/2012/04/house-extension-prices-dublin-ireland/
http://blog.tradesmen.ie/2012/07/conservatory-prices-and-sunroom-prices/
http://blog.tradesmen.ie/2013/03/garage-conversions-things-to-remember-when-planning-to-convert-your-garage/