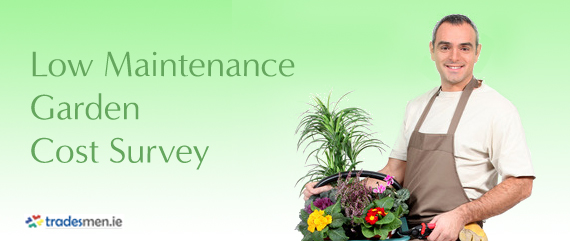 Hi folks, recently we carried out a low maintenance garden cost survey on some of our tradesmen members.  We asked how much would it cost ex vat to design and implement a low maintanence garden for an average 3 bed semi and what complications if any could affect the price of it.  Here are a selection of the replies we got below:-
Noel from Cork: 1500 soil type aspect plants.  Includes raised beds on two sides and paved area out from back door.
Brendan from Westmeath: Probably a budget of about 2.5 to 3k..material for patios etc can effect price…but certainly a lot can be done for that money…also maturity of plants drainage etc can be a cost factor
Keith from Dublin: there are varying factors like how much hard landscaping size of garden, can't give a price without measuring up and knowing factors, usually 8000 upwards.
Richard from Laois: Six thousand rising to seven complications usualy poor drainage or removal of existing trees or sheds access would be another
Richard from Wicklow: With a reasonably decent spec, ie natural stone paving, and borders, planting, lawn . Around 7,000. Factors would be timing, access, location, what's in place before hand. If you were to raise spec, include, sound,lighting,water feature etc you could. Double that… A substantial area if concrete to be broken out and disposed of with only limited access could add 20%, access through house only and prob upwards of 30%
Patrick from Dublin: Low Maintenance Garden Ball park approx 3 k. Labour half materials and planting remainder
David from  Dublin: I can give u rough idea design from 300 to 1200, build from 3000 to 15000 and up depending on what's there, features in garden, actual size of it and accessibility
John from Dublin: €7,500 access to garden biggest issue
Ross from Offaly: It could be from e1000-e20000. Depending on what the customer wants. They might want a patio which if it's cut stone could be e1500+, mature plants can cost a lot. There is a lot of variables in the design. If you look at "super garden" there was e5000 worth of materials in the garden alone without labour.
Ciaran from Louth: For a low maintenance garden it depends on the type of materials you use, the size of the plants and if the garden needs a drainage system installed, but on average e2500-e4500 would suffice for your average 3bed semi
Dáire from Kerry: if designed as follows for 3bed semi detach with estimated 200 m sq garden. Patio or deck 30 m sq, 60 m sq gravel and mypex mixed herbaceous border with 90 plants and 35 m cobble stone lawn edge . 90 m sq lawn, 20 m sq garden path to seating area. Four trellis with climbers. Three semi mature trees staked. Possible complications. Poor soil, shallow soil or the presence of builders rubble. Access to garden if side access is too narrow for mini digger / rotivaror. If conditions occur additional labour incurred in purchase of top soil, manual digging of garden, manual haulage of materials into garden and waste out of garden. Costs estimated at e7400 without complications or e8700 worst case scenario.
Emmet from wexford: Based on a 20sqm sandstone patio with beds/Pebble etc around 3500e. Excavation /levels /planting choice would affect price
John from Westmeath: The primary concerns of the installation would be to know whether the lawn is prone to flooding. Wet lawns can poor quality grass and even have rushes grown in them. Flooding may also be an issue with perimeter fencing/walls. In these cases you may need to install drainage and connect it to the rain collect point on the site. In cases where there is low risk of flooding they would be the need for initial ground clearance and levelling of the lawn area. A skip or a means a collecting the waste material would be needed on site for the job. It can take up to two years for a lawn to fully populate with grass. A couple of bags of lawn seed and some compost would be required once the area was ready for seeding. Depending of conditions (weather, ground) it can take up to two years for a lawn to fully populate with grass. That would produce a basic lawn. Prices would range from 1,500 – 8,000 depending on complications.
Low Maintenance Garden Cost Summary
As you can see there is a huge variation in prices with prices varying from €1,500 to €20,000 so it is important to get a number of prices from gardeners/landscapers, compare like with like and to match your needs with your budget as much as possible.
Tips for hiring a tradesman
Here are some tips to consider when hiring a tradesman:-
1.    Ask for phone numbers of references so that you can check them out
2.    Check insurance of the tradesman where insurance is required
3.    Hire a suitably qualified architect, building surveyor or building engineer if the job is anything to do with a new build, building renovation or extension
4.    Agree on some sort of stage payments for the job. Remember that full payment should not be made until the job is complete and has been inspected by you, and if necessary by a certifier.
I hope this helps any of you who are considering implementing a low maintenance garden in the future.  If you have any questions or comments please feel free to enter them in the comments box provided below.
Cheers
Oliver Dempsey
Tradesmen.ie
6th Sept 2014
Here are some other articles that you might be interested in below:-
Gutters Fascia & Soffit Replacement Cost Survey
Immersion Heater Replacement Price Comparison
Bathroom Renovation Cost Survey
Attic Conversion Prices Survey