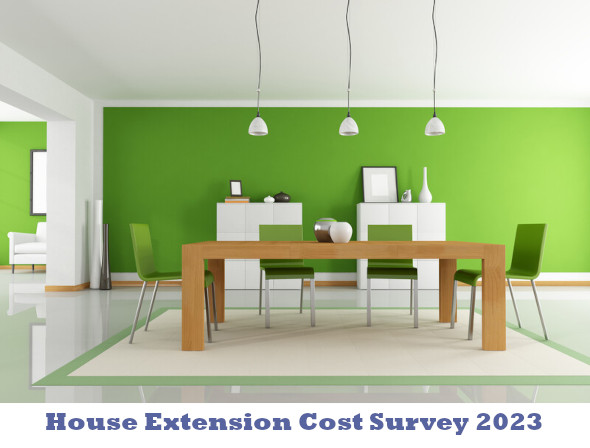 A great way to increase your living space is to go for a house extension. There are various reasons you might have for considering a house extension.  These could range from expanding your kitchen, incorporating an additional living or dining space, creating an extra bedroom, establishing a home office, or setting up a play area, among other things. If carefully designed in collaboration with your architect/engineer and contractor, a home expansion can offer a great chance to enhance comfort and utility, allow for more natural light, boost the energy efficiency, and lower your heating expenses.
Recently we did a House Extension Cost Survey with some of our tradesmen. The question was how much would it cost to build an average 40m2 single story rear extension excluding VAT with apex roof finished to a good standard and ready to furnish? I have attached a sample of the replies we received below with some tips provided by the tradesmen:-
Eddie from Dublin: the cost to do a 40m2 extension including vat would be roughly €160,000. obviously the way to get the best possible job done would be to engage a good reliable contractor, the cheapest quote doesn't always work out like that
Mick from Kildare: 40m2 extension to the rear of a property has many variables which will massively effect cost.  Eg. Civils, Access, glazing etc. However a rough guide would be €135k inc vat @13.5%.  This would include and be based on the following:-
300mm x 750mm strip foundations.
675mm x215mm rising walls.
120mm floor insulation
150mm ground bearing slab.
9inch block work.
Cut roof. 7×2 rafter. Internally valted.
Concrete roof tile.
Dry ridge and barge system.
Pvc facia, soffit, gutters and down pipes.
Monocoque render.
1m concrete footpath to perimeter of new build with 9m2 concrete patio area.
3 no 1.2m Double-glazed pvc windows , 1 no 1.8m double-glazed pvc patio
door. 2 no 1200mm x 1200mm roof lights.
100mm warm board to external walls.
100mm rigid insulation between rafters
And 62mm warm board fixed below.
Skim finish.
Floor fitting, laminate flooring plank profile ( flooring supplied by
client)
Mdf skirting and architrave.
Painting by client.
M and e spec
2 no standard radiators supply and fitted. (no boiler upgrade Inc)
Accommodate underfloor drainage for new kitchen layout.
8 no spot light lights and 1 pendant.
4 double sockets and 1 tv point
2 no ext wall lights.
Accommodate new kitchen lay out.
Possible extras.
Full rear break out + 12k inc vat.
Certificate by an engineer + 3k inc vat
Healthy kitchen budget + 18k Inc vat
Certification by an architect + 4k Inc vat.
My advise to all potential clients, is to get plenty of quotes from other builders and make sure you know what your getting for your money.
Sean from Galway: a rough guide price for a 40sq metre extension would be around 80,000.  Always ask to builder for references from previous customers and make sure they are registered and insured.
Thomas from Kildare:  Cost will be approx €70 to €80k.  rule of thumb would be to get 3 prices, this will give an accurate market comparison.  I would highly recommend to get an architect/engineer on board in order to get the best job done.  Constant monitoring of works and engage a competent contractor are a must.
Conor from Dublin: At the minute a general rule of thumb used by tradesmen at the minute is approximately €2,000 per sqm. This would be a rough guide on a middle of the road good standard finish.  Ensure all contractors have public liability, never go for the cheapest quote.  If steel work is involved prepare to clear the whole room where it's being installed. dust will be a killer. Allow adequate time for the contractor to do the work. At the end of the day we would rather take an extra day or two fitting a steel as opposed to having your house crumble and fall down.
Frank from Dublin:         82k including vat.  My tip is don't use cavity walls, go flat on the block, solid 215 block wall, with 100mm external insulation.  I would go flat roof, fibre glass, with 2.5m2 roof light, rather than apex and velux
——————————-
I hope this helps some of you who are planning a house extension. If you are looking for quotes for a house extension you can post your job here
Cheers
Oliver Dempsey
Tradesmen.ie
6 July 2023
General Tips for hiring a tradesman
Here are some tips to consider when hiring a tradesman:-
1. Ask for phone numbers of references so that you can check them out
2. Check insurance of the tradesman where insurance is required
3. Hire a suitably qualified architect, building surveyor or building engineer if the job is anything to do with a new build, building renovation or extension
4. Agree on some sort of stage payments for the job. Remember that full payment should not be made until the job is complete and has been inspected by you, and if necessary by a certifier.