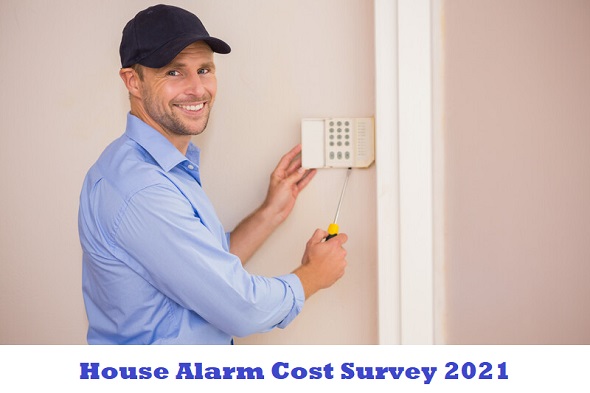 Recently we carried out a house alarm cost survey with a number of alarm installers on our website.  We asked them to let us know the rough price for installing or upgrading an alarm system in an average home.   We also asked them, if they had any tips for the customer to have a good experience with tradesmen.  We have included some of the replies below:-
Stephen from Dublin: 3 bed semi detached house which has old wired intruder alarm or a prewired house.  Hkc alarm system with working bell outside , all windows and doors protected with shocks / contacts.  The cost for a full upgrade using existing wiring with a 3 year parts and labour warranty is €650 / €700 plus vat @ 13.5% with no ongoing payments. Optional extra would be the Gsm wifi unit which cost €165 plus vat , annual cost is €90.
Eoin from Dublin: Average 3 bed semi wireless around €1k.
Brendan from Dublin: Roughly between 700-900 eur incl vat depending on extras needed.
Darren from Westmeath: For a 3 bed house Standard alarm you are looking around €650.00. For a self monitored alarm with app around €750.00. Tips for customers. Do some research on what you are looking for if it is an alarm system, cctv or gate automation so you have an idea of what you want and ask questions when getting a quote.
Michael from Cork: Each customer needs to build the Alarm system which would suit them best, – wireless, montiored etc.  Every customer has differing needs.  On average a standard alarm system would cost about €1000.
————
I hope this helps any of you who are planning to install or upgrade an alarm system in  your home and if you want to get prices for alarms systems be sure to log on to Tradesmen.ie and get up to 4 quotes from alarm installers here.
At Tradesmen.ie, we are continuing to provide our service within the restrictions that apply. Please check the Government Covid guidelines before carrying out any work in your home.
If you have any questions or comments please feel free to enter them in the comments box provided below.
Cheers
Oliver Dempsey
Tradesmen.ie
20 November 2021
Tips for hiring a tradesman
Here are some tips to consider when hiring a tradesman:-
1.    Ask for phone numbers of references so that you can check them out
2.    Check insurance of the tradesman where insurance is required
3.    Hire a suitably qualified architect, building surveyor or building engineer if the job is anything to do with a new build, building renovation or extension
4.    Agree on some sort of stage payments for the job. Remember that full payment should not be made until the job is complete and has been inspected by you, and if necessary by a certifier.