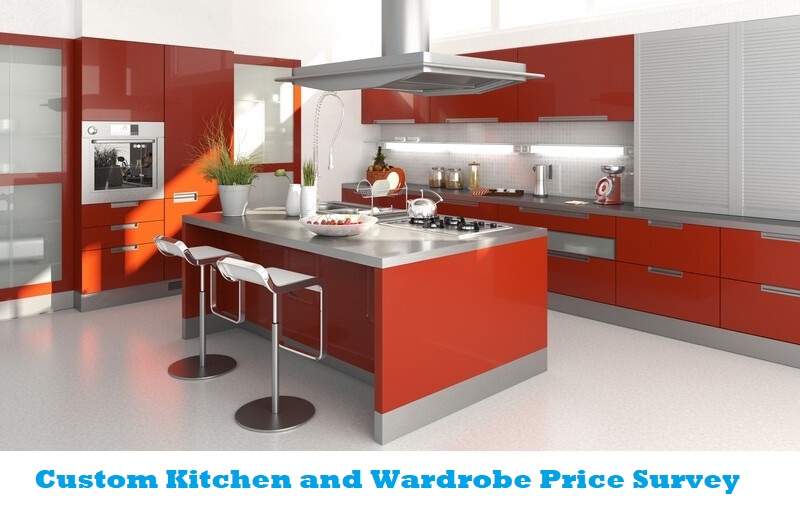 When remodelling your kitchen or bedroom, you have the option to select an off the shelf solution or go for a personalised approach. Opting for a customised design offers the advantage of tailoring it to perfectly fit the layout and design of your kitchen or bedroom, down to the exact dimensions. This allows you to avoid the limitations on cabinet sizes, designs, and colors, enabling you to maximize the potential of your available space.
A while ago we did a survey on custom kitchen and custom wardrobe prices for our blog. We asked tradesmen how much including materials and labour would it cost per foot, excluding vat, to make 1. A custom fitted wardrobe and 2. A custom fitted kitchen. We also asked if they had any tips for the customer on having a good experience with the tradesman. We have attached a sample of the replies below:-
Jimmy from Wicklow: Prices of fitted furniture can range from the hundreds to the thousands. It really depends on so many factors and variables that it's really down to each particular job.  My advice to customers is to go with built in from the start, if you can afford it. Built properly it'll last a lifetime, and it always looks better than shop bought from IKEA or some such place.
Also, get as many details from the tradesperson as possible. Then compare materials used as well as price. Finally, read the reviews of each tradesperson who is quoting for your job. Make an informed decision.
Dan from Dublin: About custom made/fitted wardrobes cost, it's all about what materials are you use, what's the layout/design of the wardrobes.  There are many details which can affect the cost of it.  So the cost can start easily from €2500 and could be more.  About kitchens supply and fit, again all its custom made, depends of the free space you have for kitchen area, fitting the kitchen, appliances cost, electrical, plumbing, tiling and so one.
Cost can start easily from €8000 and can reach €15000 or more.  All depends on what are you wish to put in it.  Advice to the clients, never try to do planning and/or fitting by themselves, always hire a professional to do it, preferably trade person/company who can do all in one, because that way can get a better deal than paying separately for every phase.
Brian from Meath: Fitted wardrobes double door units start eur1000 excluding vat. Kitchens start eur7000 excluding vat.  My tips for customers would be to have a good idea of exactly what you want, both overall design and style. (pinterest is good place to start).  While tradesmen will offer some ideas and advice, remember everybody's style and taste is different.
Anthony from Meath:  For a rough idea of costs for fitted furniture,  the most basic styling in say white or cream melamine with slab finish doors would be in the region of 800 euro per metre for wardrobes, 450 euro per metre for kitchen base units, 300 euro per metre for wall units.
Obviously door styles, colours, trim and fittings can significantly increase the costs for example a standard 1 metre wardrobe with a top fitted pull out rail and fitted drawers at the bottom would be more expensive as would a framed door with a mirror installed.   With kitchens  there is also the styling of worktops which can vary significantly in cost.
In both cases if a client is considering having a kitchen or set of wardrobes installed,  they should remember it is the type of project that will be there for a long time, so take into consideration how it will work for you in the future. A wardrobe designed for a child may have to be updated in a few years, the same applies to a kitchen with a large family.  In 5 years it may no longer be practical."
Nenad from Wicklow:  Fully fitted Wardrobe per metre: 800- 900€ Starting price with basic finishes.  Kitchen per metre: 1100-1300, solid but basic ranges. For base and wall units (with one or two larder units). Including fitting sink, hob, hood, dishwasher, fridge but without cost of said appliances.
Advice: It is important to insist on 100% completion of fitted kitchens and wardrobes for agreed price and not transfer the last 10-15% payment before it's satisfactorily completed ( Are the gaps filled, kickboards, pelmets, cornices fitted, dishwasher and fridge secured, worktop siliconed etc.etc.. ) The last 2-3  bits can be the most labour intensive. It's not fair to call another tradesman and expect to pay a minimal fee for these last labour intensive items.
Martin from Dublin: For average kitchen doors you are looking at €1500-2500 depending on size and spec. the units with drawers, pull out etc about €2000-3000 again depends on what's in it. Tips: From my experience of fitting kitchens from time to time for companies that just supply the units and doors and no fitters to fit them they leave you short on materials and it's a headache for the customer to keep going back to these places to collect more material.  I would advise going to a kitchen company that supply and fit as they know exactly what is needed and the customer doesn't have to worry about that end of things.
————–
I hope this helps some of you who are planning to get a new kitchen, wardrobe or custom furniture for your home.   And don't forget, if you are looking to get a custom/bespoke kitchen or wardrobe be sure to post your job at http://www.tradesmen.ie/trade/kitchens-fitted-furniture, put in a realistic budget based on the guidelines above and get a number of quotes from rated kitchen and fitted furniture specialists.
If you have any questions or comments please feel free to enter them in the comments box provided below.
Cheers
Oliver Dempsey
Tradesmen.ie
19 May 2023
Tips for hiring a tradesman
Here are some tips to consider when hiring a tradesman:-
1.    Ask for phone numbers of references so that you can check them out
2.    Check insurance of the tradesman where insurance is required
3.    Hire a suitably qualified architect, building surveyor or building engineer if the job is anything to do with a new build, building renovation or extension
4.    Agree on some sort of stage payments for the job. Remember that full payment should not be made until the job is complete and has been inspected by you, and if necessary by a certifier.