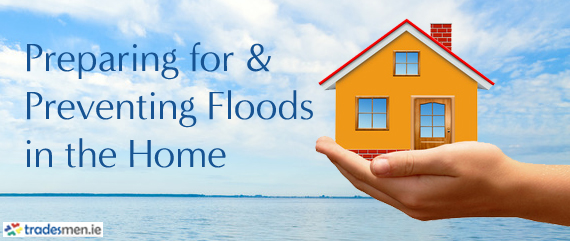 Hi folks,
as a result of the recent wet weather and flooding I thought it would be a good time to talk about ways of preparing for and preventing floods in the home,  or at least to minimise the damage that flooding will cause in the home.   It is shaping up to be one of the wettest winters on record, as we are experiencing double the average level of rainfall for this time of year.
The most recent rain has affected the East and South of the country mainly with the counties of Meath, Dublin, Carlow, Wicklow, Wexford, Louth and Cork being among the worst affected.  Met Eireann has warned that the coming weeks would be much the same, with "very little change in the overall pattern".     It is very likely that the rest of the country will also be affected in the coming weeks so it's important to be prepared.
If you know your property is in an area that could flood you can prepare your home in advance to reduce the risk of flood water getting in.  The global weather is becoming more extreme so even if your property has never flooded it could be affected if the weather keeps getting  worse.
Below are some tips that you can implement prior to a flood to reduce damage to your home and keep yourself and your loved ones safe:
Things that you can do inside your home:
Place sandbags at any openings where the water could get in.
Move any valuables or important documents safely above the flood level or upstairs if you are lucky enough to have an upstairs. It would probably be advisable to keep these items in your safe place during the wet months if there is a risk of repeated flooding in your area.
Make sure to turn off your gas and electricity. Also, disconnect cookers, washing machines, dishwashers, etc., connected by ridged pipes to prevent damage to the machine and the pipes. Store any electrical items upstairs or above the flood level.
Empty cabinets and furniture and place the contents above flood level. Then, if possible, raise the furniture that cannot be moved elsewhere on to blocks to try to keep them out of the water. Keep them away from walls if possible so that they can dry more easily if they do happen to get wet. If certain pieces of furniture are too difficult to lift weigh them down with a heavy object to prevent them from floating and causing damage to other items around your house.
Take up any rugs or mats and place them out of harm's way.
Remove the curtains or hang them back over the curtain rail.
If you have been lucky enough to receive advanced warning and time allows then remove press doors and internal doors. If you don't have time for this and they do get wet leave them open to assist in the drying process later on.
If you have a basement, make sure to seal windows and any cracks in the flooring, walls or foundation.
Some older homes were built directly at ground level and any water that floods outside is inclined to seep into the house.  You might consider hiring a building surveyor who could suggest remedies such as french drains or raising the floor level of the house.
Install one or more leak sensors at floor level in your home which will not only detect water seepage from outside but will also alert you in the event that you have a leak internally in your home.
Pack an emergency kit just in case. This should include any medication that you require, food, water, a flashlight with spare batteries, warm clothing (including waterproof clothes and footwear), blankets, toiletries, identification for each member of your family and any items that may be a necessity if you have young children.
Have a backup plan of somewhere to stay in the event that you have to evacuate your home and make sure to have warm clothing and wellington boots at the ready.
Things that you should do outside your home:
Check the pointing and apply water proofing sealant to exterior walls.
Landscape gardens and driveways to help divert water away from your home.
Install a submersible pump with a sensor that can detect when water reaches a certain level and activate or deactivate a pumping action. If the sensor is activated then the pump motor can force water out of the area that has been flooded through a pipe that is used to direct water a safe distance away from your home and garden.
Move your car, lawnmower and any other outdoor items such as garden furniture, bins, etc to higher ground if possible.
Flood water could get into your garage so move any fuel, chemicals, etc… above the flood level to make sure that they don't spill and cause damage. Also move your tools out of harms way.
Weigh down any manhole covers with sandbag as it is possible that they could open during a flood.
Use sandbags on greenhouses and garden sheds to try to prevent the water from filtering in.
Close off the flow valves on propane tanks, oil drums, or other fuel containers that supply your home through pipes and fittings.
Unplug any exterior electrical connections such as outdoor lighting, etc…
Turn off the water supply that goes to your garden.
Tie in climbing plants and check that tree ties are secure on any newly planted trees.
If you have any concerns about public drains, streams or rivers getting blocked or not able to take the volume of water, be sure to contact your local community action group, politicians and/or county council.  Ask these people to carry out preventative work to clear drains and create flood barriers etc well in advance of any flooding happening.
Always remember that flooding can be very dangerous and can kill you so if you do happen to be caught in a flood your safety and the safety of your family should be your first priority. Some crucial things to remember are as follows:
Do not try to walk or drive through flood water – six inches of fast flowing water can knock you down and your car can float in only two feet of water.
Be careful when walking through shallow water as manhole covers may have come away and there may be other underwater hazards that you may not be aware of.
Never ever try to swim through fast flowing water as you may be swept away or get struck by other objects in the water.
Flood water may have been contaminated with sewage, chemicals, dead animals, etc… so avoid it if at all possible.
If you cannot avoid flood water always wear protective clothing and wash cuts and cover them with waterproof plasters. If you do receive a wound you should go to a doctor as soon as possible and ask him to administer a tetanus injection.
Small children, pregnant women, elderly people and those with mobility difficulties or other health problems should be kept away from flood water.
Make sure that your house is insured against flood damage
I hope you found this article helpful.  If you have any other comments or suggestions please feel free to enter them in the comments box below.
Cheers,
Oliver Dempsey
Tradesmen.ie
14th November 2014
Here are some other articles that you might be interested in are listed below:   
http://blog.tradesmen.ie/2013/10/ten-tips-to-protect-your-home-from-the-elements/
http://blog.tradesmen.ie/2013/09/tips-for-reducing-your-heating-bill-this-winter/
http://blog.tradesmen.ie/2013/05/tips-for-hiring-a-tradesman/
http://blog.tradesmen.ie/2012/07/home-improvement-tips-for-wet-weather/
http://blog.tradesmen.ie/2011/09/insulation-in-the-home-2/
http://blog.tradesmen.ie/2011/01/preventing-freezing-pipes/
http://blog.tradesmen.ie/2012/07/gardening-tips-for-wet-weather/
P.S.  You might recognise this article from a previous one we did on preparing for flooding in the home but this article has been updated with even more tips.