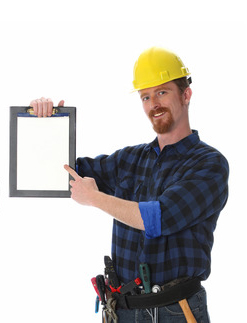 Hi folks,
this article is written for tradesmen and service providers but if you are a customer you will also benefit from reading this article.  A contract is essential as it helps to clarify the details of the job to be done.  It also lessens the chance of any misunderstanding taking place as everything should be in writing and signed off by both parties.   You can find templates for contracts online but if you can afford it, it would be well worthwhile to ask a solicitor to give you a template for a contract that he/she has on their system but more importantly to go through the contract with you and to explain it to you.  If you could get a quote for maybe an hour or two of the solicitor's time to go through it with you and you will learn a lot from it.  If you are a tradesman or service provider of any kind you should consider asking your local County Enterprise Board to run a short class on drafting contracts that will help you when dealing with your customers.  The County Enterprise Boards are great for supporting local businesses and they will subsidise classes and courses for local businesses in order to help them run a more efficient and profitable business.
A contract should be written in plain English if possible and anyone should be able to understand it.  It shouldn't contain complicated legal terms.  It should specify in as much detail as possible the work to be done and the materials to be used.  At the most basic level a contract could be a sentence or two in an email, text message or it could be typed or hand written on a piece of paper.  You should get an acknowledgement of the text or email by asking the customer to reply to it to say that they are happy to go ahead on that basis.  If it's written or typed on a piece of paper you should get the customer to sign it.
Larger projects will have longer contracts and a project such as an attic conversion or house extension should include references to the architect's drawings and the Quantity Surveyor's specs etc.  Larger jobs should have a number of stage payments involved and a number of sections on the contract where it is signed by the customer or certifier to say that they are happy with the work to that stage.  You really want to avoid a customer coming back at the end of the project to say that they were not happy with stage 3 if you are now on stage 8.  That is why it is so important to get these stages signed off as you go along.  You can break a job into as many stages as you like, whatever you and the customer are both happy with and as long as it means that your cash flow is not hindered.
Be careful with a customer that starts getting you to do extra stuff that you hadn't bargained for.  You need to nip this in the bud at an early stage and not let it get out of hand.  If there is extra stuff to be done outside of the contract the customer needs to be made aware of this as soon as possible and get them to sign a piece of paper or reply to a text message or email to say that this is extra work to be billed separately.  This should be got in writing as soon as possible before it gets out of hand.  If you feel pressurised unfairly by a customer at an early stage seek advice from a friend or someone you can trust such as your accountant or solicitor as soon as possible and don't take all of the pressure on your own shoulders without getting help and support from a third party.  If you agree on some changes to the job with the customer make sure to add it to the contract and get them to sign it or send them a text message or email to confirm what you both agreed.  Back up all your text messages onto a laptop or PC in case you loose any of them.
I have come across a good few disagreements where a simple contract would have solved everything.  A few weeks ago I had a tradesman complaining that he wasn't allowed to paint the doors of a fitted wardrobe on site and it was going to cost him extra to bring them back to the workshop.  He claimed he had quoted to paint them on site but he had no contract to prove it.
Recently I came across a tradesman who took an order for a double PVC door.  Nobody mentioned what colour it should be and the tradesman took it for granted that it should be white.  However after ordering the doors the customer said the doors should be cream.  A contract would have prevented this misunderstanding from happening or at least it would protect the tradesman in the event of any disagreement afterwards.   I cannot emphasise enough the importance of having a contract for every job that you do and I really hope that this article will convince you to use contracts in the future or to get as much stuff in writing as possible.
Cheers
Oliver Dempsey
Tradesmen.ie
7th January 2013
Related Keywords: tradesman contracts, building contracts, builders contracts