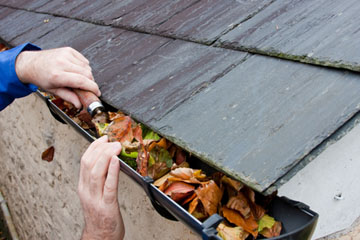 Well it's a dry morning as finish off this article but I think it would be fair to say that this is the wettest Summer we've had on record in Ireland. With nature in this state of mind there is the threat of more severe damage being caused because of the continuous bad weather. There are a number of things you should be looking out for to ensure you are not affected.
A good starting point would be to check out that guttering. Any damaged or missing guttering will allow all of this heavy rain water to run down your external walls, doors, and windows, causing damage to the bricks and mortar and even the internal structure of the building. As we have seen constant rain fall over the past few months, this damaged guttering could be causing serious damp conditions in your home. Making this small check and spending a little to ensure your guttering is effective could save you thousands of pounds in the long run. If you do notice some damage, you can pick up a repair kit from a DIY store to fix the problem although be aware that the problem could come back; if it does it might be a better idea to replace a piece of the gutter. Gutters can also leak or overflow water if they are blocked by leaves and debris so check this out if there are no visible breaks in the guttering itself.
Roof damage is probably one of the most common side effects of bad weather with the roof being the most exposed. It's also not the safest thing to check over in this weather so if you're not a professional, great care should be taken. Broken or missing tiles can allow water to leak through into the attic and cause damp patches on ceilings. It is highly recommended to get a professional to avoid further damage and for your own safety if you find yourself in this situation. Damp patches can imply water is collecting above and can cause a ceiling to bow, and even collapse, so it is important that the job is done properly and quickly. In doing this, you will be able to cover the damp patches up easily.
If you have cavity wall insulation then be sure to keep an eye out for damp patches externally as well as internally. If the wall is exposed to this weather for a long period of time, the insulation between the walls can become saturated by water seeping in or being collected. Cavity wall is a tricky one and can have devastating effects if not approached in the right way. It is suggested that it should dry out but it is likely to become mouldy in the meantime so it is strongly advised to get a professional to take a look at the effect the wet weather has had; especially if you do notice damp.
Then we have  mould. Where moisture levels are high, mould thrives and will develop and breed quickly. It takes just 24 hours for mould to develop so act fast to prevent it spreading in the rest of the house and potential health problems that come with it. Once you have dealt with the matter in hand you can tackle the after effects. You might prefer to call a professional but if the effects are small you can do it yourself. Take care; wear gloves and ideally a mask if you are tackling an exposed.  Bleach can kill mould but be careful what type of surface you apply it on because it is very corrosive.  If you are unsure, try it on a small area that is out of sight first to make sure or as I said above ask an expert to advise such as a building surveyor.
Take care of your home during this bleak weather. It is the unforeseen damages and effects that will be the costly ones.  And if you don't want to tackle these jobs yourself you can post your job on Tradesmen.ie to get up to 4 quotes fast from rated tradesmen😉
Cheers
Oliver Dempsey
Tradesmen.ie