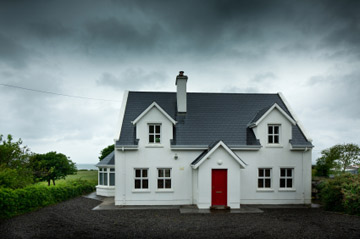 A mini tornado struck Clonfert, Co Galway last Wednesday evening. Thankfully no one was hurt but many houses and farm buildings were damaged considerably during the freak windstorm. As the weather becomes less favourable let's look at some tips to protect your home against the elements this winter:-
Maintain trees close to your home and make sure to remove any weak branches that could fall on your home during periods of high wind. If a tree comes crashing down on your home the structural damage can be severe and very costly to repair.
Make sure that your roof is water tight. In the winter month's rain and snow can leak in creating damp, condensation, and possible rot damage that can set in to timber roof supports. If not addressed swiftly this can lead to incredibly costly repairs in the future.
High winds can grab loose tiles and rip them from your roof in a matter of seconds making it very dangerous for anyone who may be walking underneath, cars etc in close proximity to your house may also be damaged. Make sure that all tiles, particularly those on the ridges and edges, are firmly secured and replace any tiles that are missing.
Make sure that you keep your gutters and down pipes free from leaves, moss and debris that can cause blockages. Otherwise water can cause the pipes to fracture when it freezes in them.
Make sure to clean your chimney at the beginning of the cold weather period. This will ensure that any soot and debris that has accumulated will be removed. A chimney fire may be caused by old bird's nests which have fallen into the chimney and lodged there. When a nest becomes ignited the chimney can go on fire and be very dangerous.
Check the condition of your ground level drains. If these are clogged with leaves or debris your water flow can become blocked and can lead to problems including dampness or even flooding.
Burst pipes are common during winter due to rapid freezing and thawing, potentially causing massive damage. Flooding through winter pipe bursts can easily be avoided by the use of sufficient lagging. You may also wish to consider adding an anti-freeze chemical to your central heating system or fit a frost thermostat to turn on the boiler whenever the air temperature falls below a certain level.
Ensure that your TV aerial is properly secured so that it does not become a danger in times of high winds.
Garden furniture, bins, etc should be stored securely away from windows and French doors where it could cause damage in a storm.
Make sure your boiler and gas fire have been serviced by a qualified professional and have your central heating system checked.
Sometimes weather damage can be inevitable regardless of how well prepared we are and often in Ireland we can find ourselves going without electricity for a few days over the winter months. Always make sure to have a flash lamp somewhere that is easily accessible and some fresh batteries on hand. Candles can also be very useful when we find ourselves in the dark so make sure that you keep these close to hand too and don't forget the matches.
Also, make sure that you have up to date home and buildings cover in place and that you are covered from weather related damage just to be on the safe side.
I hope you found this article helpful.  If you have any other comments or suggestions please feel free to enter them in the comments box below.
If you would like assistance in implementing any of the suggestions above you can post your job here and get up to 4 quotes fast from rated tradesmen!
All the best,
Oliver Dempsey
Tradesmen.ie
Some other articles that you might be interested in are listed below:    
http://blog.tradesmen.ie/2013/09/tips-for-reducing-your-heating-bill-this-winter/
http://blog.tradesmen.ie/2013/05/tips-for-hiring-a-tradesman/
http://blog.tradesmen.ie/2012/07/home-improvement-tips-for-wet-weather/
http://blog.tradesmen.ie/2011/09/insulation-in-the-home-2/
http://blog.tradesmen.ie/2011/01/preventing-freezing-pipes/
http://blog.tradesmen.ie/2012/07/gardening-tips-for-wet-weather/