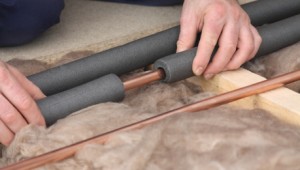 November in Ireland will go down in the record books as the coldest since 1985 with Dublin getting hit even harder with frosty conditions. December proved to be just as cold with major travel delays hitting public transport near the Christmas holidays due to frost and snow.
The winter season is still not finished and many homes have already experienced plumbing and water nightmares with most counties in Ireland forced to shut down water flowing to residential homes as water reserves dropped and burst pipes became a commonality in most homes.
Burst pipes are not only expensive when it happens but the inconvenience and damage spilled water can create is far more devastating, with leaking or burst pipes causing major damage to walls, ceilings, furniture and flooring.
We have listed some advice and tips for preventing burst pipes as the cold weather continues and in anticipation of further cold spells in the future.
For most people their knowledge to prevent pipes bursting in freezing temperatures is to leave the taps on so the water is continuously flowing and prevents the water remaining stagnant in the pipes to freeze. This can help but can lead to water reserves in the counties dropping too low and County Councils forced to shut the water off as most people have experienced over the last few months. And if you are leaving the house unattended over a period leaving the taps running and unattended could cause more damage than the pipes bursting.
Some better preventative measures for pipes running through unheated spaces is insulating the pipes with electrical heating tape or pipe sleeves which can be wrapped around pipes and act like a blanket protecting the pipes from the freezing cold. Both cold and hot water pipes must be insulated as hot water pipes running through unheated spaces will also freeze.
For inside the home you can put some fiberglass insulation between the pipes and walls helping them to retain their heat and prevent freezing. Both electrical heating tape and fiberglass insulation should be available at any local hardware store
A cheaper alternative is newspaper (at least quarter inch thick) which can be wrapped around pipes and secured with duct tape then wrap foil around again for more heat with duct tape holding both in place around the pipe.
If the pipes do freeze then you should heat the frozen pipe slowly to prevent rupture by using a hairdryer or space heater aimed at the blockage or wrap heated clothes around the frozen section until it has thawed.
If you are heading away for a long period over a cold spell the best prevention is to turn off the main water valve to the house before you leave and this will prevent any watery nightmares upon your return
For advice or to install any of these recommendations please log onto www.tradesmen.ie and we can source the right tradesman for you.
by Cheryl Chambers