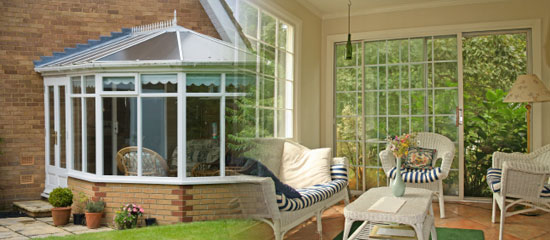 Hi folks,
here's a quick survey that we carried out today for conservatory and sunroom prices.  The survey was directed at conservatory and sunroom builders in Ireland.  Our question was as follows:- "We are looking for a price on a typical size 1. conservatory and 2. sunroom that you have done.   Both would require knocking out part of the wall of the living room of the house in order to join it on".  Below you can see the answers that we got back which make very interesting reading for anyone looking to extend their home using either of these methods..
Mathew S
1. Conservatory. 12ft by 8ft, Blockwork, Steel frame, 5FT high windows,
Double door, proper hip slated roof. 12,500EURO.
2. Sunroom. 12ft by 12ft, Blockwork, steel frame, 4ft high windows, double
door, slate roof. 18,500EURO.
Gavin S
4m*4m about 18000e
Mick A
Typical size for Conservatories to rear of house no planning required up to 6m x 6m2, Conservatory or sun room block up to 600mm rest glass or Conservatory full glass both same price including knocking through from house and moving pipe work and sewer, approx €10,000 depending on finish
James O' C
In relation to the sunrooms it would depend on whether they need path around the sunroom and whether they are actually completely open up from the kitchen in to the sunroom, or using the existing double doors they may have, what type of heating, and if they would be ok with electric rad.   A 16m2 bulk standards would cost in the region of €15,000 – €16,000 including vat.  This would be for a slated roof, windows all round, skim inside this would be fairly standard.
A 12-13m2 sunroom with vaulted slated roof and timber ceiling would cost about €2000 less for the same spec.  If they are going for a big bigger, with stone or brick external finish, higher quality windows etc you could be talking about €18,000-€20,000
TJ M
Approx, 16ft x 16ft, french doors, two windows, €15,000, fully finished
Rory O' C
Usually when people are building a sun room etc they go for exempt of planning. Which may vary in different county's. Exempt of planning gives the total sq ft you can build on to your property with out applying for planning. Example 200 to 400 sq ft. 20ft by 20ft= 400sq ft you can check exempt of planning by logging in to your local county planning office and look for exempt of planning it will give you all the info online.
Size 1 extension 200 sq ft approx price 17 to 20k + Vat at 13 1/2%. Size 2 extension 400 sq ft approx price 35 to 40k + Vat at 13 1\2%. Prices vary depending on location site conditions and finish requested. Standard spec or high spec. I hope this helps.
Also I am noticing may people do not have drawings for jobs to price off. It makes a contractors job much easier when there is a set of drawings to work of.
You know exactly what your pricing for and there is no issues when it comes to final payment.  I'm seeing it on a regular bases it brings clarity to projects for all party's involved.  It may be something to think about for architects looking for work.
Jim K
Not sure about a conservatory but for a sunroom with
high rated windows, french doors and two velux in the roof, painted and
tiled you'd be talking between 22 and 26,000
euro. Hope this is of help to you
John H
That's is a hard question without any sizes, but a 4meter square conservatory170 square ft would be around €12/15,000 and a sunroom in the same size would be around €14/18,000
Keith D
A conservatory that would consist of heating and electrics a concrete
kingspan insulated floor base and A rated windows and roof, size 12ft X
16FT €17,500 INCL VAT @13.5%
A sunroom that would consist of a concrete kingspan insulated floor base
and walls, Apex timber roof with two velux windows, one set of A rated
french doors and two a rated u.p.v.c windows, heating and electrics ,all
skim finished and paths around extension and grass seeded size 20ft X
20FT €35,000 INCL VAT @13.5%
Derek C
It is very hard to give a good accurate price without seeing plans and a site visit but I can tell you the last sunroom I built was approximately 100sqft and I did it for around €12,800 plus vat at @ 13.5%= €14,528
The last conservatory I did was 12×15 which is 180sqft and that cost around €13,000 including vat.  I hope this is of some use to you.
Liam C
Conservatory 12  \18 cost 24000 euro .sunroom 18\20 cost 22000 euro
Liam G
Typical 1. Conservatory 144sq ft € 13800 2. Sunroom 180sq ft € 17500
Miron O
Depends always what involves how many windows, side door or french door what kind of roof how many velux windows.You may calculate to say 6 by 4 metres= 24 sqm at 800/sqm and whatever you allow to include in this and else you will say is extra. I will say in 800/sqm include foundation walls one window one french door rad 6 spots one out side light one velux
Stephen G
I built a flat pack conservatory 6meters x 6meters, Dwarf wall, triple poly carbonate single hip roof, french doors. 4 double sockets, light, dwarf wall plastered.
Labour, materials including flat pack conservatory
15,000 euro
Derek F
A Typical 4mtr x 4mtr conservatory , breaking out opening and
installation of RSJ , windows etc … would roughly cost between
€12,000 & €15,000. Depending on clients requirements .
Neil T
For a conservatory of approx 20sqm in size our average price is €16K and a sunroom is approximately €20k . That is ex vat prices, includes all ground works through to painting with the glazing achieving 1.4 w/m2K
Colm M
A rough price would be 3.600 wide x 4200 long it would come in at €24,000 ex vat but could be higher depending on ground works ,access and spec of the sun room . Hope this helps . 1600/m2
Tommie F
A 12ft by12ft conservatory with slate roof would cost 12,000+vat
John M
for your average 25sq m , depending on windows and insulation spec , your looking at €22,000
———————————
There's a huge variety of prices, sizes and dimensions there but I did some rough calculations per square metre and I found that the conservatories are working out at between €800 and €1,100 per square metre with €1,000 being the most common price.  Sunrooms are averaging between 900 and €1,600 per square metre (most between €1,000 and €1,200 per square metre)
Please remember that when you're deciding who should build your conservatory or sunroom to always put quality ahead of price.  Some important tips are as follows, (a) get references, qualifications and insurance details from each contractor who quotes for the job, (b) make sure to have an independent certifier sign off on each stage of the build (c) only pay for each stage as it's signed off by the certifier (d) consider using an escrow payment facility to manage the payments and to safeguard both you and the contractor.
I hope this helps some of you who are planning to extend your home in the future and if you decide to go ahead with it you can get a number of conservatory and sunroom prices here and get up to 4 quotes fast from rated tradesmen!
Cheers
Oliver Dempsey
Here are some other articles that you might be interested in below:-
http://blog.tradesmen.ie/2012/04/do-i-need-planning-permission
http://blog.tradesmen.ie/2012/04/certifying-my-building-or-renovation
http://blog.tradesmen.ie/2011/10/attic-conversion-prices-dublin-ireland
http://blog.tradesmen.ie/2012/04/house-extension-prices-dublin-ireland