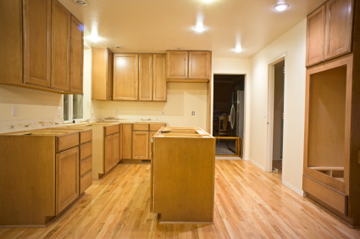 Today we are going to talk about tips for Garage Conversions. If you've ever wanted to create more space in your house, then the ideal solution to the problem could be as simple as converting your garage. It also means that you don't lose garden space like you would with an outside extension. This could also be the answer if you have a growing family and are in need of that badly needed extra room.
The great thing about converting your garage is that you have a blank canvas which can become anything you want. Because the basic structure of the garage is already there, you don't have to start from square one. But this doesn't mean that it will be plain sailing. Each garage contains its own set of challenges and the ultimate goal should be to integrate the finished product so that it blends into the rest of the house in a natural way.
In Ireland, you generally won't need planning permission for converting a garage attached to the rear or side of the house to domestic use so long as it has a floor area of less than 40 square metres.  You must also make sure that the garage conversion is not higher than the house.  These are general guidelines only, you should always make absolutely certain that you don't need planning permission before you start a build or renovation. Failure to do so where it is required can result in penalties (i.e. fines or even imprisonment). Please ask your local authority and they will be able to advise you about this.
There are some key issues that must be kept in mind if you decide to convert a garage:
What's your budget going to be? Again, with all projects of this nature and size, the costs involve can add up. Set out an initial plan of what exactly you want to convert the garage into and then go from there.
Having a properly constructed budget will help you keep things focused.
Get a highly recommended team of builders on the job. Having a fully qualified construction team on site may be expensive in the short term, but bear in mind that a job well done initially, equals money saved over the long period.
The current door on your garage will not be practical for a number of obvious reasons – insulation and light ineffectiveness, to name but a few. Because of the garage door, you will more than likely need at least one new external wall. Any new external wall will have to be constructed to make it damp proof.
The concrete floor will also have to be altered. Again, it will have to be damp proofed and properly insulated to prevent heat loss. Another option could be to build a suspended timber floor over the concrete floor.
The garage roof in most cases will need an overhaul. The two options available are a flat roof, which will need to have ventilation with a gap between the insulation and the underside of the roof, or a pitched roof. Your budget and design plans will more than likely decide which one you opt for.
Depending on which type of room you intend to convert the garage into, adequate ventilation will need to be catered for. A bathroom or kitchen will obviously require a lot more ventilation due to the condensation levels – especially during the cold months.
All plumbing and electrical work should be carried out by qualified tradesmen. Make sure to get good quality appliances that are recommended by the tradesmen.
One problem that accompanies a garage conversion is that from the outside, the conversion looks like a garage that the owners have moved some furniture into! In order to blend the conversion and make it look like a natural addition to your house, you will need to get rid of those garage doors, have plenty of windows and add some design elements to the roof, like dormer windows.
Converting your garage may leave you in a predicament as where to store all the garage contents that have accumulated over the years. This is usually solved by buying a suitably sized garden shed.
The end result of a garage conversion is ultimately to have more space in your current home and to add value on the property market. Think carefully about your goals and formulate a plan that will allow you to reach those goals with satisfaction.
Remember; always make sure to have an independent certifier sign off on each stage of the conversion.  Only pay for each stage as it's signed off by the certifier.  Consider using an escrow payment facility to manage the payments and to safeguard both you and the contractor.
Make sure that you know if the prices you got for the job are inclusive or exclusive of VAT.  You don't want to get any surprise at the end that there is VAT to be added on to the price.
Get references, qualifications and insurance details from each contractor who quotes for the job.  Make sure you have a building contract drawn up between you and the contractor so that there is no confusion on what has to be done.  The building contract should describe everything about the conversion including the exact specification of the work to be done, materials to be used, stage payments and timescale etc.
I hope this helps some of you who are planning to convert your garage in the future and if you decide to go ahead with it you can get a number of garage conversion prices here and get up to 4 quotes fast from rated tradesmen!
Cheers
Oliver Dempsey
Tradesmen.ie
Here are some other articles that you might be interested in below:-
http://blog.tradesmen.ie/2012/04/do-i-need-planning-permission
http://blog.tradesmen.ie/2012/04/certifying-my-building-or-renovation
http://blog.tradesmen.ie/2013/01/construction-contracts-why-are-they-needed
http://blog.tradesmen.ie/2011/10/attic-conversion-prices-dublin-ireland
http://blog.tradesmen.ie/2012/04/house-extension-prices-dublin-ireland
http://blog.tradesmen.ie/2012/07/conservatory-prices-and-sunroom-prices
http://blog.tradesmen.ie/2013/02/top-10-tips-to-building-a-home
http://blog.tradesmen.ie/2013/03/house-extensions-12-tips-on-extending-your-home