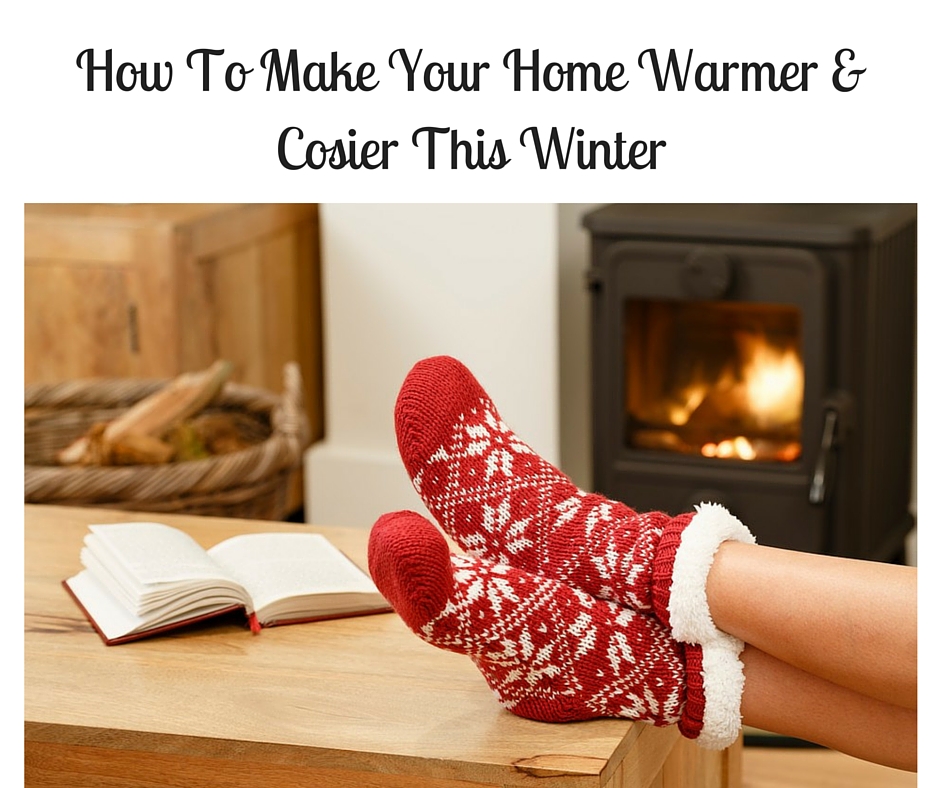 Can you believe that it is five years since we had the really heavy snow? So many families were snowed in at the time. We were snowed in for two weeks and apart from the fact that the food stores were getting low, we were all getting cabin fever towards the end.
As it gets closer to the shortest day of the year and the weather gets colder, are you maximising the retention the heat in your home? Having a home that is well insulated can save you thousands in heating bills and you can even get a grant on some building works. Some methods to reduce your heating bills will require structural changes but there are also simple changes you can do yourself very inexpensively.  Here are 6 ways to make your home feel warmer and cosier:-
1. Windows
Replacing windows can be expensive but if your windows are old, single glazed and draughty, you can save significantly on heating bills by installing triple glaze windows. If they are old sash windows, don't think that you need to replace them with new. It may be possible to get the windows removed, repaired and refitted, all while keeping the charm of your home.
Don't ignore your window hangings though. Heavy or interlined curtains can act as a blanket and will help to insulate the room. They are particularly important if your windows are getting old and aren't as tightly sealed as they once were. Drawing curtains as soon as it gets dark will help to keep the heat in the room. If you have rooms that are not used very often, such as a spare bedroom or good sitting room, keep the curtains drawn in those rooms to retain heat.
Hanging heavy curtains over the external doors and keeping them drawn can make a difference to the temperature in the hallway too.
2. Draught Excluders
It sounds simple enough doesn't it? Make or purchase a draught excluder and lay them by the external doors and by the doors in your living room to stop those draughts sneaking in along the floor. Keep doors closed to keep the heat in the rooms used all day.
3. Wall Insulation
There are different types of wall insulation and they will vary in cost too. External wall insulation is expensive but there are grants available from the SEAI (Sustainable Energy Authority of Ireland) so it is worthwhile investigating that. The cost of cavity wall insulation depends on the depth of the cavities within the walls so can vary significantly.
4. Attic Insulation
When insulating your attic, don't forget the water pipes and the trap door if possible. There are grants towards attic insulation but it has to be completed by a SEAI registered contractor and the insulation has to be a minimum of 300mm. Heat rises so if your attic insulation is poor, it means you are keeping the roof warm instead of the rooms.
5. Keep Yourself In Hot Water
Installing solar panels will ensure that you almost always have a supply of hot water, the SEAI also provides a grant towards these but ensure that your warranty is for at least five years.  If your hot water tank isn't well insulated, you'll be spending money on keeping the water warm too.
6. Open Fire or Stove
If you have a supply of wood or turf or you love a real fire, there's little to beat an open fire or stove in terms of providing heat and a cosy atmosphere to a room but which is best? Undoubtedly a stove provides best value for money as the fuel burns more slowly and the bulk of the heat goes out into the room rather than up the chimney. The other advantage is the heat disperses fairly evenly throughout the whole room. An open fire has some disadvantages in that it burns fuel more quickly and creates more dust than a stove and yes, up to 70% of the heat goes up the chimney. However, there's nothing like pulling your armchair in closer to the fire for feeling cosier on a winter's evening.
We have a wood stove in our kitchen which also helps to raise the temperature in the other rooms. The open fire in the living room isn't as effective in heating a room but definitely adds more atmosphere.
If your stove is also being used to heat water or radiators, you'll require quite a large stove (which means a lot of fuel) depending on the size of your home.
We recommend: