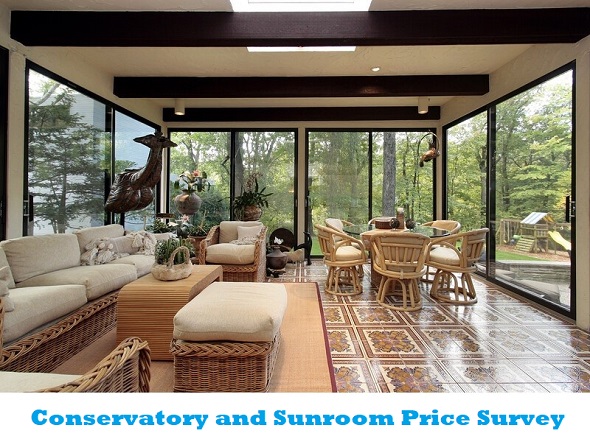 A conservatory or sunroom is a great way to extend your home. Conservatories and sunrooms offer you a space that can adapt to numerous purposes while providing plenty of light and a warm atmosphere that you and your family can enjoy. The advantages of conservatories and sunrooms are as follows:- 1. Creating more living space, 2. Providing better natural light, 3. Bringing the house and garden together, 4. Providing outdoor views, 5. Increasing home value.  Sunrooms are more popular these days as they retain the heat better in Winter and stay cooler in Summer.
Lately we did a quick survey on conservatory and sunroom Prices with some tradesmen on our website. We asked them to let us know roughly what a standard conservatory / sunroom would cost per sq metre and if they had any tips or advice for customers on having a good experience with the tradesman. Here is a sample of some of the replies we received below:-
Arthur from Kildare: Between 2500-3000 eur m2
Sean from Meath: A sunroom would cost between €2,500 and €3,500 per sq metre, a conservatory would be cheaper but I wouldn't recommend doing a conservatory as they are too cold during the Winter and too hot during the Summer.  Make sure to view previous work done by the tradesmen before choosing which one to work with.
Gerard from Down: EUR1800 square meter, all depends on finishes e.t.c
Damian from Dublin: To build a sunroom or conservatory at this present moment is getting more and more expensive with the current climate we are living in, also factoring in the cost of materials, the average price per sqm is anywhere from € 2000 – € 4000 depending on spec.. tips for clients on choosing a tradesmen look at previous work and get a couple of recent references, have a contract in place with attached payment plan, make sure communication is clear from the beginning.
Pat from Offaly: A conservatory would cost about 1500 per sq meter all in
Arron from Dublin: The price of a sunroom / conservatory would start around €24k and rise up to €40k plus vat depending on the window spec, roof finish, external finish .i.e. render / brickwork / stonework.  The biggest tip I would give is to ensure your floor slab is fully insulated, walls and roof are fully insulated and all windows are closed with air tightness tape to ensure no cold air can enter the strucure. The biggest complaint we hear is the cold and damp issues with living in Ireland.
—————
I hope this helps some of you who are planning to extend your home in the future.  If you decide to add a conservatory or sunroom to your home, you can get a number of conservatory and sunroom prices here and get up to 4 quotes fast from rated tradesmen!
Cheers
Oliver Dempsey
Tradesmen.ie
23 July 2022
General Tips for hiring a tradesman
Here are some tips to consider when hiring a tradesman:-
1. Ask for phone numbers of references so that you can check them out
2. Check insurance of the tradesman where insurance is required
3. Hire a suitably qualified architect, building surveyor or building engineer if the job is anything to do with a new build, building renovation or extension
4. Agree on some sort of stage payments for the job. Remember that full payment should not be made until the job is complete and has been inspected by you, and if necessary by a certifier.