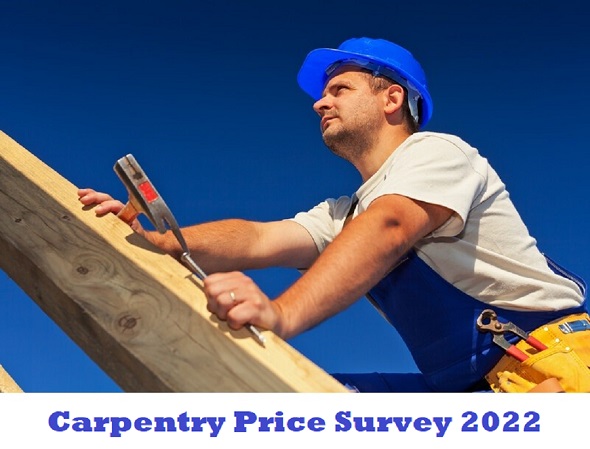 Carpenters provide a range of services such as constructing, erecting, installing, and repairing structures and fixtures made from wood and other materials. Carpenters are involved in many different kinds of construction, from formwork on large scale construction jobs to commercial and residential office and house building, fitouts and renovation.  On the commercial and residential side of things, carpenters frame walls and partitions, put in floors, doors and windows, build stairs, construct and/or put together cabinets and furniture.
Recently we carried out a price survey with carpenters on our website. We asked them to let us know what a typical price per hour or per day would be and if they had any tips for the customer on having a good experience with the tradesman. Here are a sample of the replies we received below:-
Tom from Kildare: 28 euros per hour for a carpenter, but everything depends on how long the job is..traveling etc. Ideas – selecting doors and architrave, Skirting should be moulded. Ironmongery – stainless steel – not brass. Timber finish is now very dated – paint all timbers. Laminate flooring very popular – again don't use timber look – white oak is bright and looks more modern..
Jonathan from Kerry: Realistic hourly rates in kerry at the moment are 32 – 36 euro ph.
Dave from Wicklow: Approximately €30 an hr.  Tip: Ask approximately how many hrs , as in max amount of hrs so there are no shocks. .
Ciaran from Leitrim: Approx cost for carpenters we use are 180-200 per day 8hrs days.
Ronan from Wexford: All depends on where the work is and how far you have to travel.  I would be charging 38-40 and hour for carpentry work.
Pat from Offaly: I would say 25 euro a hour would be ok some tradesmen could charge more, it depends on the demand.
Philip from Wicklow: I would charge €35 per hour for on-site carpentry work plus €50 for the first hour. I would advise customers to specify exactly what type of timber they require for a particular job. Hardwoods are more expensive and timber from Russia (e.g Siberian Larch) is now hard to get.
Brian from Dublin: I would charge 40 an hour.  Tips:  Give a more detailed description of the  job they need doing.  Also the budget guide price should be thought out.
Damian from Dublin: Costs are constantly rising, it's a bit difficult to give an accurate figure for labour and also materials.  I'd suggest an approx labour cost would be in the region of 30 euro per hour minimum.  The cost of picking up materials and travelling time would also have a bearing on the final price.  As materials are rising on a monthly basis I'd suggest that an estimate would be valid for a period of 3 to 4 weeks.
John from Westmeath: I generally charge €35 /hour ,I much prefer to look at the job and give the client an all In price for labour and materials.  Best tip for the customer is always get a couple of prices, sometimes if the customer agrees to pay directly for the materials and just pay the labour it can give  a lot more clarity to the customer, the customer can decide whether he or she wants to pay extra for the higher quality materials.
Pauric from Meath: Self employed carpenters in dublin are on between 250 – 300 per day + vat @ 13.5%.  Elsewhere 200 -240 + vat seems to be the going rate
Slawomir from Dublin: I have an hourly rate but it is just a guide. I would not charge per hour. I would always price per job or number of small jobs in one quote. The reason I would not charge per hour is that a lot of tradesmans take advantage of that and what could be done in 2 hours is usually completed in 3-4h.  I would recommend that it is paid by job. it might be a couple of them but at the end the customer will pay one bill and there is no surprises. Also to get a quote i would advise that the job is shown to the carpenter so he knows exactly what needs to be done.
Jimmy from Wicklow: There are so many factors involved such as the cost of materials, insurance, diesel, maintenance of vans, machinery, tools and equipment. And of course it's only getting worse as the cost of living is rising as it has been. There are other factors such as the quality of the workmanship, the attention to detail, the standard of the finished product. There's also the time spent going looking at jobs, the time spent working on quotes (for jobs that you have no guarantee of getting) and the time spent going to the builder's providers or wherever to get materials. To boil it down to an hourly rate would to my mind either lead to false expectations or give the impression that they're being ripped off.
Mark from Meath: Most carpenters on a day rate to me would cost me around €200 a day…it would depend on the project a customer would be looking to get done, for example a standard internal door supply fit would cost a client between 360-400 per door… laminate flooring €20 per SQM for laying… standard stairs ballustrade/handrail, newel posts spindles replacement….€900-1200….kitchen fitting….1200-1600. A roofer could be 200-250 per day.
Michael from Donegal: My per hour rate is generally €20 includes VAT, which a small surcharge added on to that rate depending on tool usage, i.e drill bits and kango or skill saw blades. I can recall one small job putting up curtain rails with the positioning of the holding bracket lined up with the windows lintel rebar, thus the drill bits were being destroyed hitting harder metal. Best job done: Research and think about what you are trying to achieve. If the jobs not ready for whatever trade, instead of getting the trade there-In the past two weeks I have lost three days due to clients saying they are ready, only to arrive and find there is nothing you can do and too late to line up other work. Check references or request pictures of prior work. Provide as much information about the job, lately people are asking for blind quotes for jobs with very little info.
Ben from Meath: Briefly, carpentry rates for first fix are between 25-35€ per hr mostly veering towards the €35. They may quote via day rates which will once again be between 250 and 300 per day for a typical 8-10hr day.  I would always advise requesting to see other similar works complete, longevity of the company and requesting the tradesman to call to site to view the works prior to hiring them.
Brian from Cavan: I charge about €25 an hour or €200 a day give or take depending on travel and job in hand, tip for getting best job done would be good communication with the client, this is vital in my opinion, as very client is different. i like to set aside time to discuss what has to be done and make sure that both parties are in the same page. where possible i also like to get a good look at the job in advance, so that best solution can be achieved.
Anthony from Meath: Most sole traders, small contractors are charging at least €30 per hour at present, with some charging a minimum call out fee, usually only applied to emergency jobs, which would be around €75 – €100 for the first hour followed by the usual hourly rate. To try to ensure you achieve the best results for the job you have advertised, well if you receive more then one reply, check the reviews the tradesman has. You would be surprised how many people don't do this. Dont only just look at the ratings they have received, if you read the reviews it will also show the range and variety of jobs that they can perform. Take into consideration that the cheapest quote is not always the most cost efficient. Another point to consider is that it is not always a good thing if a tradesman can get to you straight away (unless it's an emergency). Most good traders plan their work at least a few weeks in advance, so a tradesman who can get to you immediately, particularly for a job that could take days to complete should maybe make clients pause for thought.
———————
Thanks to all of the tradesmen who responded to our survey.  I hope this helps some of you who are planning to carry out a carpentry job in the near future.  Don't forget that you can get a number of quotes for carpentry jobs by posting your job on our website at https://www.tradesmen.ie/trade/carpenters-joiners
See you next time!
Cheers
Oliver Dempsey
Tradesmen.ie
15 October 2022
General Tips for hiring a tradesman
Here are some tips to consider when hiring a tradesman:-
1. Ask for phone numbers of references so that you can check them out
2. Check insurance of the tradesman where insurance is required
3. Hire a suitably qualified architect, building surveyor or building engineer if the job is anything to do with a new build, building renovation or extension
4. Agree on some sort of stage payments for the job. Remember that full payment should not be made until the job is complete and has been inspected by you, and if necessary by a certifier.
Keywords: Carpenter, Prices, Ireland