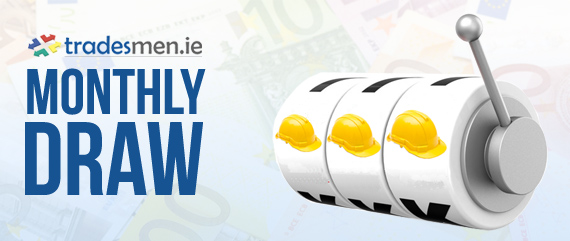 Hi folks,
here are the results and video of our March Draw 2019. Each month we have a draw for everyone who hires a tradesman and provides feedback. So not only do you get up to 4 quotes from Rated Tradesmen but you also are in with a chance to win a cash prize as well!
The draw for everyone who hired a tradesman and provided feedback in the month of February was held on April 2nd. The results are as follows:-
The winner of the 1st prize of €100 cash was David Gavin, Celbridge, Co. Kildare.
The winner of the 2nd prize of €30 was Stuart Pearson, Baltinglas, Co. Wicklow.
Congratulations to you both and well done to John Kelly and Michael Day who carried out the work.
I'd also like to say thanks to everyone who provided feedback on our site as it helps to improve the experience for everyone. You can see a video of the draw below:-

See you next month!:)
Cheers
Oliver Dempsey
3rd April 2019
See videos of previous draws below:-
Results and Video of our February Draw 2019
Results and Video of our January Draw 2019
Results and Video of our December Draw 2018
Results and Video of our November Draw 2018
Results and Video of our October Draw 2018
Results and Video of our September Draw 2018
Results and Video of our August Draw 2018
Results and Video of our July Draw 2018
Results and Video of our June Draw 2018
Results and Video of our May Draw 2018
Results and Video of our April Draw 2018
Results and Video of our March Draw 2018
Related Keywords: Ireland free competition, competition results, draw results, Irish competition, builders competition, tradesmen competition, tradesmen draw, contest winners, cash prize winners, competition entries or entrants