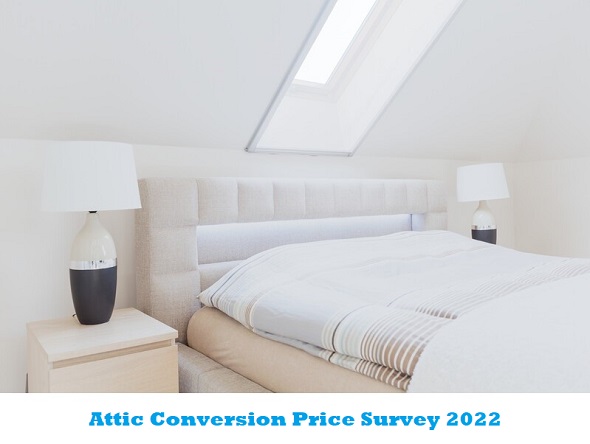 There are a number of benefits for an attic conversion in your home.  These include, adding more space without increasing your footprint, less expensive than moving or an extension and increasing the value of your home.
Recently we carried out a survey on attic conversion prices with some of our tradesmen across Ireland. We asked how much would it cost, excluding vat, to add an extra bedroom in the attic and were there any tips they could give for getting the best job done. Here is a sample of the replies we received below:-
Lance from Dublin 17: At the moment an attic in an average 3 bed semi would cost around €17k ex vat
Matt from Meath: Normal cost for attic conversion to a three bed semi to get one extra. Bedroom,is typically €18,000. Make sure to get engineers certification
Michael from Kerry: To add an extra bedroom to attic with new stairs and one velux window for a standard three/four bed semi. Twenty one thousand approx..
Pat from Mayo: Just to put an extra room up in the attic, no shower or toilet. average between €18000 – €25000..  Tips: get a few quotes don't just go with the first ."
Damien from Dublin: The cost of an attic conversion can vary. Depending on the job itself. There are a few different types of conversions. One being the straight forward mid terrace conversion costing anywhere from €18-€25k  . Two being going from hipped roof to gable costing anywhere from€25-€35k. Three going from hip to gable and flat roof dormer to the rear costing anywhere from €40-55k. Obviously if there a bathroom being installed it's going to add 7-10k to the price. Unfortunately materials have sky rocketed in price at the moment.  In particular timber steel and insulation which are all needed in an attic conversion . With constant rising in materials with no let up. The cost of building is set to do the same.
Luke from Galway: It could cost anything from 10 000 to 40 000 depending on house
Patrick from Limerick: Cost of attic conversion increased like all  construction works, due to metal prices/Insulations etc. Customers try negotiate price with contractor you're comfortable with(they in your house for number of weeks). Put in services for toilet etc even though you might not be installing until later date. Try negotiate for as much work as possible with builder, i.e. finishes/floor finishes/paint n decorate. Good chance he/she knows more about it than you do and will have people in place to actually do the work at reasonable price and time frame. Be honest with your builder re-monies. Tell them your budget and your method of payment. Contractor always give better value if he knows monies in place with prompt payments.
JP from Dublin: A rough cost on a standard attic is €22000 + 13.5%
Gareth from Dublin 15: To do an full attic conversion in a property there are a few things you need to watch out for:-
1 Engineer certificates
2 Very good insulation
3 Steel beams
I've seen companies doing conversions over the years and charging €12000 to do in my opinion it's the cheapest attic with everything basic and properly will have problems, my attic conversions start from €20000 plus vat 13.5 percent and that's with the proper material and Engineer
I would say make sure the client does their homework on the company the choose and then go check out a few jobs and meet the clients there is a lot of bad work out there.
Jasmin from Dublin: 23k for a standard attic conversion. Make sure you get a structural engineering certificate. Also note that it's a builders finish and getting walls painted and laminate flooring is extra. If you're floor timbers are smaller than 9×2 you will need an rsj installed. The proper way to install a rsj in an attic is to cut out to holes 4 inches deep in the gable wall were the rsj will sit Also note that the hole will have to be cemented back up otherwise its a fire hazard. Standard at should take 10 to 12 days to finish if you have to do a Dutch hip it will take 3 to 4 weeks if it's Dutch hip and dormer 5 to 6 weeks.
Sean from Galway: The current cost of converting attics would be around 20,000 to 30,000, depending on what was involved and the size of the attic, etc. the advice that i would give would be to get recommendations from previous customers, check for insurance, get a detailed list of what the builder is offering, etc.
————–
I hope this helps some of you who are considering an attic conversion in the near future. If you decide to go ahead with it be sure to post your attic conversion job here and get up to 4 quotes from rated tradesmen.
Cheers
Oliver Dempsey
19 March 2022
General Tips for hiring a tradesman
Here are some tips to consider when hiring a tradesman:-
1. Ask for phone numbers of references so that you can check them out
2. Check insurance of the tradesman where insurance is required
3. Hire a suitably qualified architect, building surveyor or building engineer if the job is anything to do with a new build, building renovation or extension
4. Agree on some sort of stage payments for the job. Remember that full payment should not be made until the job is complete and has been inspected by you, and if necessary by a certifier.