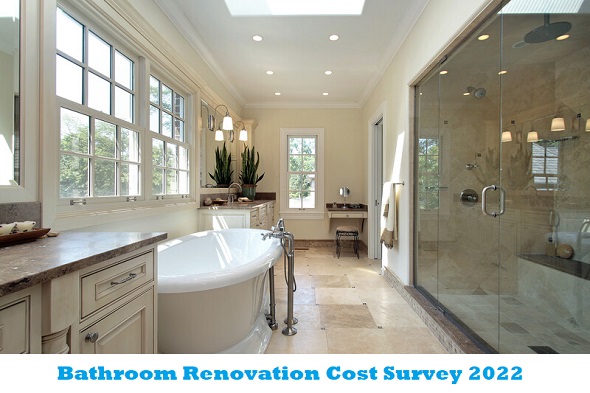 Recently we carried out a quick survey of bathroom renovation costs from tradesmen listed on our site. We asked them how much it would cost to renovate a 30sq m bathroom (tiling, plumbing and electrics). We also asked if there were any tips they could give to get the best job done.
Here is a sample of the replies we received below:-
Frank from Dublin: Price would be about €7,500.  Tip: Ask the builder to remove the floor and wall tiles , before giving u a price, very often, rot can be hidden below the tiles, meaning people can budget proper for the works
Christy from Dublin: The average cost of a bathroom is between €7000 / €10k supply and fit so labour electrical and plumbing cost can vary depending on the strip out of the existing bathroom. You could be talking in the region of €6k"
Cormac from Meath: A 30sqm bathroom would be unusually large and to price something of this scale would be in excess of 10k.  However a typical bathroom in an average 3 bed home is 3.5-5sqm.  The labour to strip out the old suite & dispose, carry out remedial repair work, electrics ,plumbing ,tiling and fitting would typically start around €4500. this will depend if a suite needs to be repositioned , if it's a tiled from floor to ceiling and if there isn't water damage to the floor or joists.
Mark from Westmeath: For a standard bathroom the cost for labour is roughly from €2000 to €4000. This includes gutting out existing bathroom, re plumbing for new sanitaryware, tiling entire bathroom and grouting, fitting sanitary and hiring a qualified electrician to connect power shower and any other electrical components. Notes for costumers.. when fitting an electric shower you must always run a 10square power line directly to your meter box and have it fitted by a qualified electrician. Always try to get one tradesman to take on the entire job instead of getting one tradesman for stage by stage, this usually guarantees a better job because one man is responsible for the outcome of the job and not 3 or 4 tradesmen trying to play a blame game if there are any problems.
Anthony from Dublin: A rough figure of about 5000 euro labour only for a bathroom on a normal basis
Donal from Dublin: A large bathroom renovation can be expensive when you factor in all the costs.  Firstly the labour on the demolition work could run to €1000  factoring in protection work to minimise any potential damage.  A carpenter would be needed to ensure all flooring and plasterboard walls are removed and replaced when pipework and cabling is finalised and hang replacement doors skirting architrave and any boxing of pipework this work could cost up to €2000 or more depending on level of work needed.  Plasterers would be in and gone in a day but can charge up to €700 for a full room to be plastered.  Plumbing work is quick enough with the majority of it done in 2 days unless there's high end equipment being installed which could take longer, again cost could run as high as €1500.  Electrical work again can vary really depends on what's being installed lights/shower shaver sockets etc running new cables can take time so knowing what finish is crucial at the start not just for electricians but for all trades. Most electricians would charge around €45 an hour so cost could come in at up to €500.  Tilers costs depend on the Tiler themselves most charge between €25 to €35 per sqM if you pay direct but as with all these trades they will all most probably work for a builder who will have a percentage on each one so bare that in mind."
Daniel from Westmeath:  A bathroom renovation labour only is about 7000, and in relation to the job adverts they should say exactly where the job is eg dublin 12 isnt very clear and to explain exactly what they want done.
Lukasz from Dublin: Price for full bathroom renovation start from 4500e plus vat.  (walls and floor insulation, airtight membrane ex walls, all plumbing, electric, tiling, grouting, installation of sink, shower, bath, toilet, mirror, fan, cabinet etc.)
Damien from Dublin: Prices can vary for a bathroom for the simple reason you either get a builder to complete the job which would be a set price for an average bathroom at 30 sqm anywhere from € 5000 – € 10,000 for standard toilet sink shower and pump if required included, and client supply tiles. Or have a plumber electrician and tiler you know on hand to come in as needed to first and second fix a bathroom that the client has dismantled and disposed of the old one and everyone is working from scratch. which might work out cheaper, electrics are not going to be expensive on a bathroom because there's not much in it.  Most electricians charge per electrical point which is normally € 50 – € 70.   A tiler charges between € 25 – € 35 per sqm for tiling and a plumber € 250 – € 500 per day.  Communication is key on any job big or small, if it's not there at the beginning it's not a good sign and could lead to problems.  Tiling is the most important you have to source a good tiler there are okay tilers and good ones but get a well recommended one because the tiling has to be right especially on a bathroom. A payment plan and insurance with references are a must between tradesmen and client.
Mark from Meath:  For a 30 sqm bathroom I would usually charge anything from 8-12k depending on exact spec, this would usually be for supply and fit though so labour only would probably 5-6k.
Sean from Galway:  Labour only to renovate a bathroom should be around 5/6000, depending on what was involved. the usual things would apply regarding what the customer should be looking for( check out the builders reviews from previous customers, give a good description of the work,etc
Dan from Dublin:  The old bathroom has to be stripped and dispose it in the skip provided plumbing rearrangement work to be done including materials which the customer can't provide.  Electrical work the same all other materials needed and so one of those things can't be provided by the client tiling materials including adhesive, grout, tiling spacers I use to supply, because some shops sell crap materials only to get rid of them.  I use top quality materials, only materials what the client can supply, are the tiles, toilet, wash hand base, bath or shower tray.  I can offer suggestions to the clients about what they want, but in the end I have to purchase nearly everything, because I'm in the trade and I know what has to be purchased so a bathroom proper renovation can cost over €10000, depending on what the client chooses.
Arthur from Kildare:  Full renovation inc sanitary ware and tiles would be around 10K + vat Depending on tiles and sanitary ware cost
Denis from Kildare:  The general renovation on a standard bathroom including tiling and plumbing using existing electrics would be between 4000 6500 euro depending on the specification I can go up to small bathroom I done which included tiling altering plumbing and fitting new sanitary ware including shower cost 7,500 the payments were 1/3 rd after starting the job 1/3 rd before completion and the balance on completion it's better to clarify everything before the start of the job.
———
I hope this helps some of you who are planning to renovate your bathroom and if you decide to go ahead with it you can get a number of bathroom renovation quotes here .
Cheers
Oliver Dempsey
Tradesmen.ie
23 January 2022
General Tips for hiring a tradesman
Here are some tips to consider when hiring a tradesman:-
1. Ask for phone numbers of references so that you can check them out
2. Check insurance of the tradesman where insurance is required
3. Hire a suitably qualified architect, building surveyor or building engineer if the job is anything to do with a new build, building renovation or extension
4. Agree on some sort of stage payments for the job. Remember that full payment should not be made until the job is complete and has been inspected by you, and if necessary by a certifier.