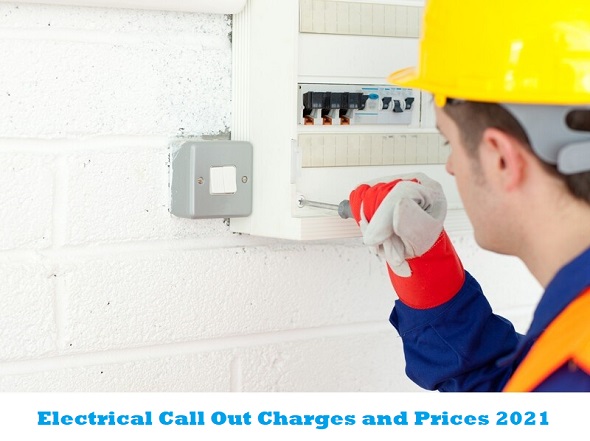 Electricians specialise in a variety of electrical services including the installation, commissioning, testing and maintenance of various wiring systems and services in domestic, commercial and industrial applications. Their work ranges from wiring domestic houses and retail units, to more complex systems involving process control and maintenance in industrial plants, factories and hospitals.
Lately we did a survey of electrical callout charges and prices with some electricians and electrical contractors on our website. We asked them to let us know what a typical call out fee would be and the price per hour thereafter. We also asked if they had any tips for customers on having a good experience with the tradesman and their job. Here are some of the replies below:-
David from Dublin: We would usually do €80-€100 for a call out which includes first hour and €40 per hour after that.
Pat from Carlow: A typical first hour call out charge is €80 and €50/hr thereafter.  A good tip for clients in the current climate is not to try and bargain/haggle with tradesmen as this is counter productive due to no shortage of work."
Derek from Dublin: I charge 75 plus vat for call out and 35 an hour after that, most small jobs an hour can fix.
Derek from Carlow: My call out fee is 80e in 10miles, anything outside that is 100+,  on site fee from 50 to 80 per hour,  depending on times to travel,  as you know materials are gone very expensive now,  I've to adding on 10-15%  to them as the next time I go get materials it could be a lot more,  to cover costs.
Martin from Laois: Call out 60 + vat includes 45 min.  30 + vat after the callouts.  Pictures are a good help.
Keith from Dublin: I would charge 80 euro for the first HR and 65 per HR after.  Check the reviews of the tradesman In question from other clients that have reviewed previous work, as it's hard to verify the accuracy of people's references.
Francis from Tipperary: Typical callouts cost anywhere between €90 + vat to €120 + vat, what comes under call outs would be but not limited to extra socket, light switch, replacement of old fittings, installation of new fittings or points. After that an hourly rate of €50 – €60 per hour would be charged depending on the job and the level of trained second person I would need with me. When doing substantial jobs like new builds, sheds, garages extensions. An overall price would be given a typical small garden shed with 1 light and 1 socket can range from anywhere between €700 – €1000. Rewires can range anywhere from €6500 – €12500 depending on size and age of building. Tips for customers getting work done would be to ask how long the quote stands for as material is increasing weekly it seems unfortunately so €600 job today could be a €700 job in a month. Cable increased from €50 to €130 just this year alone. Also it is now a requirement when any electrical works is being done on a premises that a whole test of the installation is done to certify the integrity of the current installation. This can lead to a full rewire of the house worse case scenario. If for example I come to fit a socket and I fit it and install it and then test the house after to certify it and find that the board is outdated. The €200 job has now turned into a €6500 rewire. Payment terms i use for newbuilds are 45% on completion of 1st fix, 45% on completion of 2nd fix and 10% on certification and handover.
—————–
I hope this helps some of you who are planning to carry out electrical job in the near future.  Don't forget that you can get a number of quotes for electrical jobs by posting your job on our website here.
At Tradesmen.ie, we are continuing to provide our service within the restrictions that apply. Please feel free to look for quotes but only work that complies with the government guidelines should be carried out until these restrictions are lifted.
If you have any comments or suggestions please feel free to place them in the comments box below.
Cheers
Oliver Dempsey
Tradesmen.ie
21/10/2021