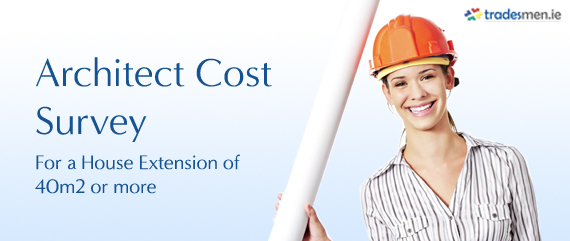 Hi folks,
recently we did a quick architect cost survey to find out what the affect if any the new building regulations had on the fees for preparing plans and certifying a house extension of 40m2 or more.  Here is a sample of the replies we received below:-
Noel G: It all depends on complexity of build , but the new regs will cost up to 15-20% additional.
Stephen P: The working drawings ( not just plans !) required, plus demonstration of compliance will add 25% to the cost of tender & construction phases
Alan B: Depends on a multitude of factors (location and distance from office, site, build type, level of fitout and design needed) but assuming a straightforward 'normal' extension…Before 1st March this would have required planning but not an Assigned Certifier and over four stages for full service (inspection to completion) would have been roughly  e7-8k ex VAT for everything. After 1st March the BCAR would add about  e1.5-2k into this. Very rough – could be less or more depending on the range of factors above.
Jason M: Now about 3-4 k depending on complexity and site Before 1-2
Aidan D: We wouldn't really price work without seeing d job but off the top of my head we would generally charge approx  e2,000 for a planning application for a domestic extension. Following permission being granted, supervision and certification would be in the region of  e2,500. This could have usually been done for about half the price before the new regulations were introduced and the reason for the increase is that there are more drawings required at this stage and also more interim certificates (before and during construction).
Mike F: Additional 20% fee for assigned certifier role.
Gerry H: 40m2 are exempt SI9 Regs, so there's no extra change there. It's when it is over the exempt development 40m2 that things get complicated. At the moment my extra for fees on SI9 is between 4500 and 6500 extra over, depending on size and scale.
Michael B: e5k previously e3k
As you can see the new building regulations have added on a considerable extra cost for extensions over 40m2.  The additional costs vary from €1,250 to €6,500 according to our survey.   There is also quite a variety in the prices for the plans and certification with prices ranging from €4,500 to €8,500 but this may well be to do with how much work is involved so it is important to discuss your project with a number of architects and make sure you are comparing like with like.   As usual I would say don't use price as your only benchmark.  The architect may have to spend extra time to make sure your needs are looked after and extra time means extra expense but will be well worth it if it provides the solution that is right for you.
For buildings or extensions that are exempt from this process of planning and certification, I would still encourage you to seek the advice of an architect and an engineer from the outset.  And whether you hire an architect or engineer or not, I would encourage you to record and document the different stages of the build yourself by taking photos or video footage of each stage and print them out or save on a backup disk.  This will be a useful reference later if you ever need to refer back and see how the work was carried out.
I hope this helps home owners who are planning a house extension in the near future or if you are an architect you may be interested to see the views and comments of other architects in relation to these new building regulations.  If you have any questions or comments we'd be delighted to hear from you, just place them in the comments box below.
Cheers
Oliver Dempsey
Tradesmen.ie
9th August 2014
Here are some other articles that you might be interested in below:-
House Extension Costs Survey
House Extensions – 12 Tips on Extending your Home
Do I need planning permission?
Will stricter building regulations improve building standards in Ireland?
Certifying my building or renovation
Construction Contracts, why are they needed?
Attic Conversion Prices
House Extension Prices in Dublin(2012 survey)
Top 10 Tips to Building a Home