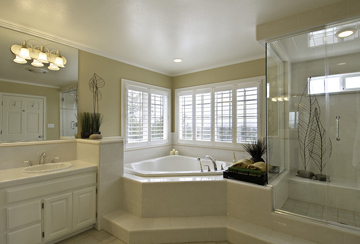 Hi folks,
recently we carried out a quick survey of bathroom renovation costs from tradesmen listed on our site.   We asked them for rough prices for tiling a bathroom floor to ceiling and replacing the sanitary ware (labour only) with a minimum and maximum price.  We also asked if they could give a minimum and maximum price for tiles and sanitary ware if they had time.  The bathroom size we gave them was 2.40metres x 1.80metres.
Here is a sample of the replies we received below:-
John F: labour. min 600 max 900
materials. sanitary ware min 250 max 500.
materials. tiles min 700 max 1000
—————————–
 Driss L: price for that bathroom it wil be 900 euro for pluming and tiling
 —————————–
 Rory C: tiling a bathroom floor to ceiling and replacing the sanitary ware labour only. Approx €300 – €500 replace sanitary. And between €8 – €15 per sq meter for tiling
 —————————–
 Peter S: For size of bathroom that you mentioned min price has to be 1400.00. Max price 1950.00 ( if there is not any changes in pluming connections )
This is for floor tiling, walls tiling and fittings replacing. ( labour only )
There is not maximum price for fittings and tiles as I have seen tiles for €120 per sqm and very expensive fittings for over €5000.00
Minimum price for fittings is around €320 ( bath with taps, basin with taps and toilet with cistern )
Minimum price for tiles is €450 ( wall tiles and floor tiles )
 —————————–
 Pat Y: Tiler & plumber approx  e850- e1000 inc vat. for basic suite in same position with ceramic tiles.
 —————————–
 Des M: Rough price, total e1925  .tiling e800 plumbing e1125. Normally like to see job
 —————————–
 Richard O: Around  e1200
 —————————–
Apart from the price provided by Des and Peter I think the rest of the quotes were reasonably consistent.  Labour was working out at between 900 and 1200 on average and the tiles and sanitory ware can range from €800 – €1500 but you can really pay anything depending on what you are looking for.
The most important thing when hiring a tradesman is to get as many references as possible and ideally if you could go and see work that they have done if you really want to be satisfied.  When letting anyone carry out work in your home you should ask them to show what insurance cover they have and if you necessary to show it to your own insurance advisor to make sure you are adequately covered.  Always make sure to compare like with like.  For example some tradesmen may quote to replaster the walls after the old tiles are removed and others may not.  And as with all jobs you get what you pay for so don't be tempted to go with the cheapest quote,  you will be far better off to go with the tradesman who is more likely to do the best quality work at a higher price.
One of the tradesmen made the point that you should only hire someone who is using seperate tradesmen for each part of the job.  He said that there should be a seperate tiler and plumber involved and a seperate electrician where there is electrics involved.  For example with the electric shower it should be wired back the whole way to the fuse box and have it's own RCD thing-a-me-jig to protect someone from getting electrocuted.  I would recommend only using an electrician who is a current member of RECI or ECSSA  to carry out any electrical work.
Always check whether the prices are inclusive or exclusive of VAT.  One more thing, please consider using an escrow payment facility to manage the payments and to safeguard both you and the contractor.
I hope this helps some of you who are planning to renovate your bathroom and if you decide to go ahead with it you can get a number of bathroom renovation quotes here and get up to 4 quotes fast from rated tradesmen!
Cheers
Oliver Dempsey
Tradesmen.ie
Here are some other articles that you might be interested in below:-