Ceilings are usually very plain. Painted white or off-white, they are the plainest feature of most rooms. However, they can provide an understated wow factor. For rooms where you are lying down and actually looking up at the ceiling, be it bedrooms (or perhaps living rooms if you like to lie horizontally on the sofa or in a recliner), bathrooms or in a massage / therapy room, an interesting ceiling can bring joy as well. Think of the ceiling as the fifth wall in the room – and it also requires creative decorating.
Wallpapered Ceiling
Wallpapering a ceiling can be tricky so best leave it to the professional decorators but it's a cost-effective and dramatic way to bring interest to your room. It will be even more dramatic if the walls are plain.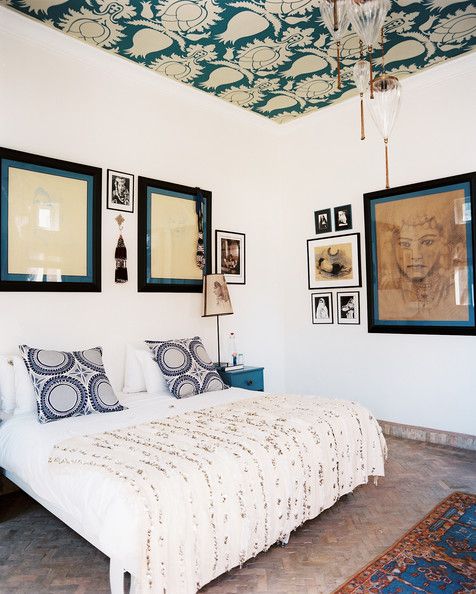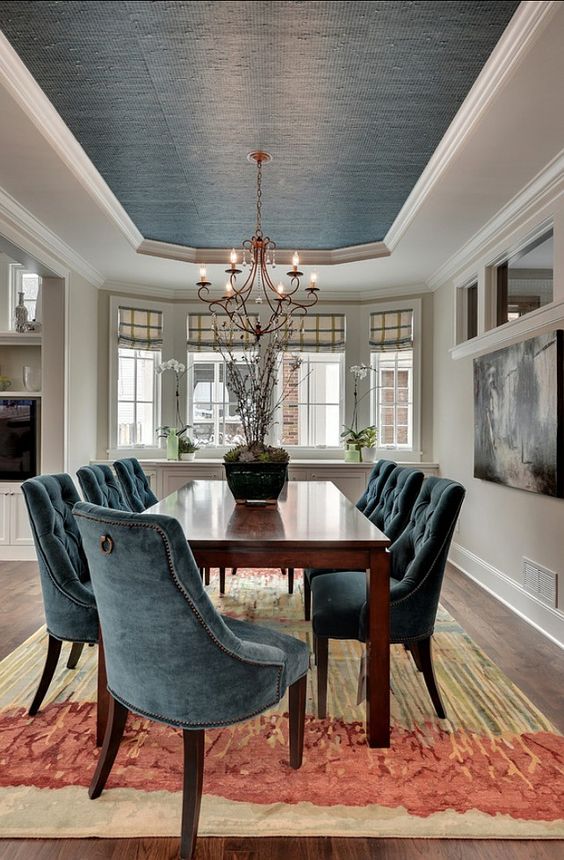 A Rose by any other name
A ceiling rose gives a ceiling definition without being too dramatic. Some ceiling roses can be quite elaborate. I really like the size and scale of this relatively plain ceiling rose. It provides plenty of interest without being fussy. I also like how the 'pleats' in the rose pick up the pleats in the curtain heading too.
Coving isn't just for the edges of a ceiling. Coving in a geometric pattern across the ceiling adds beauty as well as defining the clean lines of a plain ceiling. Just stunning.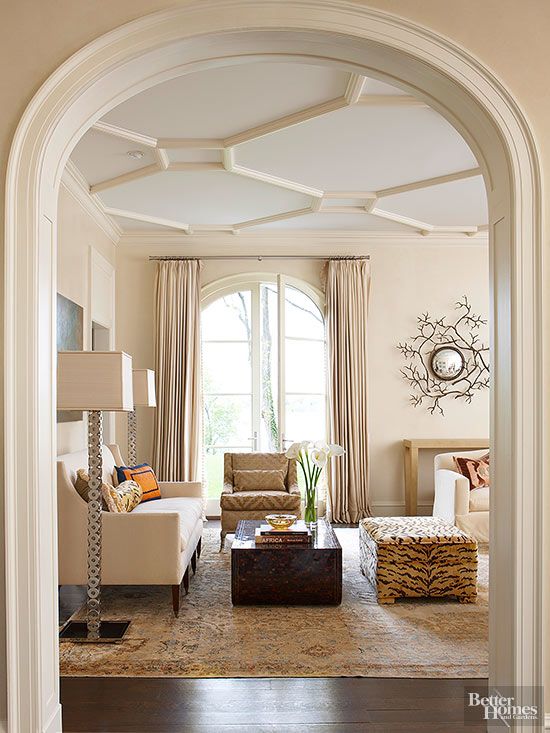 Ceiling Beams
Ceiling beams add a rustic and country vibe to interiors. They also accentuate the shape of the ceiling, particularly effective in high vaulted ceilings.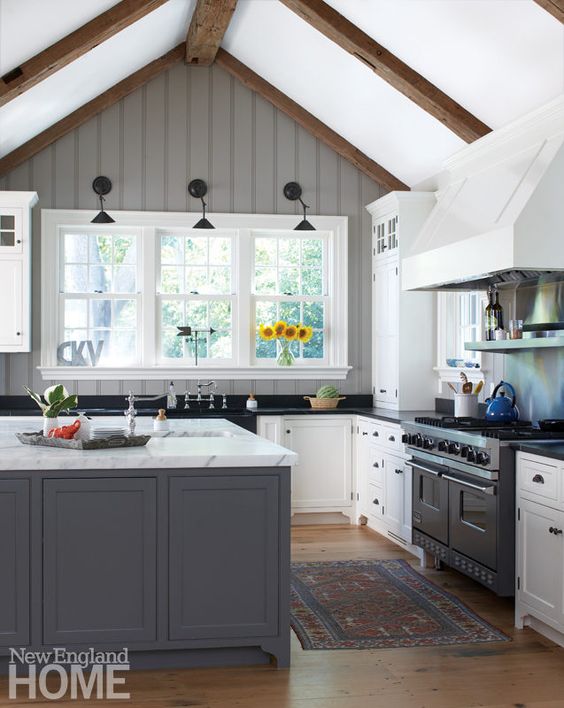 Dark Painted Ceilings
Painting the ceiling in a dark, striking or bright colour may be considered a brave move, and is certainly unusual, but let these examples inspire you. The pink ceiling in the bedroom is vibrant yet relaxing and it picks up on the pink accents around the room. The bedroom is still a calm oasis as the dominant colour is white. I think painting the fifth wall, the ceiling, is much more effective (and unusual) than painting one wall in a different colour.
Dark colours such as navy, dark grey and black add glamour and definition to an interior design scheme too. Lying back in the bath and gazing at this beautiful blue ceiling would be so relaxing and inspiring.
Ceiling Murals
Go one step further than a vivid painting ceiling by opting for a mural. These clouds are embellished with stickers of birds to create even more of a sense of the outdoors.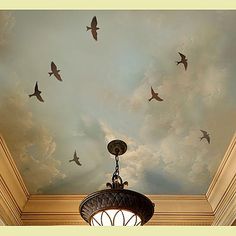 I hope these ideas have provided you with inspiration for creating beautiful, vibrant and unusual ceilings in your home. Think of the ceiling as the fifth room in your home. Should you require an interior designer or a decorator, remember you can get up to four quotes on our website.