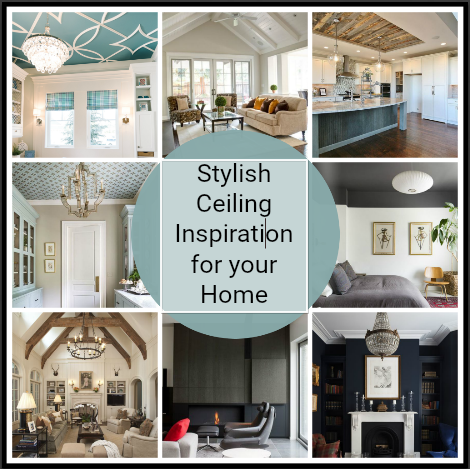 Have you thought about decorating the fifth wall in one of your rooms? Ceilings are often very simply decorated with white or off-white paint when they could create quite an impact by using wallpaper, brighter colours, dark colours or very different materials.
Here are some other ideas you might consider for decorating your ceilings:-
1. Wallpapered Ceiling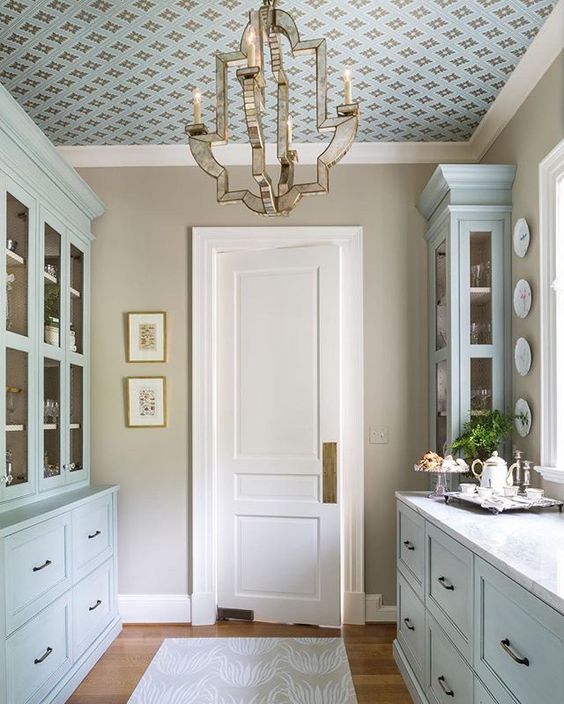 The wallpaper doesn't have to be dramatic. Subtle impact has been created in this room with this Farrow and Ball Ranelagh wallpaper. The walls are quite plain, painted, with the addition of a few pictures. Given that there are two large pieces of furniture in a relatively small space, the wallpaper on the ceiling adds interest without making the space feel too cluttered or busy.
 2. Ceiling Beams
Ceiling beams or timber trusses bring character to a room, the wood is warm and full of character and they are a reminder of how the house is constructed.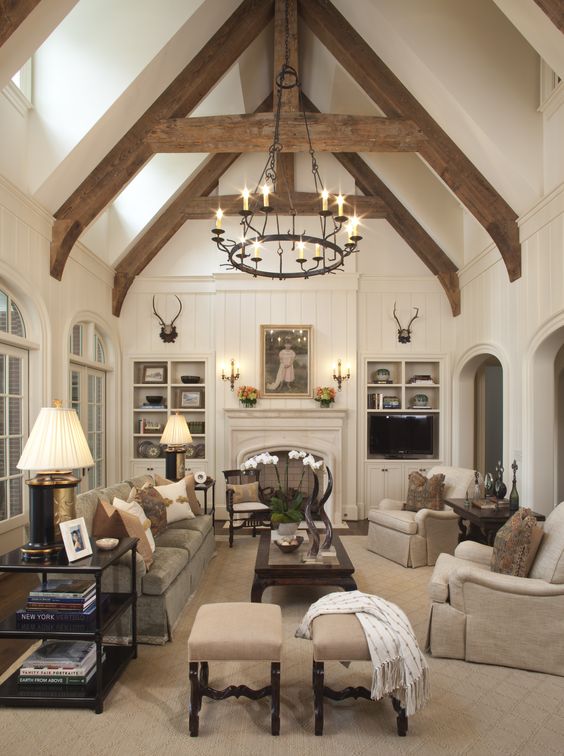 3. Strong Colours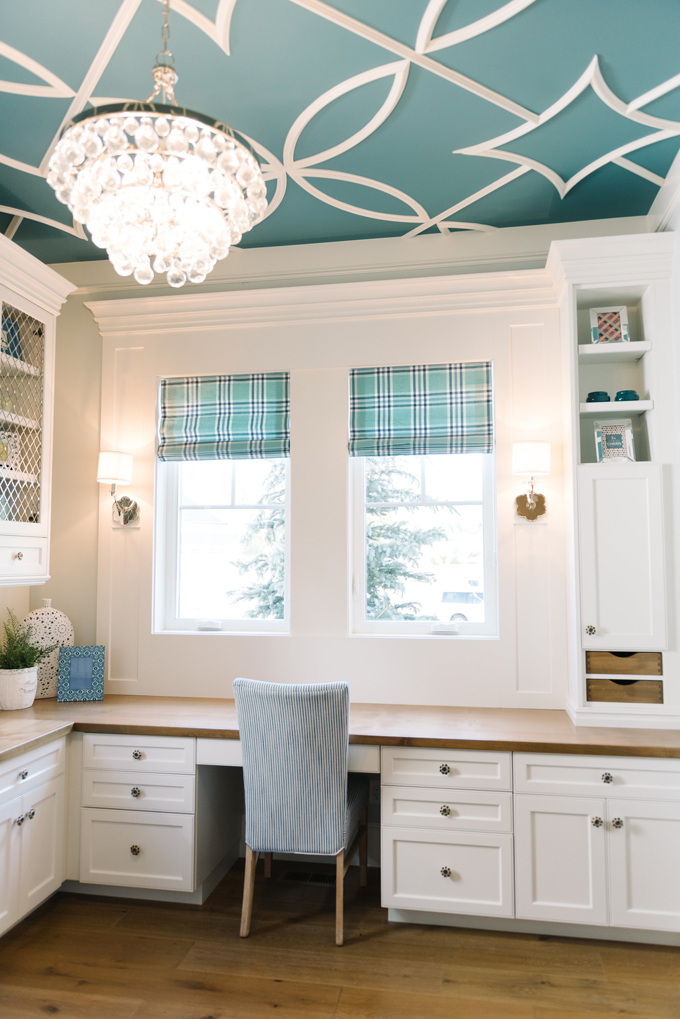 The strong turquoise colour, especially when contrasted with the white detailing, is plain yet very vivid. Definitely a statement within this room.
4. Ceiling Rose and Coving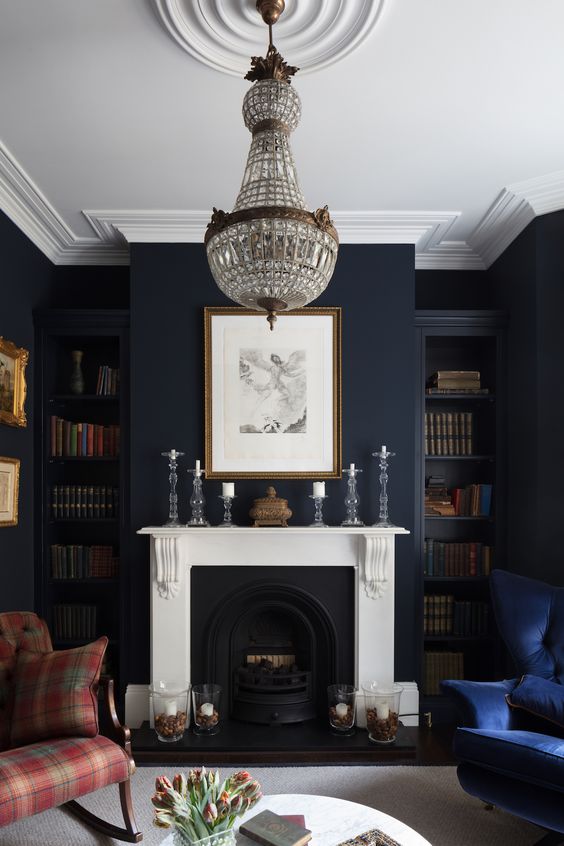 The addition of coving adds depth and height to the ceiling. It is perfect for formal rooms such as libraries, sitting rooms and hallways. A ceiling rose adds detail and will emphasise the central light pendant.
5. A Ceiling with a Difference
This black recessed stripe across the ceiling makes such a stylish statement yet is incredibly simple. It draws the eye to the fireplace and the ceiling itself becomes an important part of the design process.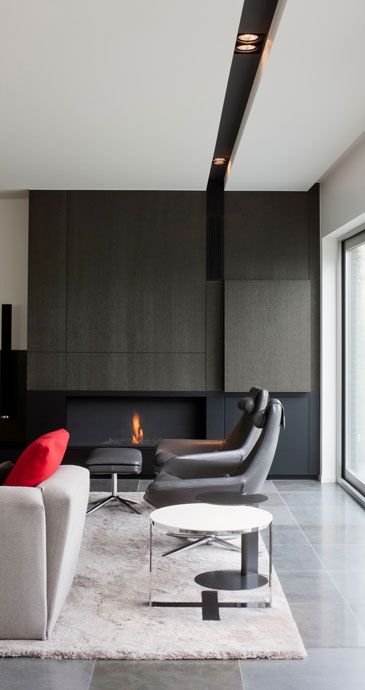 6. Wooden Ceilings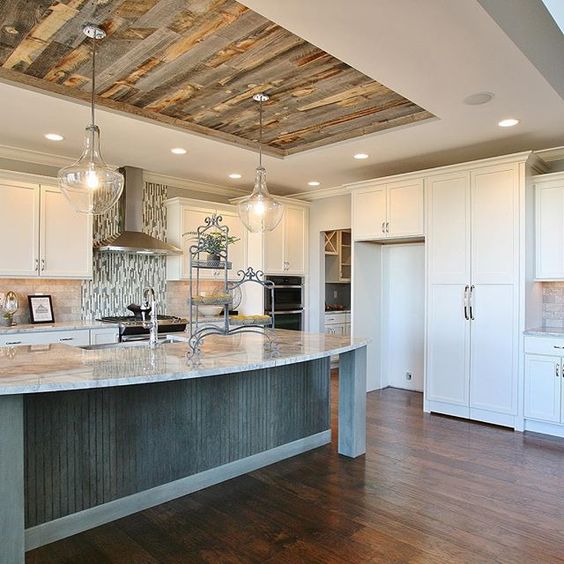 You may think of wooden ceilings as being very 1970s but they are definitely making a comeback. What is popular now is including wood in the design process for a specific part of the ceiling. This emphasises the beauty of the wood too.
7. Black Ceilings
Black ceilings are rare. We tend to paint ceilings light colours in our aims to make rooms appear bigger, higher and brighter. But black ceilings can make rooms cosier and more intimate, or they can make a room seem more majestic.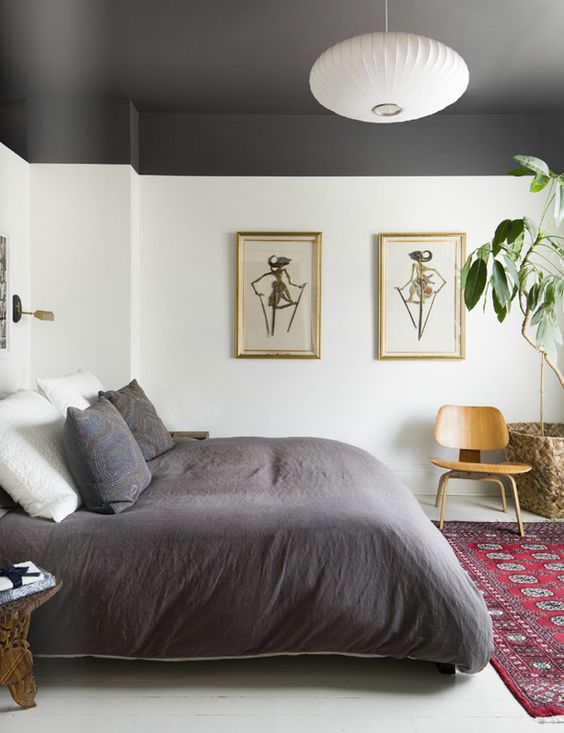 This bedroom, mostly decorated in black and white, isn't stark or cold. It actually seems quite peaceful and relaxing partly because the black ceiling (see the black at the top of the walls too) makes the room seem more intimate.
8. Vaulted Ceiling
Of course, a vaulted ceiling needs to be considered at the planning stage of your build. The advantages are many: more height, more of a sense of space, more natural light and the ceiling itself can be a thing of beauty. If you are extending your home with a single storey extension or converting a single storey garage, it's certainly worth considering having a vaulted ceiling.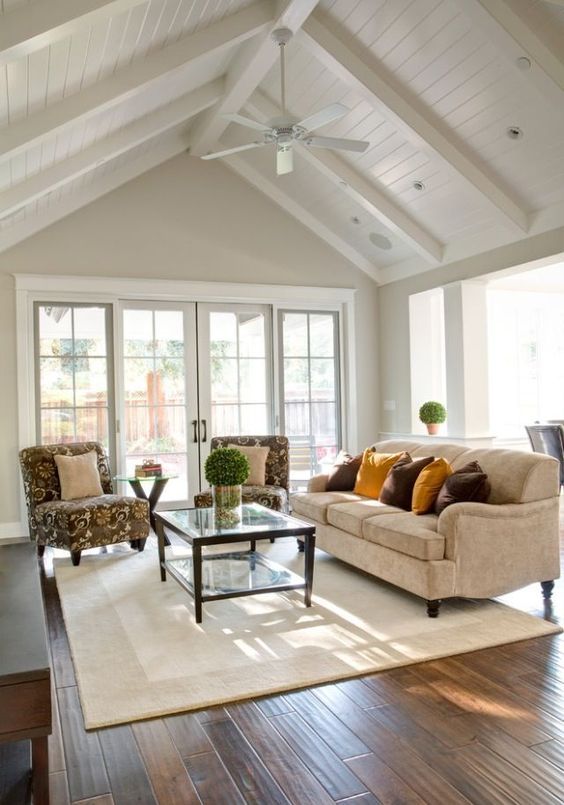 We hope this has provided you with some inspiration for your next decorating project. Don't just dismiss the ceiling with a decision to paint it off-white. Give it as much thought as the walls to create a room with a wow factor.
Should you require a tradesperson for any home projects, just provide the details on our website to receive up to four quotes from rated tradesmen.