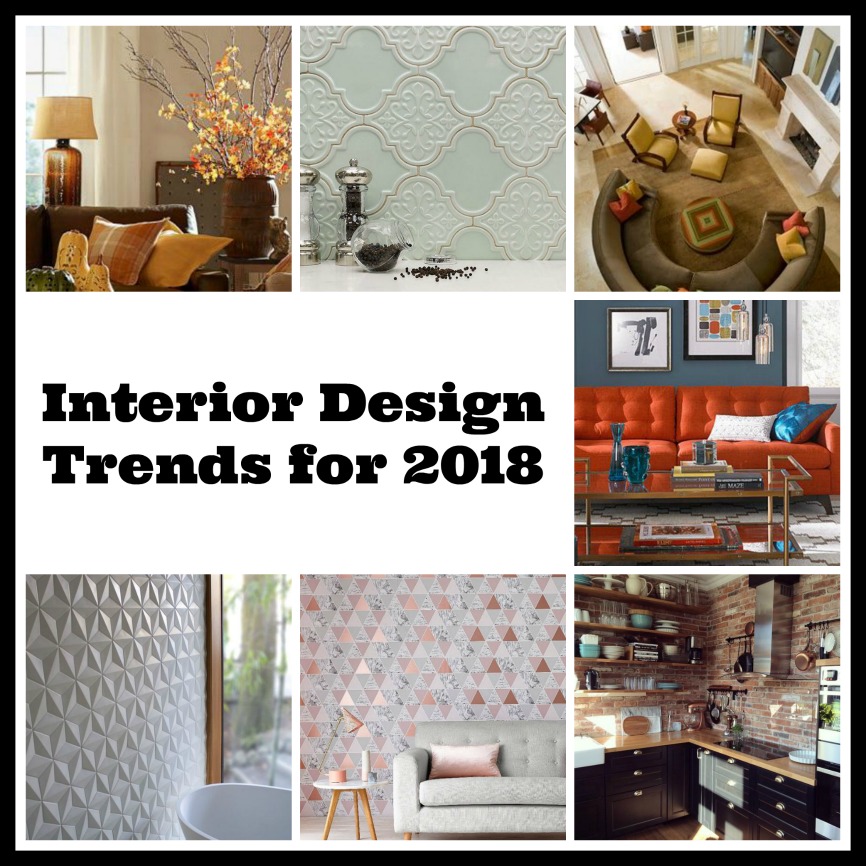 If you're planning on some decorating soon, you'll want to know the interior design trends for 2018 and you'll also want reassurance regarding which ones are likely to be a flash in the pan and which will last for a number of years.
1. Autumnal Colours
The good news is you can get your room ready for Autumn at the same time as doing a "getting trendy for 2018" makeover. Beige and brown are back in and so are the lovely vibrant autumnal hues of mustards, oranges and reds.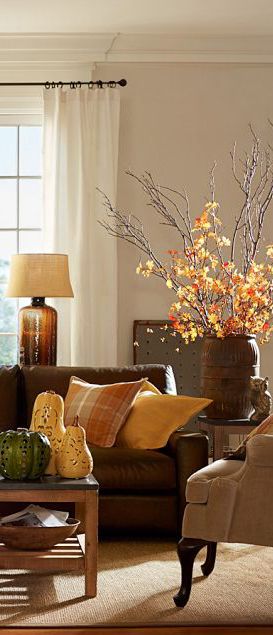 This living room is very restful with its muted shades of browns and creams, enlivened with oranges and mustards. Although the walls and curtains are plain, the accessories work well to make it a stylish and cosy space to relax and unwind.
If you're looking for interior design ideas with more zing, this next picture may inspire you to be braver. With a definite retro feel, the orange sofa with deep blue walls (also bang on trend) is bold and certainly makes a statement.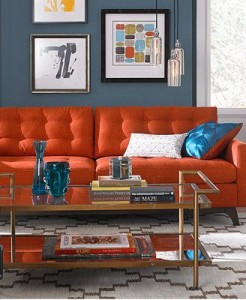 The deep orange hues are picked up in simple but effective accents – such as the picture on the wall and the book on the coffee table. Therefore, they don't overpower the room.
If you just want to add some trendy accessories to your living room, Next have willow storage baskets, a wide variety of cushions and this knitted pod as a comfy footstool.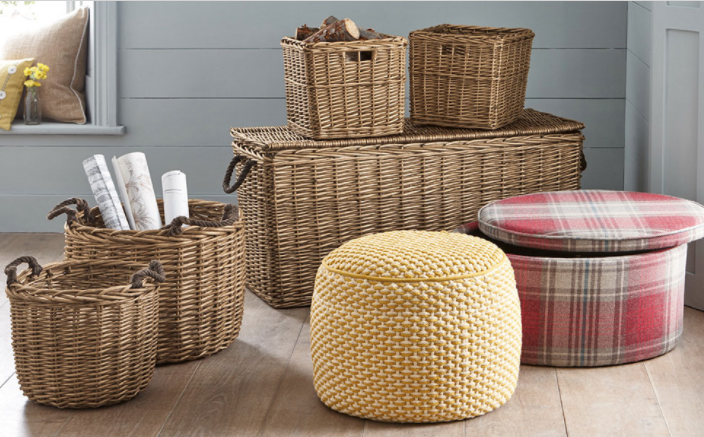 2. Textured Tiles
Who said tiles had to be flat and boring? The plain white subway tiles that became so popular in recent years are being replaced by something with much more impact. Just as the autumnal colours mentioned above warm a room, textur, whether it is a raised pattern on a cushion or layers of fabric, also warms a space. Texture also adds more interest and depth, often making the space appear larger too.
Consider tiles in interesting shapes and perhaps a mixture of patterned and plain as in this example in this kitchen.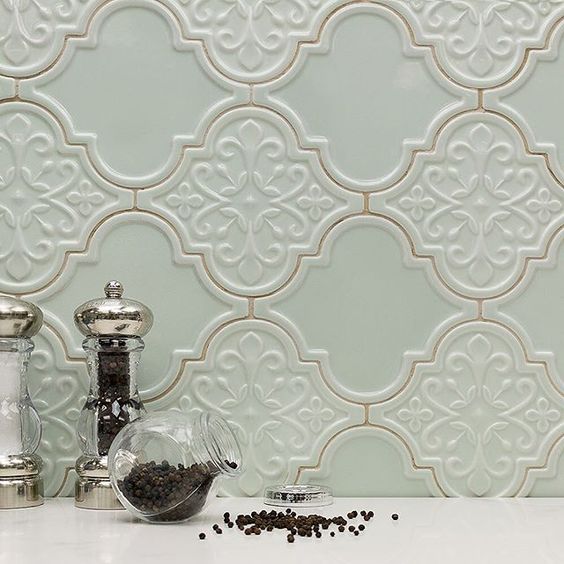 Textured tiles can be used in the bathroom too.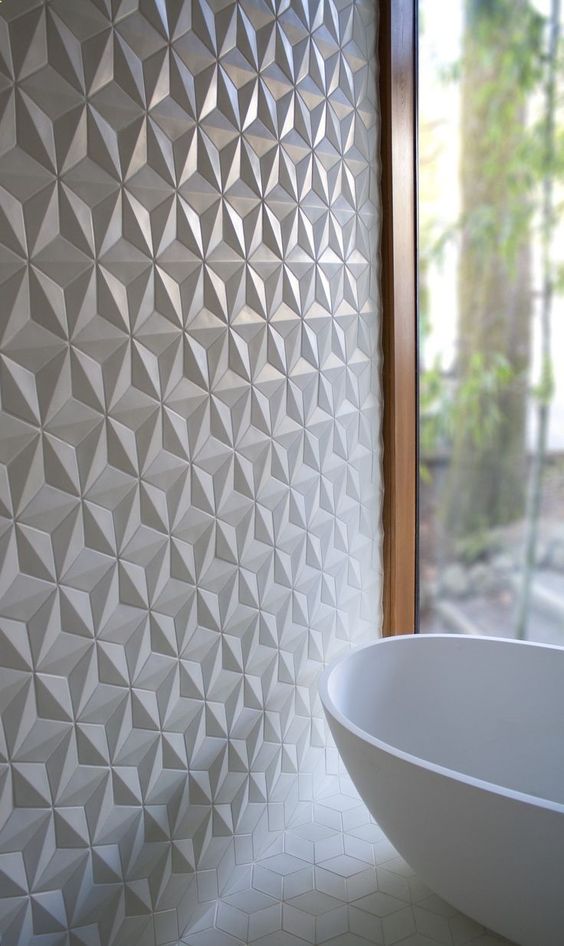 3. Kitchen Trends
Black cabinetry and worktops are becoming fashionable in kitchens and if you prefer not to go for black, navy is popular too. Will it be too dark?  Well, this depends on the amount of natural light that floods in but as it happens, there are two other trends that will help to ensure the kitchen is light and airy rather than oppressive. One is an increased inclusion of plants – real plants, not artificial ones. The greenery adds vitality to the scheme.
The other is open shelving. Open shelves offer more of a sense of space of course, but also by seeing your favourite crockery on display, it brings comfort when you see items in attractive colours and shapes around you – yes, even things like your cereal bowls will play a part in your design scheme when you have open shelving. It does take a little bit more work in that the shelves have to wiped down more often and of course, you want everything on display to be pleasing to the eye.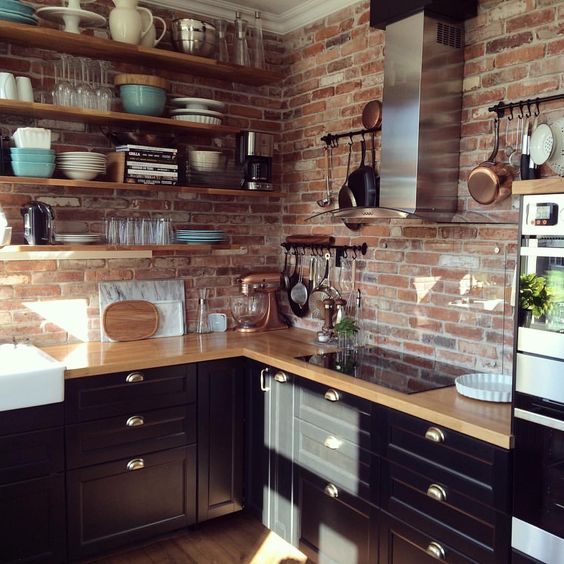 Source: Pinterest
4. Wallpaper
Wallpaper is still fashionable – thank goodness as it brings so much warmth and interest to a room. The trends for 2018 are geometric patterns in particular which ties in with the patterned tile examples above. Sometimes geometric patterns can seem a bit harsh with their straight lines but this one from Graham and Brown is more feminine with its colouring. This trend was also popular in 2017 but should last for a few years.
5. Curves
Curves and plumpness are good for 2018 – at least in sofas if not humans! Yes, if you're treating yourself to a new sofa, you'll notice that many are curved with really comfortable plump cushions.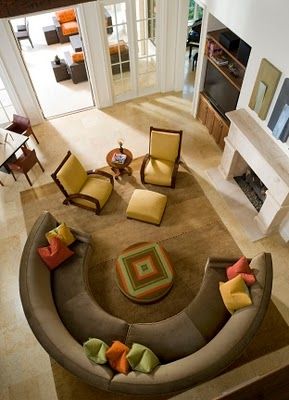 This room set has two curved sofas pushed together to create a semi-circle. Obviously it requires a sizeable living room. It's great for bringing people together for playing board games or having a good conversation. It may not be so comfortable for stretching out for a nap though!
There you go, it's hard to believe that today is 1st September but now that children are back to school and the evenings are dark by 9pm, it won't be long until we are lighting fires and feeling very autumnal. I hope this inspires you to plan some decorating for the winter months.