A teenage bedroom has to fulfil a lot of functions. It needs to provide a restful night's sleep, it needs to look 'cool' for when friends call around, it should offer good storage and it will probably need to be a purposeful space for studying.
There's a lot at stake in decorating boys bedrooms when they are tweens or teenagers. Your son might not have many ideas himself but won't waste time letting you know that he doesn't like your idea of decor for teenagers so how do you get it right?
Colour
What is a good colour for a teenage boy's bedroom? I'd suggest keeping it fairly neutral on the large areas such as bedlinen and wall colour and let some accessories provide the pops of colour. If he's untidy, a bright or busy wall covering will make the room appear too hectic for restful sleep or productive study. Grey is a good background colour and co-ordinates beautifully with bright orange or zesty green as accents.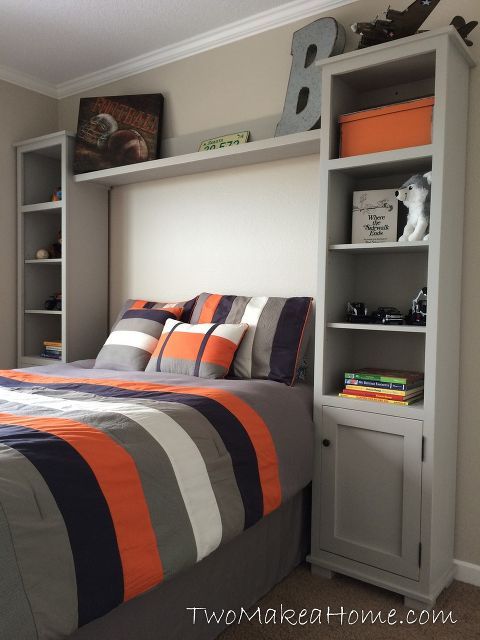 Source: Pinterest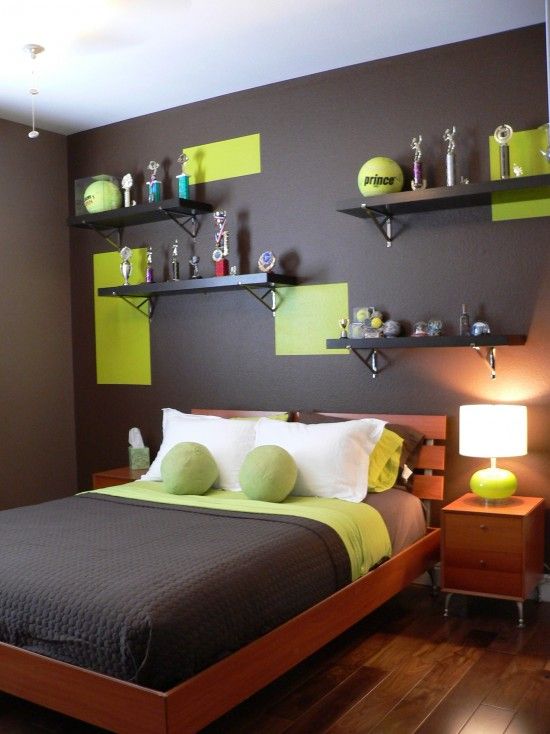 Source: Pinterest
Study Area
He will need a desk and a suitable chair for that all important homework and study – unless you prefer him to work downstairs where you can keep an eye on him. If space is short, investing in a loft bed and desk unit whereby the study area is under the bed is a good idea although good lighting is essential.
This high sleeper has both a seating area and a study area under the bed. It looks great although I do wonder if stretching out for a nap on that comfy chair would be too tempting when studying!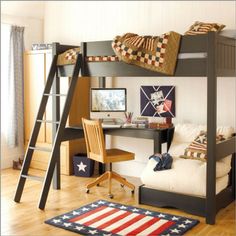 This bedroom is small but manages to fit a study area, a narrow bed (which doubles as a sofa / day bed), a wardrobe and extra storage under the bed too.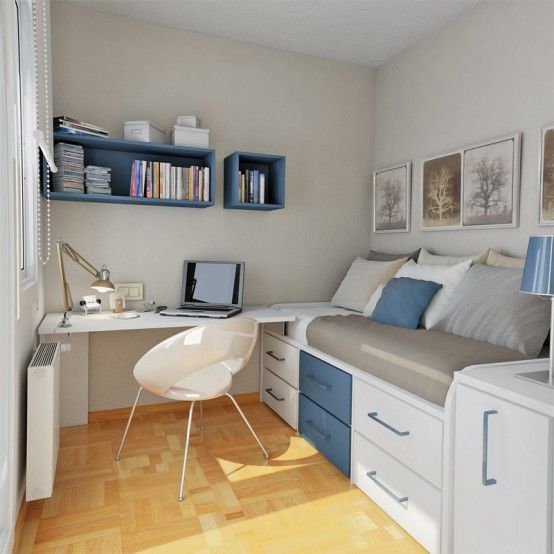 Source: Pinterest 
Storage
He will need storage for clothing, shoes, schoolbooks, and of course, items or hobbies that he is interested in. Shelving offers storage for books and accessories, it also forms part of the decor and looks so much attractive if the shelves aren't crammed with items. This bedroom below is quite small yet the industrial style shelving fits neatly around the bed, offers lots of storage and also creates a feature wall.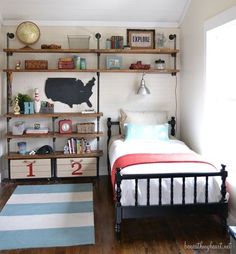 Source: Pinterest
Hobbies
Have you thought about incorporating their hobbies into the decor scheme. If items can be displayed on the walls or shelves, they will form part of the design and won't take up valuable floor or storage space. These two guitars look striking on the wall, are easy to access for when they are needed and the use of space is efficient.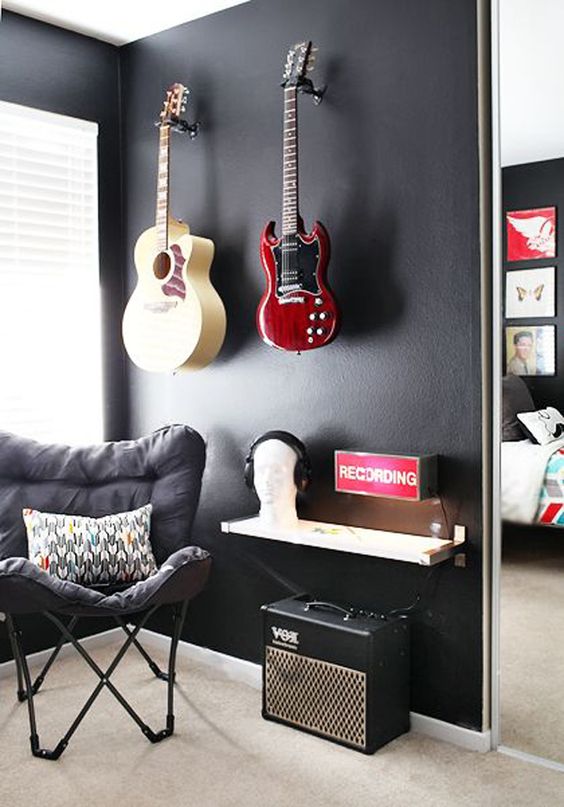 Source: Pinterest
Another interesting and creative way of incorporating a boy's hobby into the design scheme is to use skateboards as shelving!
Source: Pinterest
Relaxation Space
We all need some space to relax and given exam stress and peer pressure, teenagers certainly need it too. A chair like this looks comfortable, resembles a swing and doesn't take up any floor space (although you will need a strong beam to hang it from).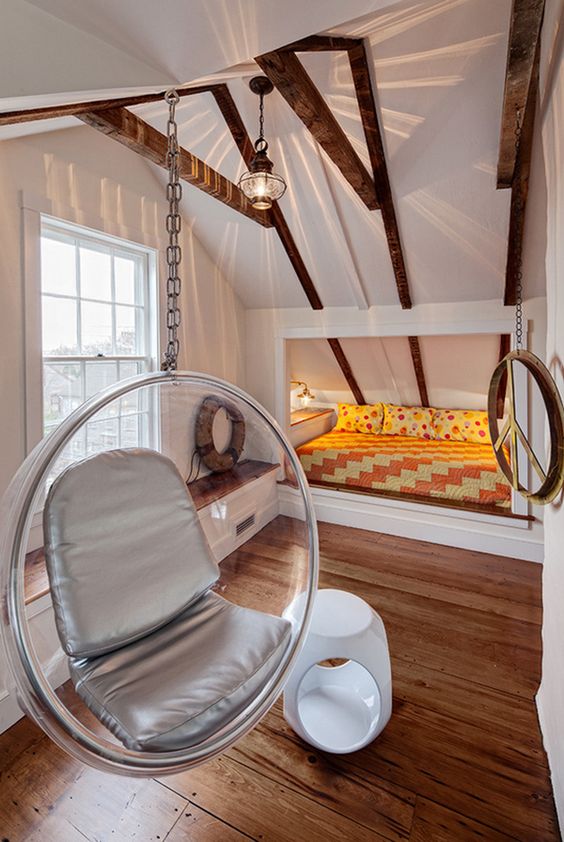 Source: Pinterest
Getting It Done
Now that you have some ideas for the decor, it's a case of getting organised. Whether you need a handyman to suspend a hanging chair, a painter to paint or wallpaper the walls or someone to put up shelves, you can get up to four quotes on our website.