Summer is coming to an end and there's already foliage blowing around on the ground after the winds last week and some trees are starting to turn golden yellow and deep red. Now that temperatures will be dropping too, how can you make your home snug and more homely as we move into autumn and winter? This post will show you how to ring the changes of the seasons relatively easily.
1. Colours
You don't have to redecorate to bring autumn into your home. You can ring the changes twice or three times a year by changing accessories like cushions and adding some cosy throws.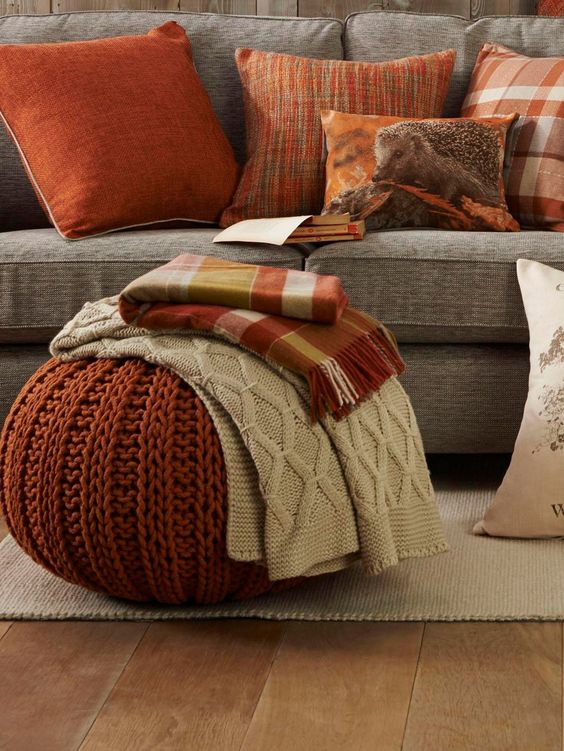 Source: Pinterest
A couple of cushions in burnt orange intermixed with dark greens within your living room or bedroom decor scheme (if it suits the rest of the decor) are all you need to add that autumnal touch.
2. Scent of Autumn
Autumn is a feast for the senses: rustling autumn leaves, darkening events, flickering candlelight, open fires, warm sweaters and you can bring many of the senses into the home. What scents are appropriate to autumn? Pine needles, spiced apples, the smell of wood or turf burning on the fire perhaps.
Don't overpower your home with too many different scents, however, there's a wide variation of scented candles available now so choose one and purchase a couple of candles to dot around the house and light in the evenings.
3. Adding Layers
Autumn means cosiness so add layers. Just as you'll add scarves and cardigans to your clothing for extra warmth, adding throws to your bedlinen and your sofas will make the room cosier. Choose ones in autumnal colours for more atmosphere.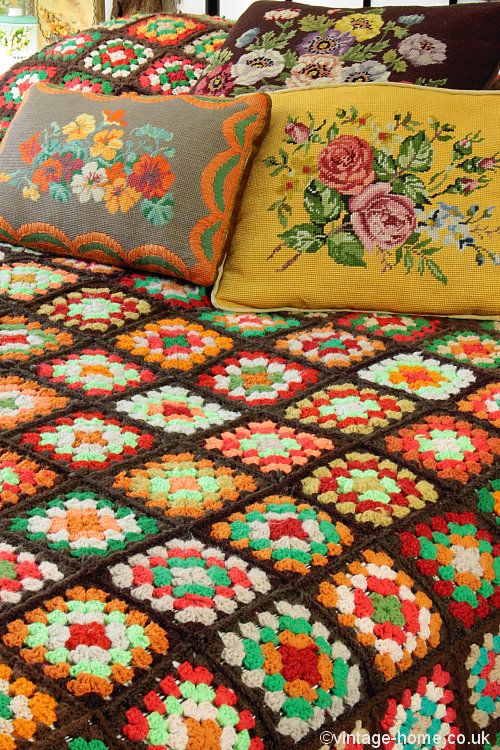 I spotted this crocheted blanket on Pinterest and while it would be too "orange" for my liking for the spring or summer months, I love it for autumn and winter. As the evenings darken and our favourite TV programmes return (such as Great British Bake Off and Strictly Come Dancing), I know I'll be starting to crochet in front of the fire soon too and I'm looking forward to it.
4. Textures
It's not just about layering but by choosing accessories that are textured and hence, more tactile, the room becomes more homely and snug. If your living room has wooden floors and leather sofas and armchairs, you definitely need textured accessories for the autumn and winter.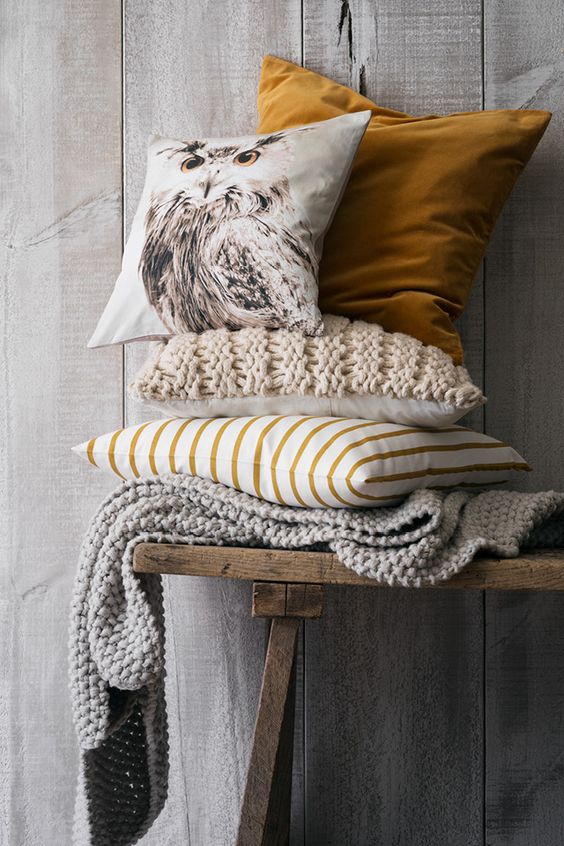 Source: Pinterest
Think hand knitted, embroidered or stitched cushions; sheepskin throws; fringes and pompoms on woven blankets; fabric lampshades; or textured wallpapers for adding texture to your scheme.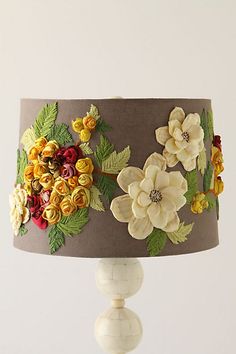 5. Cosy Underfoot
If your home has wooden or tiled floors, make the sitting area of your living room snug with a rug on the floor. Choose a rug large enough to edge close to the sofa and armchairs as a rug that only sits under a coffee table can look too skimpy. The floor rug acts to link the seating too, particularly in a large living room.
6. Fireside Accessories
Whether you light a fire or not, having a fireside accessories beside the fireplace and decorative objects on the mantelpiece add a homely atmosphere. A few logs in a log basket adds texture as well as creating the suggestion that they are just about to be thrown on the fire.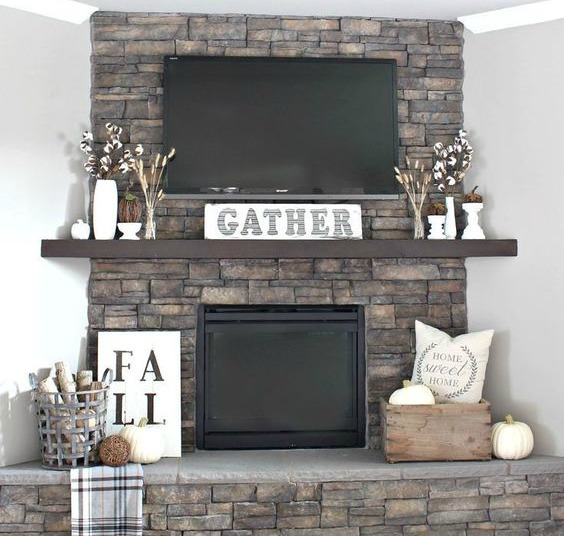 Source: Pinterest
If you're not lighting the fire frequently, some people now place candles in the grate and light them for the effect.
8. Autumnal Appropriate Accessories
Choosing accessories in autumnal shapes as well as colours adds a nice twist. What do I mean by shapes? Well, items shaped as apples, pumpkins or leaves: any items associated with autumn or hallow'een really.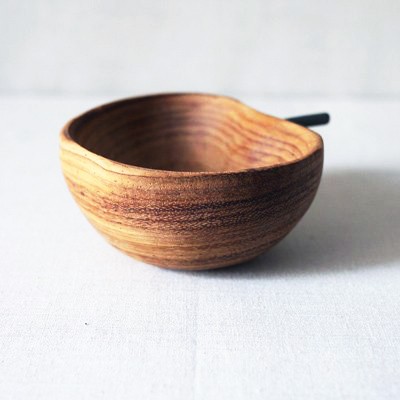 This apple shaped bowl could be used for fruit in the kitchen, for bath bombs in the bathroom or almost anything in the living room or hall.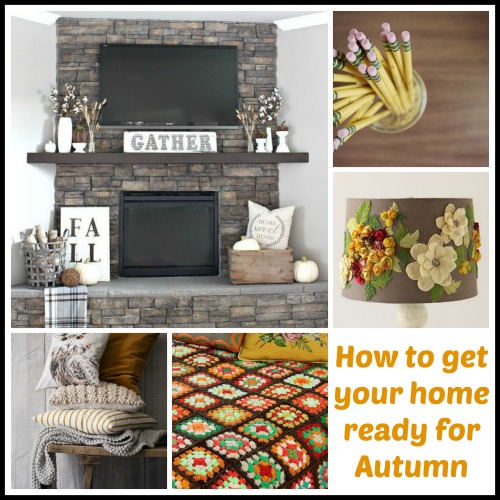 It's September next week, children will be returning to school, the evenings becoming shorter, evening classes starting up again and it's the perfect time to embrace autumn by adding a few autumnal accessories to your home. I hope this post provided you with some inspiration. Do let us know which ones you'll use for your house.