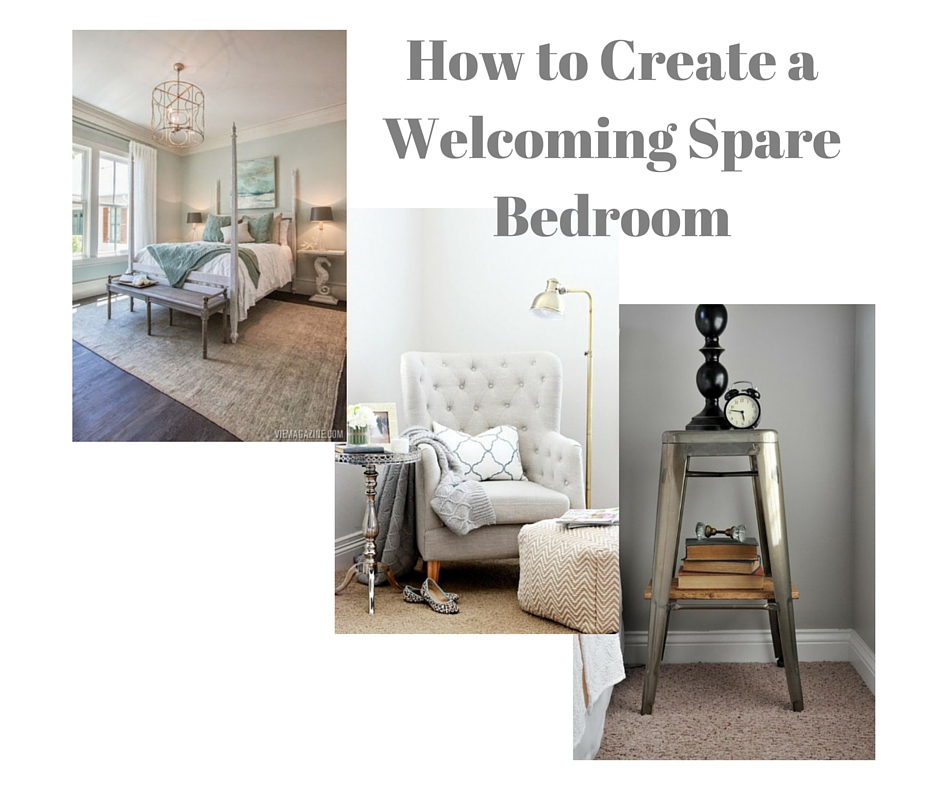 Summer holidays are coming so whether you have guests arriving or you are thinking of making some extra income by renting out your spare room for Airbnb guests, is your spare bedroom really ready for guests? Making them feel special and comfortable while staying in your spare bedroom isn't just a case of decorating it beautifully. It can require a few finishing touches too. What do you think of this list?
1. Bedside Light
Whether they choose to use the bedside light to read a book before dropping off or whether they need it to illuminate their way to the bed having switched off the main light (traversing a strange room in the dark can be a bit tricky if they have to switch off the only light source at the door), a light by the bed is essential. It can be a table lamp or a wall light with the switch by the side of the bed.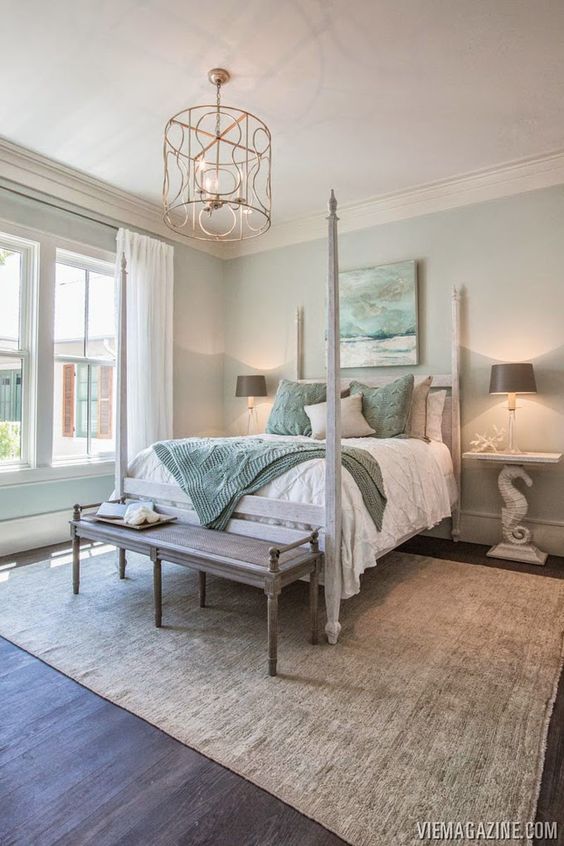 Source: Pinterest
2. Wardrobe Space
Many of us use our spare room wardrobes and chests of drawers for storing out-of-season and "special occasion" clothing. Do clear some space for your guests and provide them with sturdy clothes hangers too.
3. Fluffy Towels
Give them a hotel experience with fluffy large bath towels (they look nice when they co-ordinate with the decor too) and perhaps a bathrobe too.
4. Wifi
Speaking of hotel experiences, don't forget to give them the password to the wifi too by leaving it typed on a card on their dressing table.
5. Bedside Table Essentials
Apart from a bedside light, other accessories on a bedside table make for a pleasurable stay. Provide a glass in case a glass of water is required during the night. A few books of assorted genres (or an assortment of magazines) will be welcomed too and a small spray of flowers will provide some welcoming colour and make them feel special without being overpowering in size or scent.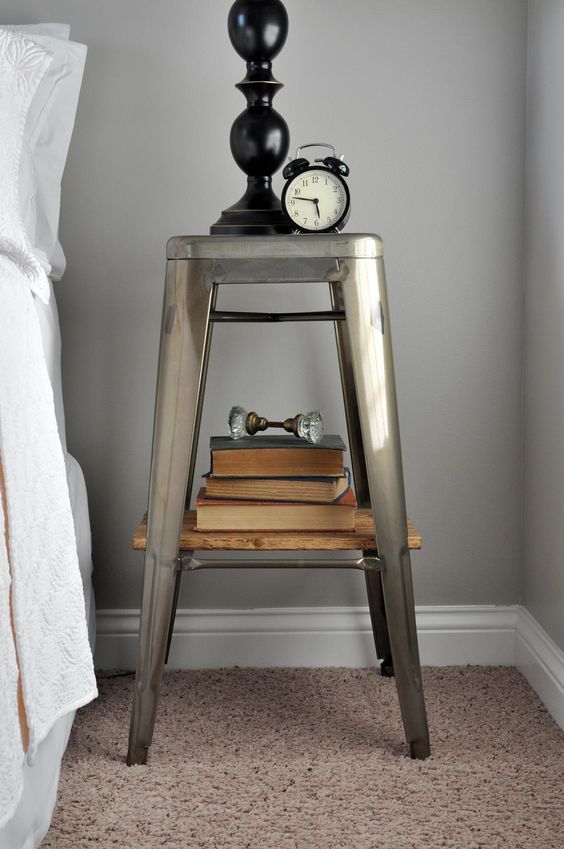 Source: Pinterest
A clock is still an essential as most people prefer to switch their smartphone off at night or leave them downstairs. Don't get a clock that ticks though as the noise could be really irritating.
6. Bedlinen
Crisp, fresh bedlinen is a must with sufficient pillows. Too many are better than too few as they can always remove one. Don't overdo the number of dress cushions on the bed though unless you have a couple of chairs they can put them on at night (as they won't feel comfortable putting them on the floor). Provide a throw or a blanket with the duvet just in case they require the additional warmth.
7. Toiletries
Guests often forget to bring their own toiletries so do leave a selection in the bathroom. If you have unused samples cluttering up your own bathroom or bedroom, pop them into a glass covered jar so they look neat and guests can help themselves to whatever they need.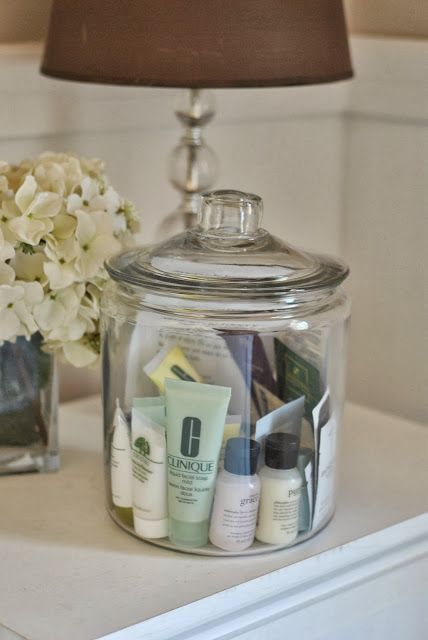 Source: Pinterest
8. Working Space
If there is room, a small desk and chair are appreciated if guests have to do some work. Don't forget to provide a working lamp on the desk and some paper and pens too. If there isn't room for a desk, a comfy chair with a small side table makes for a perfect reading nook.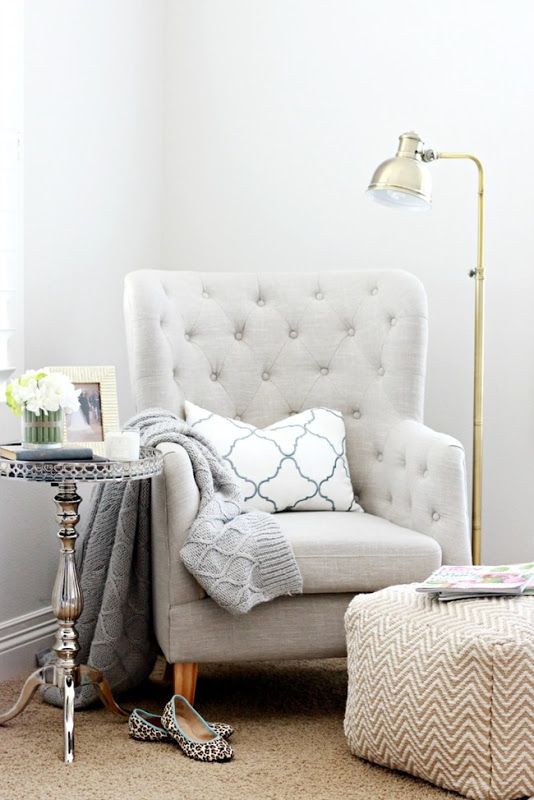 Source: Pinterest
9. Blackout Blinds
Blackout blinds can be a good idea especially if the curtains are light. It stays bright until after 11 in the summer and dawn breaks very early so blackouts will help your guests to get a good night's sleep.
Have you any tips to add?  We'll be back next week with some more tips for decorating that spare room bedroom: the best colours, the nicest bedlinen and the perfect accessories.