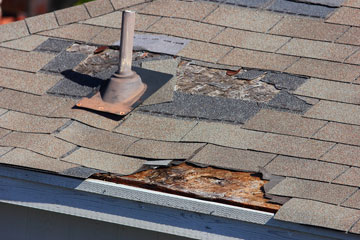 Hi folks,
lately we did a quick Roof Repair Price Survey with some roofers.   A lot of damage was done to roofs in the recent storms so we wanted to get an idea of the minimum cost involved.  We asked some roofers to give us a rough estimate of what it would cost to repair or replace a roof tile that has blown off.  We also asked them to give any advice or suggestions to maintain a roof in good condition and prevent tiles from getting loose and falling off?
Here are a sample of the replies we got below:-
Mark C: It'll depend on the amount of work and access the type of material tile slate etc but roughly between €200.00 to €500.00
Tommy C: To replace a tile it's in the region of €65-€80. But what has to be taken into consideration is the age and availability of the tile it's when we have to start searching salvage yards and places of the sort is when the price starts going up.
Some advise I'd give is just to look on your roof every now and then because not most people do and if anything is loose deal with it straight away before it comes off the roof and breaks or damages something.
Mark M: I suppose the price for fixing a single tile / slate would start at €60. I would suggest fixing aluminium barge trims to slate edges and also valley trimd as these areas tend to be prone to damage. Also with tiles ensure adequate nailing and that mortar on ridge and valleys is in good condition.
Terry N: We would charge 55 euro an hour for 2 men.  As far as replacing 1 or 2 tiles it depends where they are on roof.  If at verges you will have to point up gable on undercloak or if they are near hips you might have to cut tile and remove a few hip tiles or vicea versa.  If tile is to near ridge you might need a few new ridges as u can not always get them off without them breaking if in middle or at eves its straight forward provided you can still get the tiles in this country.   Every third course should be nailed or clipped starting at eves and in open areas every tile tile should be nailed
James F: Cost would be €50 call out fee that would get 1hour after that €25 an hour .
As for up keep don't let anybody on the roof ( power washers or satellite repair men)
as they don't always tell people that they have caused a problem .  I have gone to a number of jobs and had to repair roofs after damage caused by above mentioned.
———
So there's a good lot of advice there, I was particularly interested in the advice not to let anyone up on your roof!  As far as prices go I would say make sure you are comparing like with like.  For example as you can see from above some tradesmen may quote for the time in sourcing a replacement tile, the cost of purchasing the replacement tile and the labour for fitting it, others might only quote for the labour if you source and supply the replacement tile yourself.  The difference in price could be as much as five fold so be sure to know what you are being quoted for (and get it in writing).  As with all jobs you get what you pay for so don't be tempted to go with the cheapest quote,  you will be far better off to go with the tradesman who is more likely to do the best quality work at a realistic price.
Always check whether the prices are inclusive or exclusive of VAT.  One more thing, please consider using an escrow payment facility to manage the payments and to safeguard both you and the contractor.   If you are posting a job on Tradesmen.ie you will be emailed a link to set up an escrow payment.
The most important thing when hiring a tradesman is to get as many references as possible and ideally if you could go and see work that they have done to make sure.  When letting anyone carry out work in your home you should ask them to show what insurance cover they have (especially for roof work as it is more hazardous) and if you necessary to show it to your own insurance advisor to make sure you are adequately covered.
I hope this helps some of you who are need to get your roof fixed and if you decide to go ahead with it you can get a number of roof repair quotes here and get up to 4 quotes fast from rated tradesmen!
Cheers
Oliver Dempsey
Tradesmen.ie
21st February 2014
Here are some other articles that you might be interested in below:-
Bathroom Renovation Cost Survey
Attic Conversion Prices Survey