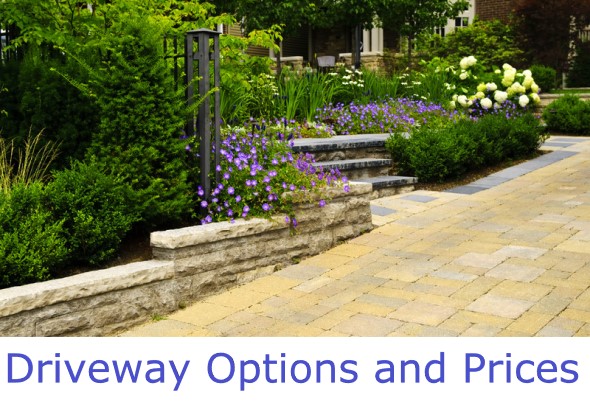 Hi folks, recently we did a quick survey on driveway surface options and prices with paving contractors on our website.   We asked some paving contractors to give a couple of their preferred driveway surface options and prices per square metre including site preparation.  We also got a few tips for getting the best job done.   We have included a selection of the replies below excluding VAT:-
Dimitry from Cavan: I prefer to use sandstone for driveways, you can get really good deals if you price around.  I was doing 70sq meters of driveway a few months ago, got the sandstone in Cavan for 35€ per meter. spent around two days on preparation, digging the soil, making the hard-core. My labour price was 250€ for two days of preparation + 30€ per square yard for tiling.  There are a few options available for filling substance (grout).  Some people prefer to use sand only, or sand/cement mix, but I used ready mixed dry grout that comes in a bucket and goes hard in 25 hours.
Michael from Donegal: Project 1 – I am presently doing a garage conversion. For this we will next few weeks have a parking area slab pour. So far for this approx 78m2 – 1 day mini digger € 220, crush and run 14 ton @ €12 = €168, vibrating plate 1 day hire €25, 1 labouring day prep €125, carpenter 4hrs edge shutter plus shuttering €150, 7 sheets 142 mesh €196, concrete 10m3 €900, finishers 3 man crew €500.
Project 2 – 400 m2 open bid, concrete stamp imprinted with colour. supplied by allcrete. all prices listed per m2.  €2.43 142 mesh.  €6.40 allcrete, dye, stamps, hardener, miscell.  €11.25 concrete.  €1.20 crush and run.  €1.05 mini digger.  €1.50 labourers prep.  €4.50 concrete finishers.  Approx €28.33 per m2, this price was giving as potential costs depending which pattern was picked and how pours were co-ordinated.
Marc from Dublin: Prices ex vat and prices can vary depending on the amount of ground work/preparation.  Gravel is the cheapest option requires a lot of maintenance to keep it weed free. €50-€70.  Block paving can vary depending on blocks used but is also hard to keep weed free. €70-€100.  Imprinted concrete is low maintenance but will need sealing every 3-5 years €70-€100.  Granite setts is extremely low maintenance and one of our dearest €100-€140.  Always remember a driveway is only as good as the foundation it is laid on.
John from Down: It's mostly block paving driveways that we do, the price would range from between €65 to €90 per m2. When pricing we take into account how much prep work is needed and how much waste will have to be removed off site.
George from Dublin:      €95 per sq m ex vat based on a stone paving priced at €20 per sq m.  Tip: Don't just fire down a paved driveway. Incorporate a front garden, hedging, decorative tree or another planting focal point, bringing a little badly needed biodiversity to the front of your house and making it stand out much better
Patrick from Limerick:   How i do it is if the price of the slabs are €30 /€40. I charge the same for labour and the same for coble lock.
——————-
As you can see there is a quite a variety in the prices and some very useful tips in the responses we got.  It is important to shop around and make sure you are comparing like with like.  Site preparation is the most important part of putting in a driveway.  If the ground is soft or wet you will need to look at drainage and a deeper amount of hardcore.
Tips for Hiring a Paving Contractor
When getting prices for any driveway work it may be tempting to go for the lowest price but we would recommend choosing the tradesman who can do the best job.  Here are some tips for hiring a paving contractor below:-
(a) Get references, qualifications and insurance details from each tradesman who quotes for the job,
(b) Go and look at some driveways that he has done a year or more ago and see are they still level and  without hollows.  If you go and look at it on a wet day you will see if water is lying anywhere on the driveway which shows that it was put in unlevel or has sunk because of a poor foundation.
(c) Consider agreeing on some sort of stage payments and only pay for each stage as it's signed off by you or a certifier.  Take photos of each stage as it is being carried out
(d) consider using an escrow payment facility to manage the payments and to safeguard both you and the contractor.
I hope this helps some of you who are planning to resurface an existing driveway or put in a new driveway.  You can post a job and get a number of quotes from paving contractors at http://www.tradesmen.ie/trade/paving .  If you have any comments or suggestions please feel free to place them in the comments box below.
Cheers
Oliver Dempsey
Tradesmen.ie
15 July 2020