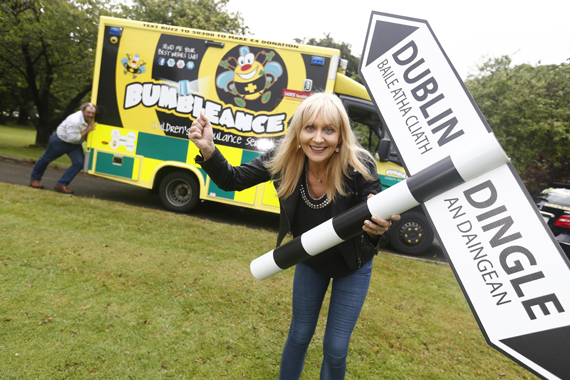 Hi folks,
we are delighted to sponsor a prize in the BUMBLEance Charity Quiz which will be held by Twiznight 9pm on September 18th.   The quiz is one of a number of events organised in aid of the BUMBLEance "Mega Push" to raise €250,000 to fund the development of "BUMBLEance", the National Children's Ambulance service.  The Push, launched by Broadcaster Miriam O Callaghan, is looking for members of the public to take part and support this great cause. Appropriately named the BUMBLEance Mega Push, it involves pushing a special BUMBLEance vehicle, starting in Dingle and arriving in St Stephen's Green Dublin on September 20th.  The push is a total of 355 kilometres in length!
Not only is the charity seeking Corporate and Public support with the fundraising but they are also asking people to TEXT the word BUZZ to 50300 to donate €4 to the charity. If you would like to get involved you can contact BUMBLEance on 083 00 44 444 or info@BUMBLEance.com . Volunteers and fundraisers are welcome to join the team along the route. More info on Facebook and Twitter or online at www.BUMBLEance.com
The Charity Quiz in aid of BUMBLEance will be held by Twiznight on Thursday September 18th and as well as the €150 Tradesmen.ie Voucher there will be lots of other prizes on the night. So make sure to put September 18th in your diary and log onto twitter.com/twiznight for a great fun night and a chance to support a very worthy cause!
If you have any questions or comments please feel free to enter them in the comments box provided below.
Cheers
Oliver Dempsey
Tradesmen.ie
9th Sept 2014