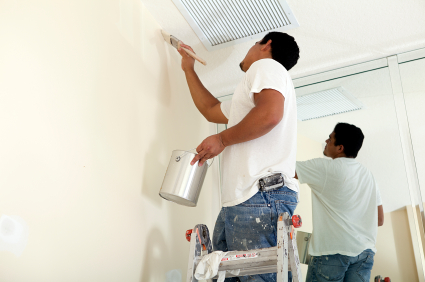 We recently we carried out a house painting price survey of some of the painters from Dublin on Tradesmen.ie. We asked our tradesmen for quotes on a semi detached 3 bed house that required painting internally and externally. With regards internal painting the lowest price in our survey was €600 and the highest was €3,500 with the average price being €2,050. With regards the external house painting the lowest price was €350 and the highest €1850 with the average price being €1,100.
The findings from our survey:
Averaged price for external painting of 3 bed semi detached = €1,100
Averaged price for internal painting of 3 bed semi detached = €2,050
Please see replies to our survey below:-
Shaun R: 2.000 inside external 900
Dion I: E850 outside. E1750 inside provided it's relatively clear of stuff. D
Thomas D : Inside 2200 outside 1800
Andrew S: internal around 2000, exterior around 900 depends on render finish
Arthur G: Inside 700-1500. Exterior 500-1100.
Thomas J: 2k inside. 1,2k outside. standard dulux white.
Brendan W: E1,600 for interior. E400 or E500 for exterior ballpark figure of course.
Kenneth L: 1500e internal. 700e external.
Tony M: Labor inside ceilings walls woodwork two coats of paint 850 euro external are walls and ceils 350 not inc paint
Joe G: 600 inside. outside 550euro
Ciaran B: Inside 1575 outside 850 including labour materials and vat
Adrian M: 1150incl paint.850incl paint
James M: Inside materials and labour 700 – 900. Outside 600 – 800
Chris K: The house inside it will be 750e + extra for paint.outside the house is 450e+ extra for paint
William F: Interior walls ceilings timber work price does not include for stripping of wallpaper price 2250. Exterior walls cills reviles 1850
Gerry C: to paint inside of 3bed between 2.000 to 3.500 depending on finish outside between 600-1200 also depending on finish
Paddy D: Including vat and paint,1750 inside,800 outside
Wayne K: For a standard 3 bedroom house hall stairs landing bathroom plus on suite sitting room kitchen dinning room i would usually quote around 1100 outside walls and window cills around 500to 600
Michael G: To paint inside of 3 bedroom semi d 2 coats on every thing inc all prep = e1,7oo +painting of outside of same 2 coats all round=e1 5 oo .
Damian B: I would have to see job inside all Dulux paints two coats on everything 2800. Outside u would hav to see.
As you can see the prices vary a lot.  Make sure that you are comparing like with like when you are pricing painting.  See does the quote include or exclude paint and see does it include or exclude vat.  See what paint is being used, for example Dulux paint will be more expensive but will be far better quality.  Also, make sure that you only hire a professional painter and that you ask for previous references and insurance details etc..
If you have any comments or suggestions please feel free to comment below and if you would like to get up to 4 prices from rated painters in your area please post your job here
Regards Cheryl Chambers