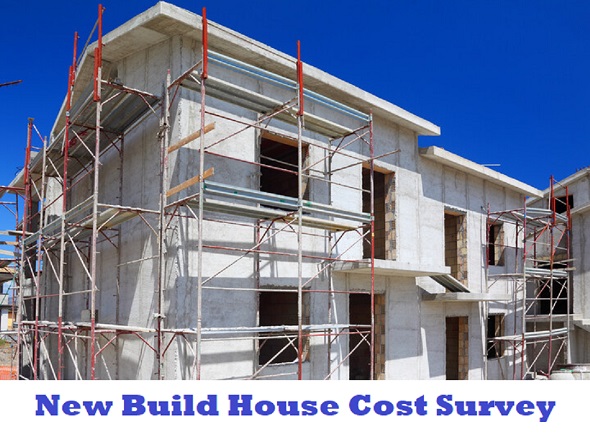 For anyone who has a plot of suitable land, they may wish to build a new house instead of buying an existing house. The advantages with building a new house is that you can build it to your own unique requirements in terms of design and size subject to the planning laws.
A while ago we carried out a new build house cost survey with some tradesmen on Tradesmen.ie. In our survey, the question was how much would it cost excluding VAT to build a 150 m2 new house ready to furnish? We also asked them for any hints or tips they would have in order to have the best experience.  We have included some of the responses below:-
Jimmy from Kilkenny: You would be looking at €170 to €200 p/sq ft depending on the spec. example 150m sq = 1,614 sq ft and cost @ €200 p/sq ft = €322,800 + Vat.
Derek from Louth:  Hi the way things are about €1500 per square metre
Pat from Offaly: 1500 per meter sq new build would  cost in and around  roughly about  220 ,000 to 230,000 builder,s finish including  v.a t
Silviu from Wicklow: Due to this period of time have no control on materials prices and also other factors that nobody might take in consideration like diesel, renting for the workers, life is more expensive and workers looking for more money, delay on ordinary materials, No stocks, lead time for windows, doors and other materials, etc. we prefer to use a QS for the new build. A rough idea for new build is €2500/sqm, and €2500 to €3500 for the extension.
Tips for the clients: if it's possible try to put the architect and builder to work together on the project. I suppose that you will pay the same rate to the architect for the project at the end of the day, but, if you put them together you might save a lot during the project. Most of the clients like the project on the paper but very few of them realized that they can reduce the cost by reducing the sqm of the unused area of the house, also they can reducing the cost of the project by simple roof than many levels or angles etc. We have had that experience with our clients. Check the project that was done on the computer before go ahead cause you have to pay for that to build after.
—————-
I hope this helps some of you who are planning new build sometime in the future and if you decide to go ahead with it be sure to post your new build job here and get up to 4 quotes from rated tradesmen.
Cheers
Oliver Dempsey
Tradesmen.ie
19 November 2022
General Tips for hiring a tradesman
Here are some tips to consider when hiring a tradesman:-
1. Ask for phone numbers of references so that you can check them out
2. Check insurance of the tradesman where insurance is required
3. Hire a suitably qualified architect, building surveyor or building engineer if the job is anything to do with a new build, building renovation or extension
4. Agree on some sort of stage payments for the job. Remember that full payment should not be made until the job is complete and has been inspected by you, and if necessary by a certifier.
*photo used is for illustration purposes only