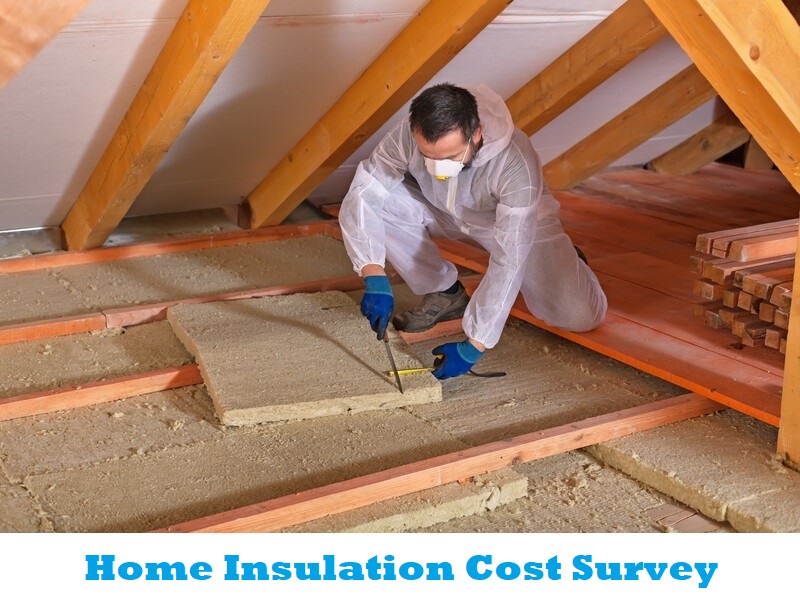 Insulating your home is a great way to seal up leaks, reduce heat loss and save money on your heating bills.  Insulating your home can start with very low cost measures such as draft proofing windows, doors and chimneys.  Or you can spend a bit more and insulate walls and attic and replace windows and doors etc.  In our own home we used secondary glazing on windows which worked well.
Recently we did a home insulation cost survey on some insulation contractors on our website.  We asked what is the best way to increase the insulation in a typical semi detached house and how much would it cost including VAT to put it in place.  Here is a selection of the replies we got below:-
Gary from Kilkenny: The price of a roll of insulation is going from €43 to € 96 at the moment so this is going to have an effect on the over all price so a standard house would use about 10 rolls which would cost about €430 and now will cost €930.  So an estimate cost of €2000 inc vat with labour and materials.  Tip: If mould appears after work or if mould is present it's a cold bridge and the area of mould has no insulation and just need insulation put above that area then clean mould with bleach and water and stain block and paint
Patrick from Dublin: 2,500-4500 all depending square metres and on amount of insulated flooring for storage and where there's none crawl board tank has to be wrapped pipes have to be lagged soffits or roof has to be vented any bathroom vents in attic will need to be vented out through the roof , hatch or stira will have to be insulated and draught proofed , one layer over 400 mm insulation also needs to be checked and fixed wherever there are issues
Steven from Kildare: Personally I recommend for the costumer the rockwool (sound and safe). The thickness is minimum 100mm.  For this product I can say it's more than expected very happy with it. I can recommend without hesitation. Not only does it provide soundproofing, it's fire and mildew safe.  Price is around 75€/3square.m.  For labour is 110€/sqmetre.  For customers I recommend to check the references and everything needs to be written down what it's included in this price exactly step by step.  Payments are by bank transfer and discussed in the beginning at the start of the job, 40% after couple of days to see if is exactly is going all in the plans discussed.  A good contractor can be recognised after the first two days.  This is the way to be everything ok."
James from Donegal: Attic insulation semi detached:- Remove existing 4" of insulation ,install ridged 1" insulation at eaves allowing 2" of airflow to roof space ,install 4" ridged insulation at edge of ceiling along front and back 24" from wall plate back foamed in place ,then cover remainder of attic in 12" of fibreglass alternating direction in 4" lifts ,allowing total of 12" minimum coverage throughout .( vents may need to be added front and back if airflow can't be maintained ).  Tank and all piping has to be wrapped and catwalk provided to access tank (and if needed future storage platform  extra).  Estimated €3200.
Dryline three bedrooms and exterior bathroom wall ,detach radiators and angle out fittings or cut floor boards where possible ,remove skirtings and window boards.  Dryline walls with minimal 3" insulated plasterboard ,tape and joint ,dryline all possible exterior walls and increase where possible to allow for minim dept that can be installed at stairs ,double bubble and dryline stairs wall ,Tape and joint all and replace and caulk skirtings and extend window boards .Estimated €12000 (northwest region ) "
Thomas from Dublin: Roughly as a plasterer I would use 50mm insulation plaster board on the ceiling and 100m on the walls 200m fibre for the attic house would be toasty it would cost you €6,800 material included and plaster supplied.  Best for you to let the plasterer have a clear house.  If that's not possible 2or3 rooms at a time it will be dusty but the tradesmen would always keep cleaning while they are there. That's for a 3 bedroom.  It would cost more for a four bedroom
Sean from Galway: The rough cost of insulating a semi, with warmboards on the walls to the inside and fibre glass in the attic should be around €10,000 including replastering the walls. this is a very rough guide.  My best advice would be for customers to check the builders previous references.
——
I hope this helps any of you who are planning to insulate your home and if you want to get prices for insulation be sure to log on to Tradesmen.ie and get up to 4 quotes from rated insulation specialists here.  In addition to this, to get a number of quotes from BER Assessors simply click here.  You can get information on SEAI grants for insulation here
If you have any questions or comments please feel free to enter them in the comments box provided below.
Cheers
Oliver Dempsey
Tradesmen.ie
7 November 2022
Tips for hiring a tradesman
Here are some tips to consider when hiring a tradesman:-
1.    Ask for phone numbers of references so that you can check them out
2.    Check insurance of the tradesman where insurance is required
3.    Hire a suitably qualified architect, building surveyor or building engineer if the job is anything to do with a new build, building renovation or extension
4.    Agree on some sort of stage payments for the job. Remember that full payment should not be made until the job is complete and has been inspected by you, and if necessary by a certifier.