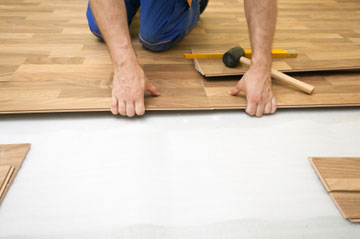 Hi folks,
Yesterday we carried out a quick survey of carpenters in Dublin to lay a 50m2 floating laminate wooden floor, labour only including removing and refitting the skirting boards and architraves.  You can see the results of the survey below:-
Colin H: 200 euro would depend on amount of doors and amount of corners, shape of room, but that would be cheapest,if secret nailed hardwood would be 800
Brian I: Between 800 and 1000 depending on how many architraves
Arran O: I would be thinking around €400 labour only
Martin G: For 50m it would be 9euro a meter .skirting to fit 2euro a foot the same price to take it of.arka 20 euro a door. Plus nails & no nails.taking off the skirting boards can be trickey because of damage to walls .the man doing the job would have to do a site survey! If it is a good floor & you might put down a 6mil ply if the sub floor is not great
Andy B: About 10 euro a square meter all in including skirting and architraves. Only other cost would involve levelling really bad floors but generally the subfloor is good
Tiit T: 300 -600 Depends amount and shape of rooms. ( many closets etc.)
Darius J: I would say 500, but to confirm the price i have to see the job
Rolands J: The price for labour for 50 m2 will be 450 e. Price can depend from size of boards
I did a quick calculation on Martin's figures above and if you had 3 rooms 4m x 4m each with one door in each room his figure works out at about €600.  Andy's quote works out at approximately €500 with a similar scenario.  As you can see there is a wide variety of prices ranging from €200 – €1,000.  Most prices are around 400 – 600 mark but make sure to ask if the price is inclusive or exclusive of VAT as you don't want to get caught at the end of the job being asked for VAT on top of the price you were quoted.
Prices of wooden flooring range from as little as €5.99 a square yard to over €50 a square yard.  The laminates are cheaper in price but my understanding is that if you pick a good laminate it will be more resistant to getting marked and scratched than the semi solid woods.  I put a semi-industrial grade laminate floor in a house I had rented about 12 years ago and it is as good today as the day I put it in.   I was told at the time that you could stamp out a cigarette butt on it without marking it!! I hope nobody ever did stamp out a cigarette butt on it but it was a great comfort to know it was so hardwearing.   In the meantime my father put down an oak semi solid floor about 7 years ago and it has a lot of scratches and marks on it and it needs to be varnished every so often.
Another point to emphasise is the fact mentioned above about taking off the skirting boards being trickey.  If the wall that the skirting is nailed or glued to is of poor quality or if the skirting has been nailed or glued too much then the wall or the skirting could be damaged when the skirting is being removed.  It is very hard for the tradesman to know what it's like until he actually takes off the skirting so it would be no harm to ask the carpenter beforehand has he allowed for any unforeseen problems like the walls or skirting getting damaged so that you have discussed it beforehand and there are no surprises.  Also, it would usually be the painter who puts the fillers behind the skirting and the wall and into the nail holes when it is replaced and there could be some spot painting to be done of the wall or skirting so it is important that you have discussed this with the carpenter and that you are not mistakenly believing that the carpenter is going to do this work when he was leaving it for someone else.
One more thing, there are two ways you can finish the floor at the edges, you can take off the skirting boards and run the floor out to the wall and then put the skirting back on or you can run the floor out to the skirting and put a bead (let's say 2inch x ¾ inch) on top of the floor where it meets the skirting and it covers up the crack at the edge.  My own preference would be to take off the skirting and refit it.  However, the advantage of putting the bead there is that it is quicker and takes less time.  You should ask the carpenter to show you an example of both ways and discuss the advantages and disadvantages of each before proceeding with the job.  This will also affect the quotes so make sure all of the carpenters are quoting for the same thing.
The usual rules apply with selecting a tradesman for the job, make sure to get references, insurance details and any other information that you need to make sure that you are totally happy with the tradesman that you choose.
I hope this helps some of you who are planning to get a wooden floor in the near future and don't forget if you are looking to get some work done to post your wood flooring job here and get up to 4 quotes from rated tradesmen!  Please feel free to comment below if you have any questions or comments.
Cheers
Oliver Dempsey
Tradesmen.ie
Here are some other articles that you might be interested in below:-
Tiling Prices