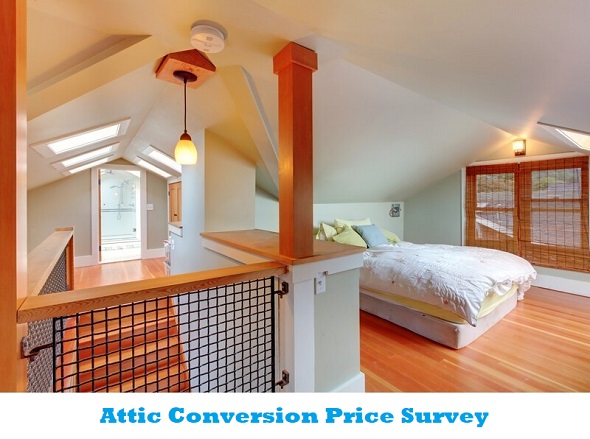 Attic conversions have become increasingly popular among homeowners seeking to maximize their living space and add value to their homes.  Recently we carried out an attic conversion cost survey with some tradesmen on our website.  Our survey aims to provide an idea of the costs involved in transforming underused attics into functional and usable space. By undertaking an attic conversion, homeowners can not only increase their property's square footage but also create personalized spaces such as home offices, guest rooms, or entertainment areas. These conversions are an ideal solution for growing families or individuals looking to enhance their home's functionality, comfort, and resale value without the hassle and expense of relocating.
In our survey, we asked some of our tradesmen members, how much would it cost, excluding vat, to add an extra bedroom in the attic and were there any tips they could give for getting the best job done. Here is a sample of the replies we received below:-
Pat from Mayo: Your average price for attic conversion is 18k to 25k that would be very basic the more you want the more price goes up.. but like anything get a few quotes first and compare
Matt from Meath: Typical cost €18,000 for a standard 12m x 4m attic conversion, I always recommend using steel rsj's.  Payment is usually in three stages i.e. start ,middle & finish.
James from Westmeath: To complete attic conversion stairs, strengthening all Jason, fire window, board and decorators. These prices do not include forming rooms bathrooms just one open space €18,000 plus VAT.
Lukasz from Dublin: Price starts from 1k per square meter, ensuite 5k extra. That includes stairs, doors and roof windows.
Sean from Galway: I would expect the cost of converting an attic to a bedroom to be around 1500 to 2000sq metre, depending on the finish required. Always check the builders previous reviews from customers and check that they are fully insured for the job.
Dan from Dublin: An attic conversion starts with the actual increased cost of the materials and labour, starts from €20k +that means standard conversion with structural certification with steel beams, and can reach up to €40k if includes bathroom, and single window or double window or quarto windows and so one all depends on details.
Stephen from Dublin: Firstly it is important that potential customers know that the quality of the work will make a difference, in general around €25k-€40k including engineering and a quality build. Cheap quotes are out there (€15k etc) but in the end I've found clients pay more as they run into issues with lower quality tradesmenship, enduring time wasting and additional stress and costs over time to fix the initial renovation. Attic conversions can be an excellent way to add value and space including a bedroom and should be done right first time. It's great when clients know the size they're dealing with and the type of finishing they want. Finishings can add to the cost but can be more durable over time. It's always good to give the tradesman a quick call before they call out to discuss the needs and timelines. I provide detailed scope of works for my jobs – this helps give a transparent view of what is being done to a clients home so having the client understand what they need i.e. number of dormer windows, type of insulation method, roof covering, accessibility (e.g. stair to the attic and parking for the tradesman) and floors etc goes a long way with getting a good understanding of their needs.
Andrew from Kilkenny: With regards to a loft conversion, costs wise for a standard loft conversion can cost anywhere between 15-25k, some of the issues to look for are as follows:-
Enough Head Height, Space for a access / Stairs, Allowing for windows for ventilation.
Dealing with a water tank will add to the cost of your conversion. Some homes have a water tank in the loft that will need serious consideration when planning a conversion. Can you move it? Do you cover it up/in? Does it mean your project can't go ahead? Water storage tanks typically need to be relocated, but changes to plumbing systems may include elements of solar water heating systems or photo voltaic systems.
Ensuring a primary fire escape route through the house, with a fire- protected hall, stairs and landing leading to the front door, from the attic room door.  All doors in the house may need to be upgraded, and the fire detection system may also need to be replaced throughout the house.
Ensuring a secondary fire escape route through a properly designed fire escape window in the new attic room.  Locating a Part K (building regs) compliant stairs within the layout of the floor below.  Ensuring correct installation of insulation and an overall thermal/ air-tightness strategy- usually meaning pitched roofs need to be completely stripped, fitted with several layers of insulation and re- tiled/ slated.  Floor structures should be of correct thickness and design.
Structural design should transfer loads to ground via proper structural elements, often requiring a prefabricated steel frame at attic floor level, and sometimes even steel columns down to foundation level.
Specialist roof finishes are often required, particularly for low pitch areas, and complex junctions.
————–
I hope this helps some of you who are considering an attic conversion in the near future. If you decide to go ahead with it be sure to post your attic conversion job here and get up to 4 quotes from rated tradesmen.
Cheers
Oliver Dempsey
18 March 2023
General Tips for hiring a tradesman
Here are some tips to consider when hiring a tradesman:-
1. Ask for phone numbers of references so that you can check them out
2. Check insurance of the tradesman where insurance is required
3. Hire a suitably qualified architect, building surveyor or building engineer if the job is anything to do with a new build, building renovation or extension
4. Agree on some sort of stage payments for the job. Remember that full payment should not be made until the job is complete and has been inspected by you, and if necessary by a certifier.