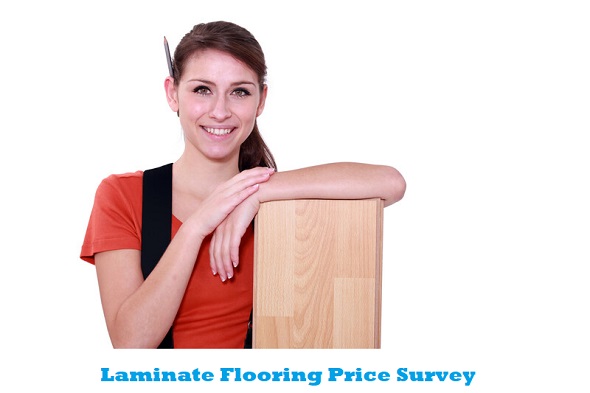 Laminate flooring is an option worth considering in rooms where you have a lot of traffic so you need something that is easy to clean and will last a long time.  It is extremely durable and protected by a tough external layer and resin coating.  A laminate floor is stronger and more scratch-resistant, impact-resistant and longer lasting than solid hardwood, vinyl, or carpet.  For example in our own home, we have it in the sitting room for over 20 years and there's not a mark on it.
Recently we carried out a quick price survey among some tradesmen who are registered on our website. We asked them to give a rough price to fit a laminate wooden floor. In addition to this, we asked if they had any tips for getting the best job done. We have attached a sample of the replies we received below:-  
Barry from Cork: Laminate floor is €15 a yard to lay floating floor €25. Glue down €30-35. Herringbone glue down €45. Herringbone laminate €25-30 depending size of boards( all per yard)
Gary from Kildare: Prices to fit laminate plank flooring including whisper gold underlay 8mm 12e m2. 12mm 14e m2. 12mm herringbone 25e m2. 14mm 20e m2. Skirtings, scotia, door profiles and doors extra; all subject to site survey.  €12 – €25/ sqm
Phil from Dublin: We would charge €15 per sq meter to fit laminate flooring. This would include cutting under door frames. If skirting are coming off and put back on after fitting that would be an extra cost but in my opinion much better finish.
I would advise customers to take their time picking floors and preferably go with someone who supply's and fits as if any issue with flooring or short can be remedied fast enough without other people being involved.  Also try have area that is being floored clear as possible."
Martin from Wexford: I would charge €16 per sq meters for laminate and then a price per meter for skirting to go on.  Most tradesmen will have a trade account with floor retailers so can get the customer a better price on the flooring instead of them buying it themselves. They should also have the room clear of small items so the jobs goes smoothly big items like beds or sofas are ok to leave in the room.
Dan from Dublin: Install laminate flooring is 14e / sqm, I recommend to remove the skirting boards and also to use good quality soundproofing underlay 5mm.
Mariusz from Meath: I'm charging €15 per sqm, it depends how many corners and doors the room has. Customer post very clear for me. On the market are many quantities of flooring available depends of customer expectations so everyone chooses the best for them.
Philip from Wicklow: I would charge about €20 per square metre (assuming there are no complicated angles/curves etc.) to lay standard laminate flooring. Price would include fitting beading also.
Thomas from Wexford: 19 euro incl vat per square meter not including taking off skirting or removing existing flooring/carpet. Get at least 3 offers and the cheapest quote isn't always the best on the long run. Always take skirting off if there is an existing floor down rather than using beads
Brian from Cavan: My price for laminate flooring varies, usually  €15 a sqm for normal flooring, and €18 a sqm for herringbone, although sometimes I charge a day rate instead, simply because furniture might have to be removed, bottom of door frames might have to be cut, (especially hallways, where there is many doors, and is time consuming) also removal old flooring and skirting has to be taken into consideration.
My advice for customers would be to discuss with me preferably, what flooring to go with and underlay before purchasing, some floors  might be cheap to buy, but prove to more difficult to lay, therefore end costing more money in the long run.
Ronan from Louth: I would charge €35 per m2 for herringbone flooring and €13 per m2 for the click laminate flooring.  Prices are plus vat.  The flooring should be in the room for 3 days before fitting.
Damian from Dublin: With regard to your recent enquiry on laminate flooring I have the following points.              I would suggest a price of 15 to 18 euro per 1sq m for fitting in a regular room. Hallways and irregular shaped rooms may incur extra costs.  Removal of existing floor coverings and skirtings if required would also be an extra.  Fitting of new skirtings or beadings would be extra.  There could be extra costs incurred if room doors have to be cut to clear the new floor.   The room should be cleared of all removable furniture and wall pictures etc.  The quality of flooring would usually be reflected by the price, the more you pay the better the quality but don't take that as gospel as it could be a higher margin by the retailer.  For the customer try to use a fitter that was recommended and no deposit should be required if the customer purchased the flooring.
———————–
I hope this helps some of you who are planning to lay a laminate floor and if you decide to go ahead with it you can get a number of flooring quotes here and get up to 4 quotes fast from rated tradesmen!
Cheers
Oliver Dempsey
Tradesmen.ie
14th March 2022
General Tips for hiring a tradesman
Here are some tips to consider when hiring a tradesman:-
1. Ask for phone numbers of references so that you can check them out
2. Check insurance of the tradesman where insurance is required
3. Hire a suitably qualified architect, building surveyor or building engineer if the job is anything to do with a new build, building renovation or extension
4. Agree on some sort of stage payments for the job. Remember that full payment should not be made until the job is complete and has been inspected by you, and if necessary by a certifier.