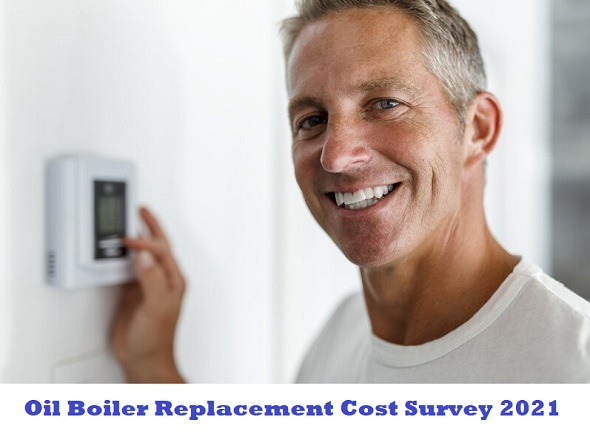 If your existing oil boiler has been installed for a number of years, it might be worth replacing it in order to save on fuel costs and increase safety and reliability.
A while ago we carried out an oil boiler replacement cost survey with some tradesmen on our website.  We asked them how much it would cost to replace an oil boiler and we asked them to give us some tips for customers when replacing an oil boiler in their home.   Here is a sample of the replies we received below:-
Pierce from Kilkenny: Rough idea in supply and fitting oil boiler fittings and flue/€3,000 depending on position off boiler. If customers are looking to upgrade there existing oil boiler to a condensing boiler /grant or firebird are the two I use /with the firebird u get a 5  year warranty on burner and with the grant oil boiler u only get 1 year warranty.  Also existing heating system should be power flushed "
Martin from Laois: Preferred make/type would be Riello and a new Riello burner will typically cost between € 250.00 and € 350.00.  To replace like for like, carrying out a full clean service and tune up of new burner around € 150.00 if no additional parts are required.
Michael from Dublin: The rough cost for replacing an oil burner would start around 2,750 plus vat. The only tip I could give would be to go for the grant boilers as they are the best on the market.
John from Mullingar: The cost for supply and fit for the standard model for 4 bed house is 2500 to 2800, this is for swapping out old for new. Tips I would give , use a well recommended installer , these modern units are particularly susceptible to rust and condense line needs proper fitting. Consider a utility version and then the unit is protected from the elements.
Declan from Dublin:  A rough cost for oil burner replacement would be €600 (Riello or bentone) are two quality brands. If you were to replace burner and boiler an estimated cost would be €3000. (Grant) would be the brand. It would be advisable to use an OFTEC registered installer to install and commission the installation in order to validate the guarantee.
Dan from Dublin:  Burner including parts and labour, around 650EUR incl Vat. Grant vortex oil boiler 26kw around 3000EUR, supply and fitted.
Pat from Dublin:  HE oil boiler and burner Replacing a SE oil boiler External boiler house model €2700.00 – €3000.00 Silver pack model ( in its own enclosure €3000.00 /€3200.00 Internal utility unity €3200/€3500.00.  All 26/28 kw with filters and programmer.  The cost to change an oil burner depends on its location and size 90-120 external burner €550.00 This would be the most popular of them Riello burners would be the most popular also.
Brian from Mayo: Rough cost for replacement oil boiler is €2500 including new pump, filter, fire valve and commissioning. My preffered brand is grant vortex.
Oliver from Cavan:  The rough cost of this is determined by the following:-  Is the unit stand alone /indoors /boiler house model.  With this in mind cost can vary on brand but an average cost would be €2400 including Installation of mag filers into system.   Brands I use are Firebird /grant /Warmflow.  Flue pipes are also to be considered with condensing burners as every job is different. "
Noel from Dublin: Its about €2500 supply and installation.  Gas Boiler replacements approx  €2200 supply and installations. Tip: Grant boilersare very popular.
Niall from Co. Down:  Price of install for grant vortex 90/120 (36kw) condensing boiler including install, new circulating pump, oil filter and required fittings and commissioning would total to around the €2300.  So burner of choice would be Riello RDB1 70/90, with Riello being market leaders. When changing the burner I would include a general service of the boiler.
– Inspect and clean condensate
– Test the fire valve
– Clean or replace the filter
– Carry out a visual inspection of the tank and oil supply pipe to check for damage, deterioration and debris
– Pressure test the oil supply pipe where it runs underground
All these are preventative measures and should only take roughly half a day
Customers point of view supplying as many pictures as possible speaks a thousand words especially in present times when site visits aren't currently practical.
Payments nowadays can be accepted many ways with cash, cards and transfers widely available
All in cost would be € 625.
Michael from Kildare:  Oil boilers come in two parts.  The boiler and the burner.  The boiler will out live the burner by many years, so most people will go through a few burners in the lifetime of the boiler.  Boilers come in many sizes, but oil burners (for domestic houses) generally only come in maybe 3 sizes.  The output of the burner depends on the burner nozzle size and the pressure set for the oil pressure.  So one burner can have a range of outputs depending on the nozzle the installer fits, along with the oil pressure and air settings.  So when the installer is replacing the burner, he needs to install the correct nozzle size for the boiler and dwelling, along with adjusting the air and oil pressure settings.
An installer who does not do this risks damaging the burner and boiler. At the very least the efficiency will be affected.  Often an incorrect set up burner results in ""sooting up"".  This soot blocks up the boiler, burner and flue and is very difficult to rectify.  So in short, a burner can rarely be just swopped out for a new one. Time has to be spent setting it up for the particular installation.
While there is no regulatory body for oil boiler servicing & installations (such as RGII for gas installers), OFTEC is an excellent organisation which represents oil boiler manufacturers in Ireland and the U.K.  They have training courses and a registration scheme for technicians.
The last burner I installed was for a 3 bed semi detached house and cost about €450. An oil boiler replacement would generally take 1 – 2 days. There's indoor (kitchen), outdoor boiler house, and outdoor standalone models.  The price varies with each. Also, new oil boilers require a condensate drain. So the boiler has to be situated close to a drain so the condensate from the boiler can be piped away. Very often installers just leave it discharging onto the path which is not just unsightly, but it invalidates the warranty and because the condensate is slightly acidic, it corrodes concrete and promotes bacterial growth. In the case where there is no drain, a condensate soakaway needs to be buried in soil with limestone chippings. New boiler should have a remote acting fire valve fitted. This shuts off the oil supply in the event of a fire at the boiler/burner. A top of the range boilerhouse model fitted with the fire valve and condensate drain would cost in the region of €2300 -€2800. You will get it done cheaper than this, but I've never seen it properly done for less, and quite often I'm called to rectify bad installations that end up costing the customer far more than getting it done properly 1st time around.
Neil from Wicklow: Cost of replacement of a old oil boiler to a A rated boiler is about 3000 to 3800. Grant or fire bird is a good brand. Warm flow is another brand we fit . We always check the radiator to see if they need a system flush which can cost up to 400 and most suppliers want you to do a flush as well for the guarantee.
George from Dublin: Oil boiler replacement materials incl fire valves ,pump, power flushing, filters oil and magnetic €1800. Labour €1500 and 13.5% VAT €446 TOTAL €3746 Fitting a boiler management system to new oil condensing boiler makes it modulate according to demand and outside temperature and reduces oil burn volume by 15/25%. Otherwise burner is either full on or off with no modulation.
Dermot from Wicklow: I have 1 quote done for a Riello burner install(€470+vat), and the other 2 quotes are for an internal(€3,100+vat) and external Grant boiler(€3,200+vat). Both boilers are standard size. Depending on the size of the property the boiler may need to be bigger than what I have quoted. The cost will be increased if this is the case. Unless there is a specific request or need for the boiler to be replaced (condenser for efficiency), a burner replacement may be all that is needed.
In my experience, I find a lot of customers have had a tradesman in already and are then ringing me to rectify the job. An example of this is I got a call out last Saturday morning to a brand new boiler install. Elderly couple getting headaches with a smell of kerosene. The previous installer had put in a brand new Warmflow boiler, he had burst the kerosene supply pipe, this led to it leaking into the house, and he hadn't got the equipment to commission the boiler, so the boiler was emitting carbon monoxide as a result of incomplete combustion. The wind was blowing the fumes into the house and he had also installed the old pump valves which were leaking and I had to change. He put back in the old circulating pump and charged them for a new pump. I had to make safe and rectify the work that had been done.
As a registered OFTEC and RGII engineer I have a standard to meet and maintain, while the work I am coming across which has been completed by unregistered tradesmen can be poorly installed or sometimes dangerous as outlined above. Another aspect is that the required paperwork for traceability and for the warranty of the boiler to be valid isn't being completed by unregistered tradesmen.
Ollie from Kilkenny: Estimated cost for replacing a standard oil burner. rdb burner and labour for replacing the same €600.00. brand riello rdb. For supply and installation of condensing oil boiler. €2,800.00 this includes for re-treating and venting of the system."
Timothy from Wicklow: We recently replaced an oil boiler for a 6 bed house. The cost of the boiler was €4500 and registered plumber to fit was €1100. Points to note are existing pipework can often have to be moved or replaced if changing boiler and in most cases it is only the burner of the boiler which burns out and needs replacing. This would cost approx. €500 plus €350 to fit. Changing to a new boiler which runs on higher pressure to be more efficient often results in old rads leaking or needing to be replaced. The new higher pressure shows up weak points in old pipework or rads.
————–
I hope this helps some of you who are planning to replace an oil boiler or oil burner in your home. If you are looking for quotes for an oil boiler or oil burner replacement, you can post your job here
Cheers
Oliver Dempsey
Tradesmen.ie
21 August 2021
General Tips for hiring a tradesman
Here are some tips to consider when hiring a tradesman:-
1. Ask for phone numbers of references so that you can check them out
2. Check insurance of the tradesman where insurance is required
3. Hire a suitably qualified architect, building surveyor or building engineer if the job is anything to do with a new build, building renovation or extension
4. Agree on some sort of stage payments for the job. Remember that full payment should not be made until the job is complete and has been inspected by you, and if necessary by a certifier.