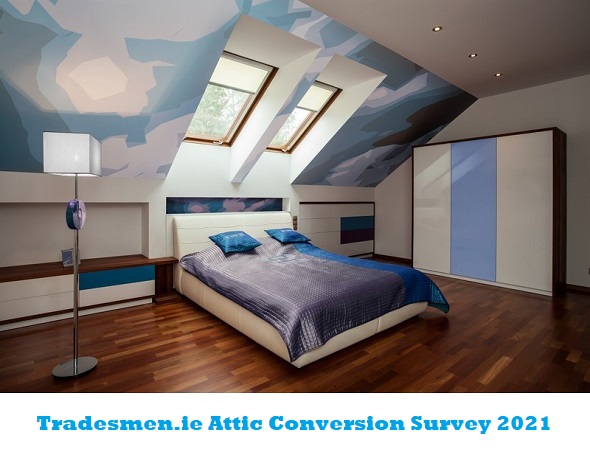 Recently we carried out a survey on attic conversion prices with some tradesmen on our website.   The Covid-19 vaccination programme is making progress and hopefully by the end of the Summer the worst will be behind us.   However, the past 12 months may change the way we live and work in the future, for example there may be more working from home or college students may attend their courses from home using online facilities.
If an extra room is needed for work or study, an attic conversion might be worth looking at.  In our attic conversion survey the question we asked was as follows:- How much would it cost, excluding vat, to add an extra bedroom in the attic and were there any tips they could give for getting the best job done. Here is a sample of the replies we received below:-
Gareth from Dublin: Price for attic conversion is €16000 plus vat to do full conversion. 3 main things that must be good are, good insulation, good heating and use an engineer for certification not architect
Gulnazi from Dublin: Attic conversion price is €19 000 ( without vat) and without bathroom, but with bathroom€ 25 000.
Kevin from Tipperary: Attic conversions generally range from 14k for a standard one bedroom upwards depending on attic space, type of roof & structural details.  There are a couple of different attic conversion types of jobs you can do depending on the roof structure of the house and general landing layout upstairs. They vary in price too.  A standard conversion of what is there already, which is completely fine too but would not be certified by an engineer as a room, therefore if selling etc this would simply be classed as a loft conversion.  To get it certified this is where the cost comes in, i.e. steel beams engineers fees etc
Some houses aren't suitable for attic conversions. In order to comply with building regulations, the space has to be "habitable". That means that half the room should be 2.4m high so there is enough "full height" space within the room to make it comfortable."
Gary from Cork: Just to put an extra room up in the attic, no shower or toilet. Average between €12000 & €15000
Juozas from Carlow:  Will depend on existing structure.  Could be 12000€ for simple bedroom conversion starting with electric heater, 4 spot lights and couple sockets. 2 x (1000mm×800mm) skylights, 200mm earth wool insulation,  moisture barrier, dry wall finish and wooden stair case. (20 m2 roughly).  That's if roof structure can support the weight.   If additional support, bathroom, plumbing or all needed – price goes up exponentially.
Pat from Dublin:  Most attic conversions require planning and should have certified  steel by engineers Standard.  3 bedroom  attic conversion certified  electrical and plumbing steel certified 51,250 plus vat.
Sean from Galway:  A rough guide price for a bedroom in the attic would be around €20,000.  Tips that I can give would be to get a few quotes and get recommendations or reviews from the builders previous customers.
Thomas from Kerry:  Depending on the size of the bedroom possibly between 10,000 amd 15,000 euro.
Ciaran from Wexford:  We would be looking at 17000 to 22000 which would include a floor finish and painted out white ready for colour by customer to add an en-suite would be 5000 to 7000 all above depending on size and finish above prices would be for standard size. The above would include any structural steel detail required and signed off by an engineer also.
Pat from Offaly:  An average size bed room and shower and toilet wash etc, 2 sky lights between 15000 to18000, that is job complete
Matt from Meath:  Rough estimate €15,000, payments  one third  at the start, another third at half way stage & final third on completion.
Lance from Dublin:  For an  average 3 bed house to convert attic with all structural steels and insulated as per building regs €13,500.  Tip: Would be a good idea for clients to involve structural engineer.
Paul from Offaly:  As with all attic conversions, they can vary a lot from job to job. A basic and simple way to calculate costs is to break it up:  Single flight of stairs up into attic area €5000.  Standard Bedroom space  €8000. Standard bathroom with whb, toilet & shower €12000. Velux roof light €1000. Gable end window €1700. Reconfigure plumbing €4000.  All prices quoted are to a semi-d or standard bungalow with a builders finish excluding vat.
Best & only advise I can give contractors when dealing with potential clients is to give a very detailed specification of all works & material that are going to be needed to go into project. Attic conversion are lethal for contractors as when missing a small item, this can become expensive & then it gets messy. When you give a detailed spec, you cover yourself, clients know what they are getting & project moves through construction without any disruptions & payment are met. In your detailed spec & quote for works, always state a start & completion date, pictures of your last works & a stage payment schedule. This all looks professional to a client when making their decision & that is what a potential client wants!
Damien from Galway:  We did one before Christmas and that came to €35000+vat it included a new oak  stairs,  there was two offices (clients now working from home) toilet and a tv room did not include carpet painting or tiling.
---
I hope this helps some of you who are considering an attic conversion in the near future. If you decide to go ahead with it be sure to post your attic conversion job here and get up to 4 quotes from rated tradesmen.  During the Corona Virus Pandemic, make sure to keep up to date on the Covid restrictions from the Government and the HSE at www.gov.ie and www.hse.ie.
Cheers
Oliver Dempsey
18 April 2021
General Tips for hiring a tradesman
Here are some tips to consider when hiring a tradesman:-
1. Ask for phone numbers of references so that you can check them out
2. Check insurance of the tradesman where insurance is required
3. Hire a suitably qualified architect, building surveyor or building engineer if the job is anything to do with a new build, building renovation or extension
4. Agree on some sort of stage payments for the job. Remember that full payment should not be made until the job is complete and has been inspected by you, and if necessary by a certifier.