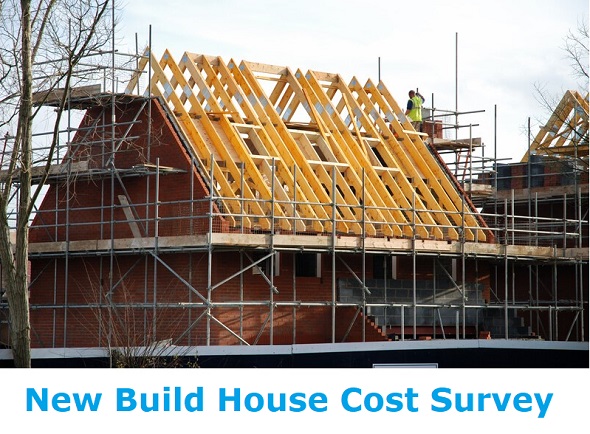 Hi folks,
recently we carried out a new build house cost survey with some of our tradesmen. The Covid-19 lockdown earlier in the year meant that building work had to be suspended but hopefully with the easing of restrictions things can start getting back to normal even if we do have some localised restrictions from time to time.   In our survey, the question was how much would it cost excluding VAT to build a 150 m2 new house ready to furnish? Here is a sample of the replies below:-
Ian from Cork: I would have a quantity surveyor for new builds like this which is added on to the price as they don't come cheap.  An estimate price like this would be €180,000 supply & labour plus hidden costs if any problems should arise
Ciaran from Kildare: you would be looking at between €220k and €240k if the wall plate is not completed by October this year you will need to build a a1 rated passive house
Ger from Limerick: There's a lot of variables to be considered when pricing a new house. site condition ( a rocky site or very wet and soft land) could impact on price. windows, doors, electrical and heating type can also vary greatly. A general figure would be €1000 + vat per metre.
Tom from Mayo: Prices range from €1,100 – €1,300/m2.  Shop around when looking for materials, especially insulation. This is potentially the most costly item at present when building a new house. Don't automatically go for the well known brands as lesser known brands can often be just as good but at a lower price.
Raymond from Dublin:  The price would typically range from €1500-€1,550/m2.  When planning your house build, consider the cost of running the house when it is completed, so look at good insulation, windows, heating systems etc.
Patrick from Limerick:  I would charge from €1,000 per square metre.   In order to get the best job done, think about the specifications at each step as the type of materials you choose will affect the overall cost greatly.
John from Wicklow:   You're looking at €1,800/m2.  Cheaper materials can sometimes mean cheaper quality so be careful when choosing materials and finishes.
—————-
As you can see there is a quite a variety in the prices so it is important to shop around and make sure you are comparing like with like.   Always put quality first, ahead of price.
Some important tips when selecting a contractor are as follows, (a) get references, qualifications and insurance details from each contractor who quotes for the job, (b) make sure to hire an independent certifier from the outset and have them sign off on each stage of the build (c) only pay for each stage as it's signed off by the certifier (d) consider using an escrow payment facility to manage the payments and to safeguard both you and the contractor.
I hope this helps some of you who are planning new build sometime in the future and if you decide to go ahead with it be sure to post your new build job here and get up to 4 quotes from rated tradesmen.
Cheers
Oliver Dempsey
Tradesmen.ie
8th August 2020
Here are some other articles that you might be interested in below:-
House Extensions – 12 Tips on Extending your Home
Do I need planning permission?
Certifying my building or renovation
Construction Contracts, why are they needed?
Attic Conversion Prices
Top 10 Tips to Building a Home