Have you really looked at the smallest room in your house lately?  Could it do with a little more love and tender loving care? Often forgotten about once it has been painted and the toilet roll holder has been installed, it's fairly easy to really impress your visitors by spending some time planning the decor for your downstairs loo.
Remember, visitors are bound to use it, they won't be chatting to anyone in there so their attention will be on the appearance and as it is the smallest room in the house, a little bit of money and effort goes a long long way. Here are some decorating tips for the downstairs toilet to really make it stand out.
Mirrored Tiles
Source: Tidbits and Twine
If the downstairs toilet doesn't have a window, consider adding mirrored tiles for reflecting light and creating the illusion of a large mirror or even a window. They will increase the sense of space too.
Making Storage A Feature
There usually isn't room for concealed storage, cupboards, furniture or a vanity unit under the sink in a downstairs loo so make the storage attractive by choosing shelves in a depth and thickness to suit the decor and space out essentials such as extra toilet rolls and soap with pretty bottles and other accessories.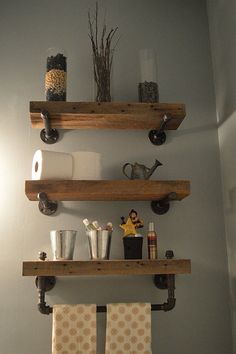 Source: Pinterest
Panelling and Wallpaper
If the downstairs loo is very narrow, wallpaper on all four walls can be too much, particularly if it is a dark or busy pattern. The last thing you want is for people to feel hemmed in or slightly claustrophobic.
Source: Antique Farmhouse
Having panelling on the bottom half and wallpaper on the top means that the paint can be a light colour creating a sense of space and  of course, the panelling can be repainted easily as required. The wallpaper shouldn't get scuffed at that height so should last many years. I like the way the storage set into the wall creates interest in this room too. An intricate wallpaper pattern such as books on bookshelves or maps of the world can create interest too.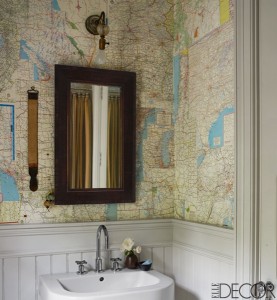 Source: Barbara Genda
Adding Humour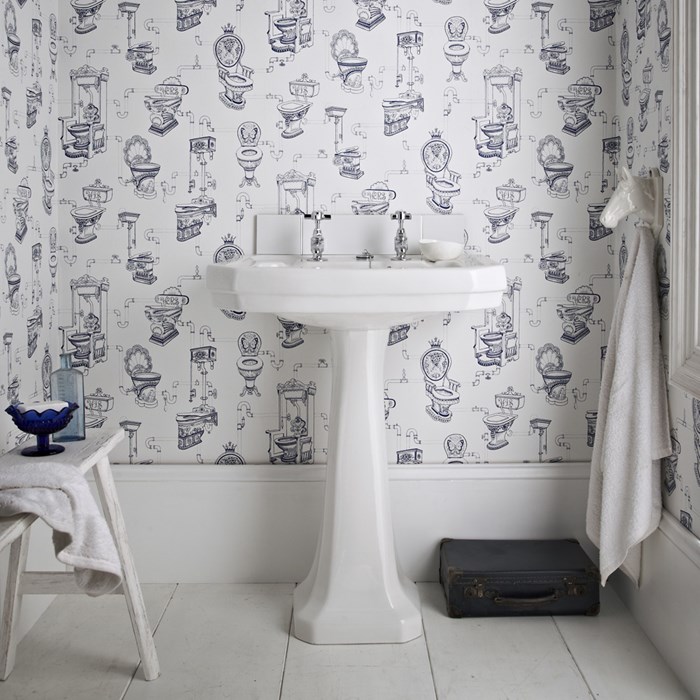 This 'loo loo' wallpaper by Graham and Brown is not only fitting for the smallest room in the house, and is amusing, but it also provides lots of interest as it features a variety of toilets and cisterns.
Recycling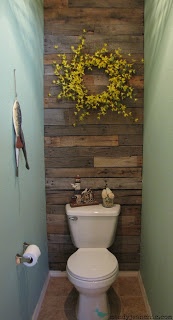 Source: Pallet Projects
Making furniture or indeed, anything serviceable, from pallets is very trendy at the moment and this feature wall created from pallets in this downstairs toilet looks stylish and interesting without being dominant.
Gallery Walls
Gallery walls aren't just for halls and landings. They create interest in bathrooms and are where you can really display your personality and hobbies too.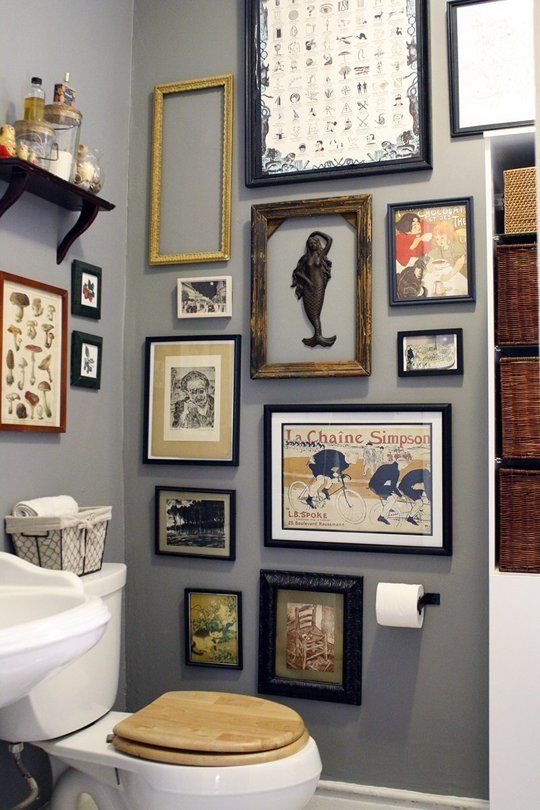 Source: Apartment Therapy
Too many pictures in a small room can be a little overpowering so I really like how this gallery wall has pictures of different sizes, lots of spacing and even has one blank frame, framing, well, a portion of the wall.
I hope you find these ideas useful. Whether you need a builder, plumber, interior designer or decorator to help you perfect the smallest room in the house (or indeed, any room), remember you can get up to four quotes for whatever work you need by filling in the relevant form on our website.