The kitchen is now, arguably, the most important room in the house. It's multi-functional (used for cooking, eating and entertaining) and is often the hub of the home. Are you planning on a new kitchen for 2016 or perhaps some alterations? If you are, you'd probably like to know about the recent kitchen design trends, particularly those which will be around for a while. Do read on:
Smart Spaces
I don't necessarily mean fridges that can tell you exactly what food is in there when you are grocery shopping but there's definitely a move to hidden charging stations so devices can be charged within a drawer for example.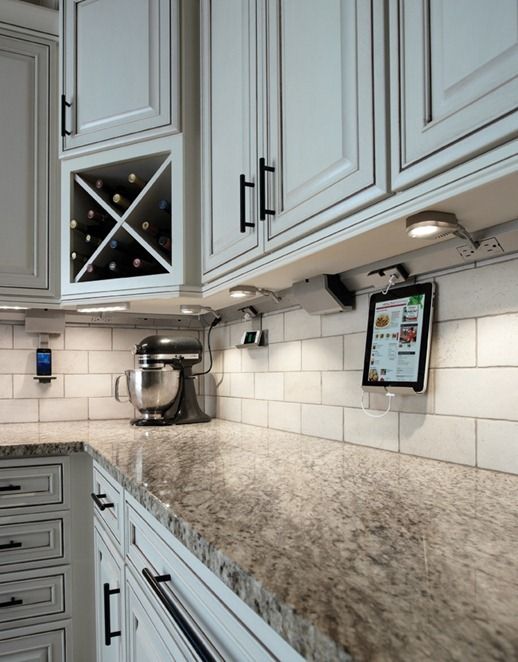 Source: Pinterest
More of us are following recipes from websites or blogs so having a display space where the tablet can be secured and yet be on display will be useful.
Metallics
While neutral coloured kitchen units is very much in vogue, they can be brightened up with the inclusion of metallics. Metallics could include stainless steel appliances, a stainless steel splashback and/or cooker hood or mosaic metallic tiles.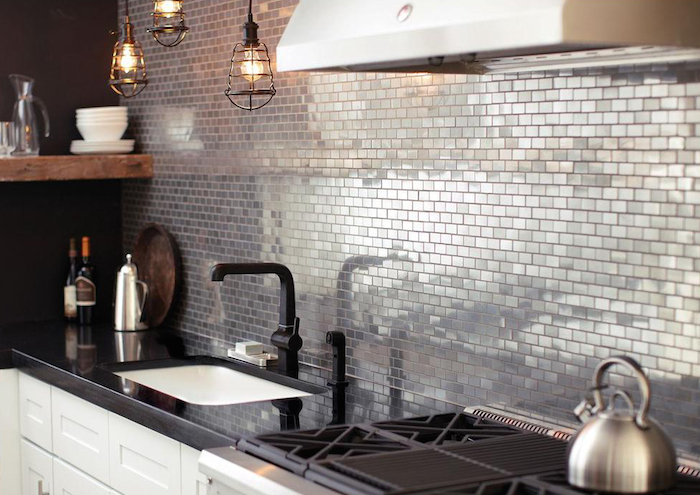 Source: DustJacket
Muted Colours
Kitchen units themselves will either be in lighter wood tones or in neutral colours such as whites, creams, soft greys or tinted whites. Even wall colours are muted this year too so there won't be many bold primary colours on display.
Open Shelving
Yes, open shelves are making a comeback. They have many advantages really, objects stored are easy to hand, you can display your favourite pieces but the disadvantage is they are open to dust so will require more cleaning and they look best when tidy!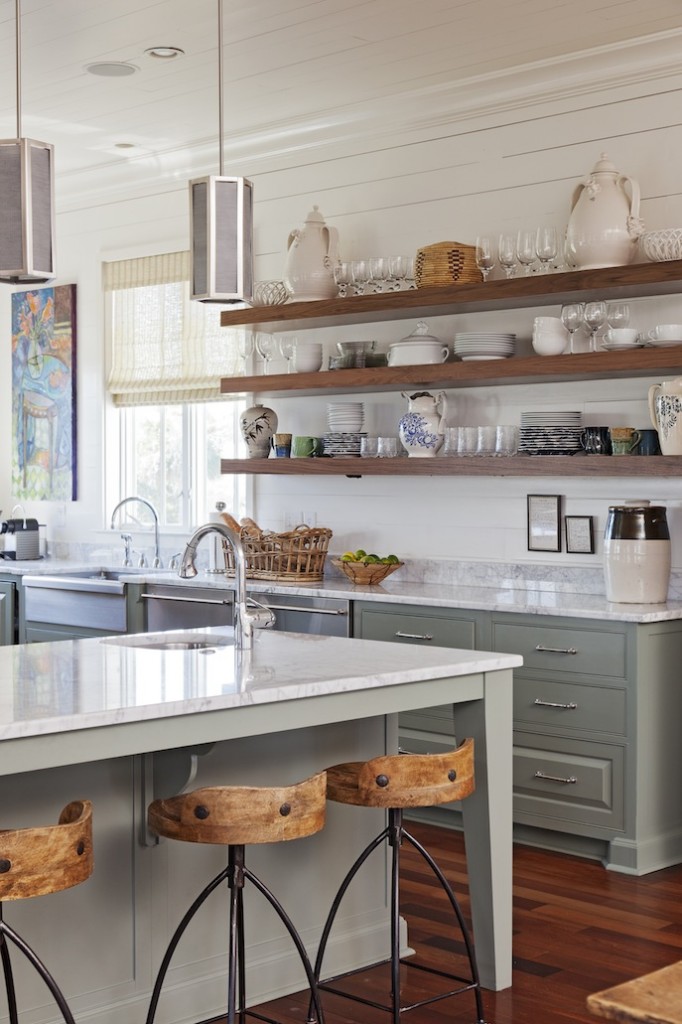 Source: Look Linger Love
Personally, I love how open shelving personalises the space and really makes it more homely. It can also make the room seem more spacious but you would probably store more in upper wall cupboards than on open shelving so you would be sacrificing some storage room.
Informal Dining / Conversation Seating
The kitchen island or breakfast bar has become very popular in recent years and while they can be used for food preparation and extra storage, they are also ideal for having something to eat 'on the go', a coffee and chat, or a quick supper.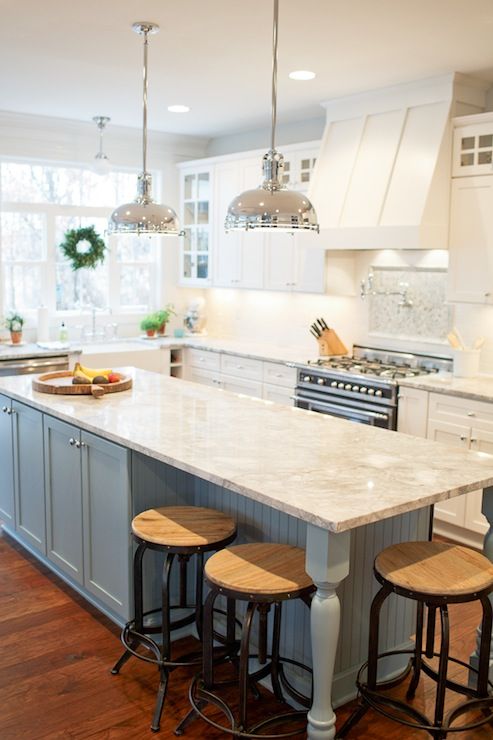 Source: DecorPad
They are the ideal place for a couple of people to perch and chat while another is cooking or preparing food too so the chef doesn't feel left out of the conversation.
Seamless Kitchens
There's also a move to having kitchens which are seamless, where the integrated appliances are not on view, where the cupboards are handleless (are opened by pressing on them) and everything is kept hidden from view within the storage.  Adding tall larders to the design will work well with this theme.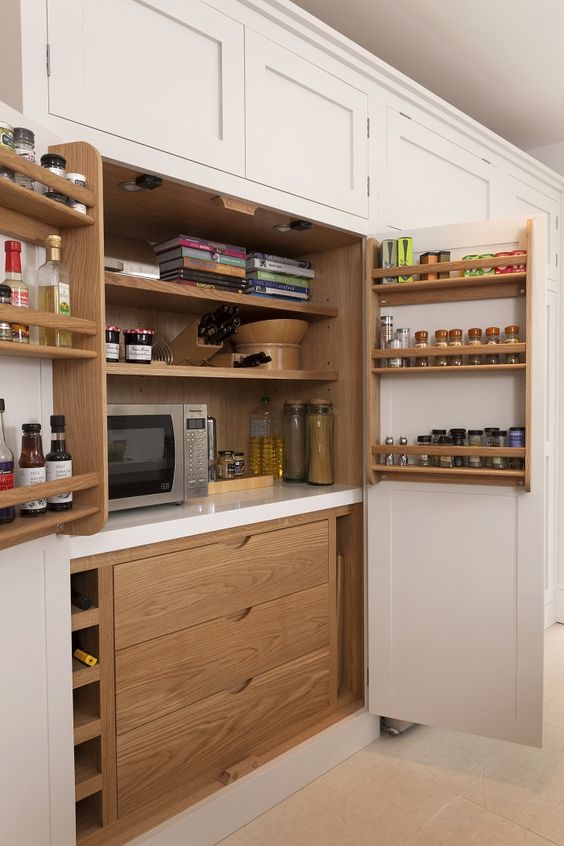 Source: Pinterest
As you can see, this kitchen has handleless cupboards and has plenty of storage with the floor to almost ceiling storage. The larder provides an old fashioned pantry atmosphere with all the convenience of having plenty of space for related products.
Large Rooms with Separate 'Zones'
Kitchen are becoming larger with many home owners extending their kitchens so they incorporate a relaxed seating area as well as an eating space. The separate dining room is no more in most houses. The kitchen often has a small informal eating area such as on the kitchen island or breakfast bar, a large kitchen table and a seating area.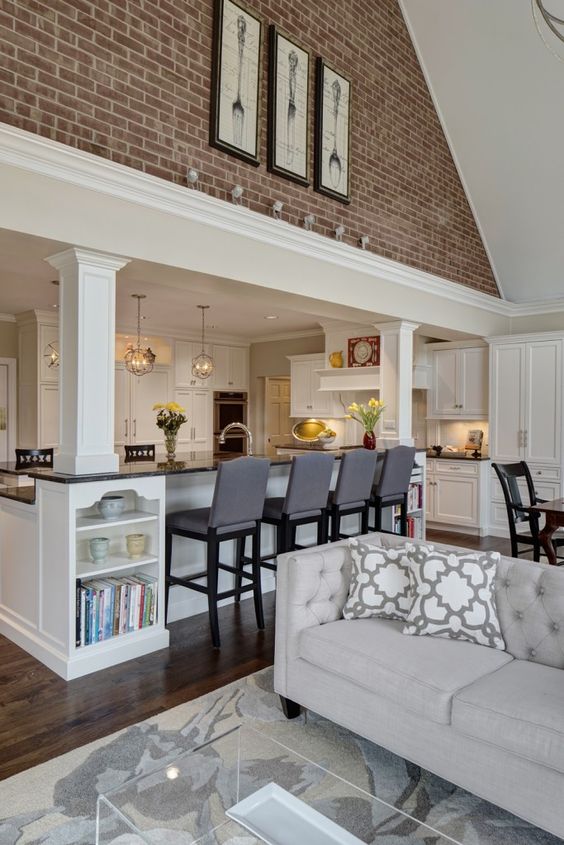 Source: Pinterest
Some seating areas are large enough for a couple of sofas. In others, an armchair and a windowseat provide a cosy reading nook or a space for a couple of people to relax and chat over a cup of tea.
If you would like to make some changes to your kitchen, whether adding an extension or perhaps a kitchen island to an existing kitchen, do ask for a quote on our website to receive up to four quotes from rated kitchen fitters.