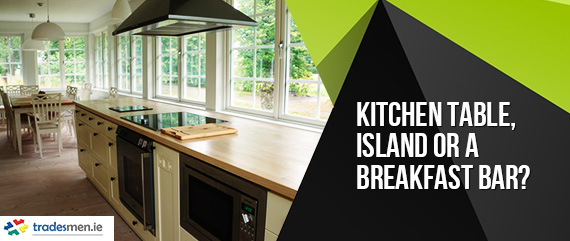 Whether you are planning a completely new kitchen or you would like to update your existing one, adding a kitchen island or a breakfast bar in a complimentary material to your kitchen cabinets can work well for lots of reasons. If your kitchen cupboards are oak, for example, you might like to opt for the kitchen island to be painted but with an oak worktop. The trends in kitchens now are to use a mix of materials such as wood and stainless steel or painted units with a wooden kitchen island.
Kitchens aren't just for cooking and eating now, they are a multi-functional room. Kitchens are the hub of the home, providing a space to prepare food and cook it. The formal dining rooms are fast disappearing so most kitchens are now large enough to accommodate a large table which doubles as a space for eating and a space for socialising and where children can do their homework. A kitchen island or breakfast bar are used for food preparation and for informal suppers, breakfasts and they also make the perfect perch for one person to sit and chat while the other is cooking. More families are opting for a little 'snug' area in the kitchen too if there is room, a space to sit comfortably with a cup of coffee and chat or read a book. This might be a small two-seater sofa, two cosy armchairs or a window seat.
Suppose you are wondering what works best: a kitchen table, a kitchen island or a breakfast bar? Well, here's the pros and cons of each:-
Advantages of Kitchen Islands
Kitchen islands offer plenty of storage underneath the work surface.
The size can vary according to the space available
They can double as a breakfast bar, providing comfortable space for eating once the worktop overhangs the units and provides space for seats.
They are great for displaying and storing your favourite accessories too.
Their use can be so versatile – from food preparation to baking to a place to sit and chat or where the children can do their homework
The only disadvantage of a kitchen island is there won't necessarily be space for them in a galley (long) kitchen but they work perfectly within L shape or U shape kitchens if there is sufficient space. Adding a different surface material for the eating area (as in the kitchen above) adds an interesting twist too.
Advantages of Breakfast Bars
A breakfast bar provides extra work surface.
It's the perfect space for informal dining and quick breakfasts, ideal for three or four people usually.
They provide a room divider between the working kitchen and the dining area of the kitchen.
Depending on the space available and the depth of the unit, you can also have cupboards for storage under the breakfast bar at the kitchen side.
Advantages of Kitchen Tables
Naturally enough, tables are made for dining and having a table in the kitchen means it is more convenient than using a separate dining room.
Tables can also be used as a space food preparation and baking.
 It's a comfortable place for children to do their homework while you are working in the kitchen.
Sitting around a table helps conversation to flow, especially if there isn't a television in the room.
If you have visitors, tables can be extended with an extra leaf.
Some kitchens, of course, will have a kitchen island for food preparation and cooking and a kitchen table for dining. It's also becoming fashionable to have two kitchen islands like in this kitchen below. As you can see, one is for food preparation and the other is perfect for children doing homework or having a meal.

Source: Natural Wood Kitchens
A kitchen isn't just a place for preparing and cooking meals. With the right layout and furniture, it can be the hub of the home. If you would like to see up to four quotes from kitchen designers and fitters for changes to your own kitchen, do fill out our online form on Tradesmen.ie and we will have quotes to you very quickly.