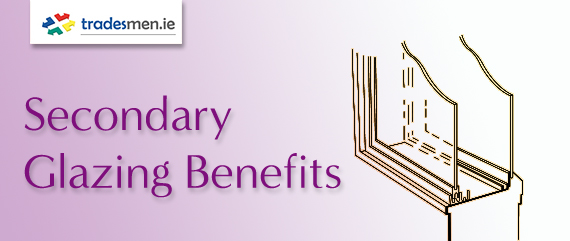 Hi Folks,
this week I want to look at secondary glazing.  What is secondary glazing you may ask?  Well secondary glazing is an additional pane of glass or an additional window set behind your existing window(the primary window).  The secondary glazing is used to provide an extra layer of insulation and prevent heat loss.   Secondary glazing is mainly used where an old house is preserved for heritage purposes and where you are not allowed to change the existing windows.  The existing windows could be timber sash windows for example and would only have single glazing with poor draught proofing.
In this article I am going to look at research study that was done by English Heritage on the thermal performance of traditional sash windows.  The research was carried out at Glasgow Caledonian University.  Although the study was carried out on a traditional sash window, I think that many of the findings of the report are applicable to modern windows also.  If you are interested in preventing heat loss through windows and reducing condensation on windows in your home, I think it is well worthwhile to read this article and to have a look at the report itself.
The window tests at Glasgow Caledonian University were carried out using a number of different solutions to prevent heat loss through a timber sash window.  These solutions  included curtains, blinds, shutters and secondary glazing.  A number of measurements were taken to assess the amount of condensation and reduction in heat loss. The report concluded as follows:-
 The thermal performance of existing windows can be improved in very simple ways firstly by using traditional curtains, blinds and shutters.
Potential for improvement from draughtproofing is mentioned in the conclusions but there is a problem with draughtproofing of timber windows in that it causes extra condensation.   Excessive condensation in turn leads to decay of the timber and mould.
There is potential for further improvement where secondary glazing is added. It gives good performance in the daytime, and even better at night when curtains, blinds and shutters are closed.
I think that point 3 understates the benefits of secondary glazing.  It outperformed all of the other types of heat loss prevention such as curtains, blinds and shutters.  But in addition to this, the secondary glazing doesn't prevent light from entering the room whereas all of the other methods do and can only be used at night.
Draughtproofing is often suggested as a way of preventing heat loss through sash windows and single glazed timber windows.   While I agree that draughtproofing of single glazed timber windows is a huge benefit in reducing the heat loss through the windows, I feel that the life of the these timber windows will be reduced considerably through decay caused by water lodging on the timber frame.  From my own experience I believe that secondary glazing may be the best solution to prevent heat loss and minimise condensation and perhaps dispense with using draughtproofing on the primary window depending on how well it is performing.
I would also like to see a study on the costs and benefits of using secondary glazing as a backup to modern window systems.
Comments on Secondary Glazing and Condensation
Here are some guidelines below that I have summarised from the report which show you how to reduce condensation and provide adequate ventilation when using secondary glazing:-
Improving the thermal insulation of the frames and installing double or vacuum glazed secondary units will further reduce heat loss if they can be accomodated.
Secondary glazing can be relatively airtight, so other means of ventilation may have to be considered.
Condensation on the primary window may arise if the secondary window is opened for ventilation in cold weather and/or where rooms are relatively humid so keep the secondary window closed in cold weather and find an alternative way of ventilation.  For example by using a bypass trickle ventilator on the secondary glazed unit(i.e. by not letting the warm humid air from inside into the space between the windows) or by using mechanical ventilation through the wall.
I hope you found this article useful, you can read the full report on the thermal performance of traditional windows timber sash windows here.  If you are interested in reducing the heat loss from your windows you can get a number of quotes for secondary glazing here
Cheers,
Oliver Dempsey
Tradesmen.ie
28th November 2014
Some other articles that you might be interested in are listed below:   
Preparing for and Preventing Floods in the Home
10 Tips to Protect your Home from the Elements
Tips for reducing your heating bill this winter
Home improvement tips for wet weather