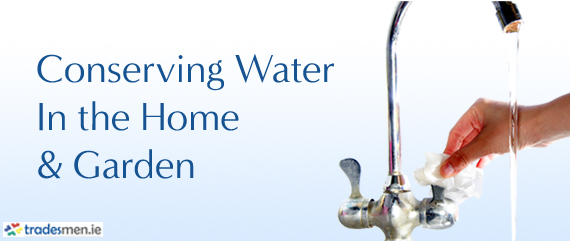 Hi folks,
With the recent talk in the media about the introduction of water charges in Ireland, I thought it would be a good time to talk about conserving water in the home and garden.  It is also a good time to look at this as water becomes scarce with the beautiful warm weather we've been having recently:):-
1) Tap Leaks
Ensure that taps and pipes are not leaking.  Even a small drip from a worn tap washer can lose you up to 90 litres of water per day. Larger leaks can also waste hundreds of litres.

2) Toilet Leaks
You can test for toilet for leaks by putting a little food colouring in your toilet tank. If, without flushing, the color appears in the bowl within 30 minutes, you have a leak that should be repaired immediately.
3) Using a water meter to spot leaks
Mark the reading on your water meter before and after an hour when no water is being used. After an hour, if the meter does not read exactly the same, there is a leak.
4) Water saving shower heads and low-flow tap aerators
Install water saving low-flow shower heads and low-flow tap aerators to reduce water consumption without loosing pressure.  Showers need 25 – 50 litres for every minute of use so you should limit your showers to the time it takes to soap up, wash down and rinse off.  There are also shower and tap sensors on the market that can turn on and off the water automatically depending on the length of time or movement of the person infront of the sensor.  These may be expensive so it's best to ask a qualified plumber on the suitability of one of these systems for your particular needs.
5) The toilet tank or cistern
To cut down on water waste, a few centimetres of sand or stones should be put inside each of one or two plastic bottles to weigh them down. Fill the bottles full with water, screw the lids on, and place them in your toilet tank, safely away from the operating mechanisms. This alone could save you more than 50 litres of water per day.  For new installations, "low flush" toilets should be considered, which use 5 – 10 litres per flush instead of the usual 15 – 25 litres. This will cut indoor water use by about 30%.
6) Showers
Take shorter showers.  One way to reduce water usage is to turn off the shower after soaping up, then turn it back on to rinse. A four-minute shower can use between 100 – 200 litres of water.
7) Washing your teeth and shaving
Turn off water after you wet your toothbrush or while shaving.
8) Washing Machines
Use washing machines only for full loads.  For partial loads, adjust water levels to equal the size of the load. Replace old washing machines. New Energy Star rated washers use 35 – 50% less water and 50% less energy so you will save on your electricity bill as well as your water bill.   The same goes for dishwashers.
9) Washing dishes by hand
Don't leave the water running while you are washing the dishes by hand.  If you have a double-basin, fill one with soapy water and another with rinse water. If you have a single-basin sink, gather washed dishes in a dish rack and rinse them with a spray device or a panful of hot water.
10) Cleaning vegetables
Don't let the tap run while cleaning vegetables.  Just wash them in a plugged sink or a basin of clean water.
11) Drinking water
Running tap water to cool water down for drinking water is wasteful. Store drinking water in the fridge. If you are filling water bottles for outdoor hikes, consider purchasing a flask or container that keeps the water cool.
Water conservation in the garden

12) Plants and Shrubs
Plant drought-resistant lawns, shrubs and plants.  Many beautiful shrubs and plants thrive with much less watering than other types. Replace herbaceous perennial borders with native plants. Native plants use less water and are more resistant to local plant diseases. Plant slopes with plants that retain water and help reduce the risk of runoff.  Group plants according to their watering needs.
13) Using Mulch
Put a layer of mulch around trees and plants.  Mulch will slow evaporation of moisture and discourage weed growth. Adding 5cm – 10cm of organic material, for example compost or bark, mulch will increase the ability of the soil to retain moisture.
14) Watering your lawn
Water your lawn only when it needs it. A good way to see if your lawn needs watering is to step on the grass. If it springs back up, it doesn't need water. If it stays flat, it needs to be watered. Allowing the grass grow taller (to 3″) will also promote water retention in the soil.
Most lawns only need about 2cm of water every week which is equivalent to what we get in Ireland but some months can have less rainfall from one year to another so keep an eye on this.
15) Using a Rain Barrel
A rain barrel placed under the downpipe of your gutter will collect rain water that you can use to water plants and wash the car.  My grandfather used to use the rain water from the water barrel to wash his hair as it created a better lather.  Didn't do anything for the hair loss though!!:)
16) Washing the Car
Don't run the hose while washing your car.  Clean the car using a bucket of soapy water. Use the hose only for rinsing – this simple practice can save over 600litres of water. Use a spray nozzle when rinsing for more efficient use of water. There are now waterless car washing systems on the market so you could check them out as well.

17) Cleaning Driveways and Paths
Use a brush, not a hose, to clean driveways and paths.  It is also a good way of building up your arm muscles:)
18) Leaks Outside the home
Check for leaks in pipes, hoses, taps and joiners.  Leaks outside the house may not seem as bad merely because you can't see them. But they can be even more wasteful than leaks indoors. Check frequently to keep them drip-free.
—–
Water conservation comes naturally as long as everyone in the family is aware of its importance, and parents take time to teach their children some simple water-saving methods around the home which can make a big difference.
I hope this helps some of you who were looking into saving and conserving water in the home and garden. Beware of buying water saving equipment online as you may find that when it arrives that it does not fit your existing fixtures.  The best thing to do is ask the advice of a qualified plumber.  If you would like to install any of the water saving equipment mentioned above you may consider getting up to 4 quotes from rated plumbers at http://www.tradesmen.ie/trade/plumbers
Cheers
Oliver Dempsey
Tradesmen.ie
June 19th 2014
Here are some other articles that you might be interested in below:-
4 Tips for Hiring a Tradesman
Building Insurance Podcast – What to Look out for
Home Renovation Tax Incentive Scheme (HRI)
Building Materials – Who should buy them, Customer or Tradesman?
Will Stricter Building Regulations Improve Building Standards in Ireland?
Using Escrow to safeguard your building project
Do I need planning permission?
Certifying my building or renovation
Construction Contracts, why are they needed?
Attic Conversion Prices in Dublin
House Extension Prices in Dublin
Conservatory and Sunroom prices
Top 10 tips to building your home
Hourly Rates for Tradesmen & Construction Workers