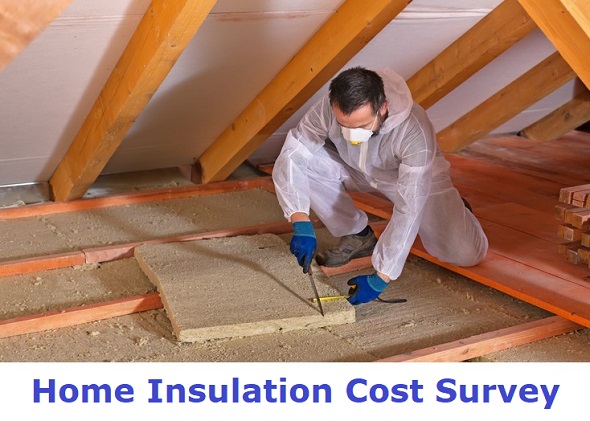 Hi folks,
recently we did a home insulation cost survey on some insulation contractors on our website.  We asked what is the best way to increase the insulation in a typical semi detached house and how much would it cost including VAT to put it in place.  Here is a selection of the replies we got below:-
TJ from Kildare: The cost of insulating the inside of the 3 exterior walls of a semi d with an 80 mm warm board, Skimmed, carpentry 2nd fix (skirting/window boards) would cost between €7000 and €10000 depending on the existing state of the walls, wallpaper etc and how many rads were to be moved etc. The cost of insulating the attic with 4″ pumped spray foam would come in around €35 per meter.
Alan from Wexford: You put in pumped bead in the walls about €15 a meter and put in 75m pir between the rafters cost of that is about €21.50 a meter.
Gary from Kilkenny: The standard for insulation in a roof space at the moment is 300mm ,200mm of  insulation with bring it up to code, I do not recommend pumping the cavity with insulation as the cavity is there for a reason, I only recommend doing insulated board internally, at the moment there is a grant with the seai, 400 towards attic insulation, total cost of attic insulation is €1,150 plus VAT, roof vent tiles extra, this depends on ventilation in attic, there are also grants available for internal dry lining with insulated boards,I recommend to all my customers to clean out the attic tank with Milton and running through the pipe work,you can get sick from the water in the tank if drank as small animals can get into it and if it is left stagnant legionnaires disease is a possibility.
Thomas from Dublin: I would charge €8000 50m boards on all  window walls and 30m boards on the down stairs ceiling and roll insulation into the attic and then skim skip for the rubble.
Pat from Dublin: It all depends on the square metre in cavity  wall it can be pumped with a kingspan bead and topped up on the inside to meet a good u value depending on client decision on the size of the boards the would use  the bigger the insulated board the better but the down side is it takes from the size of the room and if there are two external walls. I am doing alot of 200m cavity pump walls now on new builds and renovations with extensions. I am also after setting up a solar panel company with my nephew and its beginning to take off we do the roof work installing the solar panels and he does all the wiring etc. The average semi detached in Dublin insulated in attic with 400m  dryline external walls 112.5m new standard window boards tape existing widows with air tightness tape fit 29m reveal boards around windows and external doors skim all new insulted walls refit skirting where possible costs excluding vat 14,750.  If painting is required there would be additional cost.
Justin from Dublin: To improve the thermal efficiency of your house you need to take an overall view of the house examining the following :Attic insulation, Exterior wall insulation, Interior wall insulation, Window efficiency, Floor insulation.  In an ideal world upgrade everything however most of us have to work to a budget,so it is important to spend your money where you will gain the best overall thermal improvement for your budget.
As for price each house needs its own plan ,hence its own budget.  Spend time deciding exactly what you need done and make sure that all quotes are for the same specifications allow for extras.
Steven from Kildare: For interior wall insulation I am using metal framing and insulated Dry lining plasterboard 50 mm or 72mm. Fixing metal sections to wall at min. 600mm centres. Short pieces of section should be placed horizontally at midpoint of boards. After will be placed the insulated plasterboard and plastered the walls and painted. In this case no contact between wall and insulation board, no chance for moulds and damp from the external wall. Walls need to be ventilated. We know the humidity in Ireland is high. The air flow must be present in the house and between external walls and dry walls. Cost of materials for 1 square  meter is between 38€ to 50€ Finished painted.  My labour is 85€ / square meter Finished painted.
Daniel from Westmeath: Cost of insulating a standard 3 bed semi – labour and materials would cost about 7 thousand
Sean from Galway: The best way to insulate a house which has a cavity wall that has no insulation, is to get the cavity pumped with insulation( not sure what the costs involved are here). Most houses built before the 1960s won't have a cavity and need to have insulated plasterboard sheets fitted on the inside which would then need to be plastered and painted and this would also involve removing and refixing radiators, sockets, switches, wardrobes, skirting etc. The cost of getting this work would be 100/150 sq metre, depending on what was involved. External insulation is another option and the costs involved here could be up to 150sq metre and this also requires scaffolding, which the contractor might not supply. The attic is by far the cheapest part of the house to insulate and the cost of upgrading the fibreglass insulation from 100mm to 300mm should be in the region of 10 / 20 euro square metre.
The most important thing to look for from a contractor is references of similar jobs, they have done for other customers and also check that they have insurance. Also give the contractor a clear description of exactly what you expect their price to cover."
————–
I hope this helps any of you who are planning to insulate your home and if you want to get prices for insulation be sure to log on to Tradesmen.ie and get up to 4 quotes from rated insulation specialists here. In addition to this, to get a number of quotes from BER Assessors simply click here.
If you have any questions or comments please feel free to enter them in the comments box provided below.
Cheers
Oliver Dempsey
Tradesmen.ie
7th November 2020
Tips for hiring a tradesman
Here are some tips to consider when hiring a tradesman:-
1.    Ask for phone numbers of references so that you can check them out
2.    Check insurance of the tradesman where insurance is required
3.    Hire a suitably qualified architect, building surveyor or building engineer if the job is anything to do with a new build, building renovation or extension
4.    Agree on some sort of stage payments for the job. Remember that full payment should not be made until the job is complete and has been inspected by you, and if necessary by a certifier.