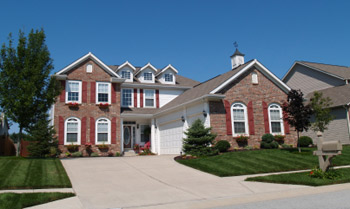 Whether you require a driveway, patio or path it can be difficult to decide what finish to lay with so many choices available. There are a variety of options to choose from that will help you to transform your driveway. A well finished driveway can instantly transform the entrance of your home and make the whole exterior more attractive. The key is to find a finish that is functional for your requirements while at the same time being low maintenance.
Your decision will primarily be based on the effect you wish to achieve but you will also have to consider the space, the main functionality, the incline of your house, your drainage options and safety.
Driveway paving materials can be solid surface (smooth, seamless, even surfaces) or aggregate-surface (gravel, crushed stone, etc…).
By combining planting areas with your paving materials the result can be a stunning finish to your home. Kerbing is another option to give your driveway an attractive finish.
In this article we will explore a selection of the different options available to you (in no particular order) and some of the pros and cons of each. We hope that it will help you if you are deciding on a finish for your driveway or patio area.
Granite/Sandstone/Limestone Driveways
Granite/Sandstone/Limestone can be used in any driveway and are available in a broad range of formats, colours and sizes.

Pros
Low maintenance requirements
Long term durability
Remains weed free
In shaded areas or under trees surface staining can easily be removed by power washing
Non slip textured surface
Cons

Material and installation costs can be high
Gravel
Gravel refers to small stones that may be angular or rounded. Angular gravel is usually sourced from quarries, a by-product of the crushing processes, whereas rounded gravel is from a fluvial source such as an old river bed, a beach or even channel dredging.
Gravel can come in a huge range of colours depending on the parent rock type and can also come in a multi-coloured blend.
Gravel provides a simple path structure at an affordable cost. In general, the 10-18mm gravel is suitable for driveways.
Pros
Gravels are attractive
Relatively inexpensive
Easy to install
Can be treated with a general weed killer if required
Cons
They rarely stay put. Gravels normal spread. It is almost impossible to eliminate unless a binder of some sort is used. There are several options available, from timber edging boards to concrete kerbs or stone setts.
May need topping up at intervals
May need weeding now and again even if it has been laid over weed membrane
Stone Chippings
Stone chippings are available in a wide range of natural finishes, colours and sizes.
Pros
Very cost effective
Provide an effective drainage solution for dealing with surface water run off
Cons
Will require an occasional raking
Weeds may grow up through them and should be removed
Select your colour choice carefully as lighter tones may require more maintenance
Pebbles
To minimise disturbance of the pebble by vehicles you need a mix of small and medium sized pebbles. They will lock together and resist the turning motions created by vehicles.
Pros
Drains well
Relatively inexpensive
Easy to lay and maintain
Easy to hear visitors approaching
Cons
Can move from cars turning and need to be raked back in to place
Can become wedged in the soles of your shoes and mark wooden floors
Easy for small children to slip and fall on them
Bark Chippings
Bark chippings or wood chips provide a soft finish for pathways. Bark chippings can look particularly well in country style and rustic gardens. It is a good idea to use edgings to keep bark chippings where you want them.
Pros
Available in a variety of colours and textures
Cons
They can get boggy in wet weather
May need to be replenished from time to time as they will break down naturally.
Brick/Block Paving
Brick/block paving can be used anywhere and looks great on driveways. It can come in a number of colours, finishes, designs and sizes and also a range of thicknesses. For domestic use, the 50mm or 60mm units would be sufficient.
There two basic types of block paving – the moulded concrete block and the kiln-fired clay brick.
Concrete Block Pros and Cons
Pros
Relatively inexpensive
A variety of colours, shapes and sizes to choose from
A large variety of block depths available (from 40mm to 100mm or more)
Highly durable and should last at least 20 years
Cons
Colour may fade over time
Aggregate may become exposed over time
If choosing block paving always make sure that it is permeable which means that the paving can drain itself.
Clay Brick Pros and Cons
Pros
Prices are generally higher than concrete, depending on colour
Exceptionally hard wearing
Natural colour won't fade
Patterned pavers available
More durable than concrete blocks and will provide many many years of service
Cons
Can be prone to mosses
Size tolerance can be variable due to the firing process
Shape restrictions – usually square or rectangular
Extremely difficult to cut
More limited choice of block depths
If not permeable it must be properly drained to suitable drainage points